Trello and Notion are two great services that help you get things done. it is natural to want to compare two applications to see which one is better or better suits your workflow. this blog post will walk you through both Notion and Trello at a high level and compare each of them against each other to see where each one shines.
So which one is better? The answer is completely dependent on how you plan to use each app. Trello is awesome at project management. Notion is a great all-around tool that allows you to accomplish a variety of things not just project management. if you are looking solely for a project management tool, Trello is probably the better bet. However, if you are looking for a tool that can do a variety of things well  Beyond just project management, Notion is likely to fit the bill.
Before we get started, if you are looking to learn even more about Notion or other apps, Skillshare is a great resource to check out. Skillshare has courses on Notion, Evernote, Todoist, Things 3, Trello and more. In fact, there is a great Notion course by Francesco D'Alessio on Notion that you can check out at the link below:
Link to Notion Course on Skillshare
Wondering whether you should use Notion or OneNote? Check out our Notion vs OneNote comparison here.
What is Trello?

As mentioned earlier, Trello is a project management service. Trello is based on the kanban project management style. Kanban is derived from the agile methodology of project management that originated with software development. It uses a pinboard-like structure of cards and columns to visually display how each aspect of a project moves through the various stages of the project. If you're looking for more information on kanban, I actually wrote an article on how to use kanban inside of notion which you can find at the link below:
How to Use Kanban Boards in Notion
If you are looking to get better at using Trello, we have a how-to guide for using Trello at the link below:
Beginner's Guide to Using Trello
What are Trello's Strengths?
The strength of Trello lies in its simplicity. Trello is built to be a project management service and it does it extremely well. There is an inherent advantage of focusing on one core function and delivering on that function in a well-thought-out manner. Trello is, at its core, a kanban project management service. It doesn't try to be a note-taker or to-do list manager and this focus makes Trello better in my opinion for project management. Using Trello does require adhering to the kanban system of project management. if you prefer a different method of project management, Trello is likely not for you. But if you are in the software development industry or prefer the kanban visual system of project management, Trello is a must-have in your workflow.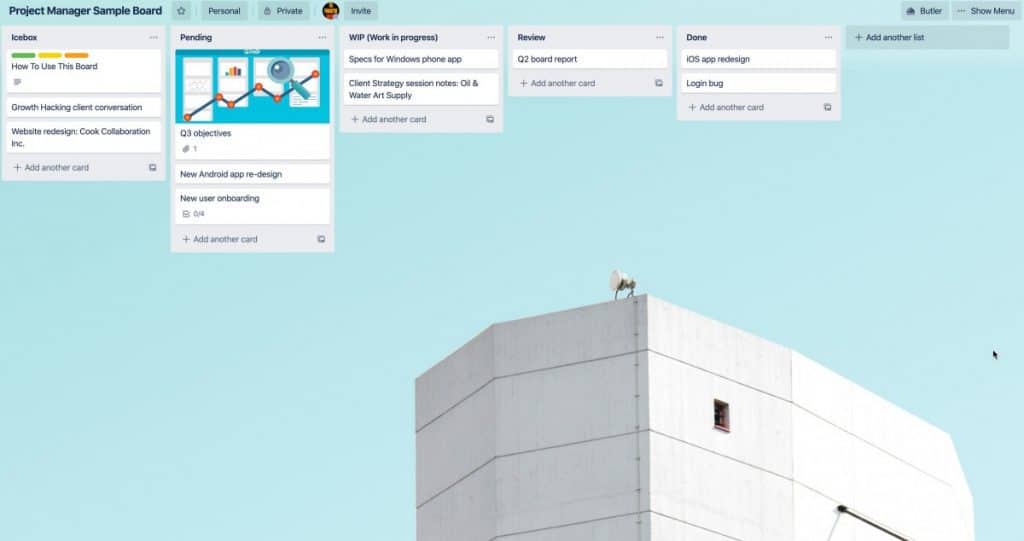 Visually, Trello is beautiful to look at. The ability to have custom backgrounds along with the detail and customization ability in the cards provides visual flair to your kanban board. Moving cards between columns is very fluid and responsive. the cards themselves highly functional And customizable. You can add attachments images as well as share your card or board with other team members. Trello strikes a balance of being highly functional, focused and easy to learn and use.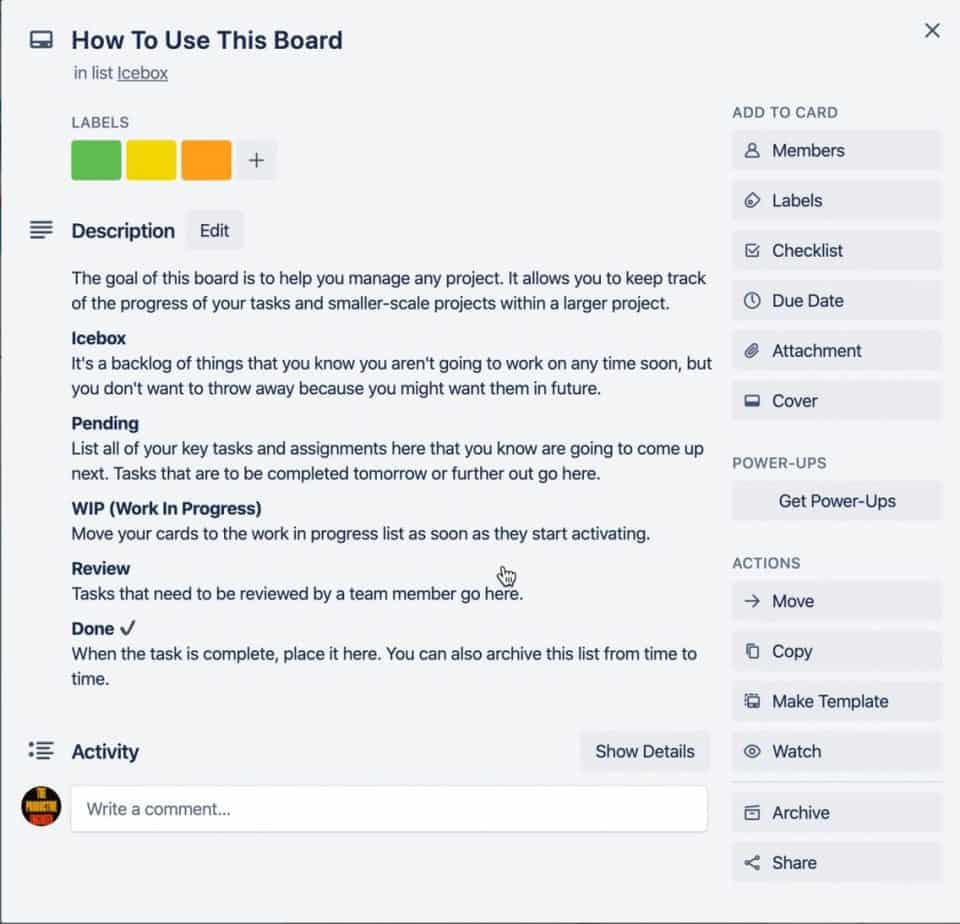 If you are an Airtable user or looking for a comparison between Notion and Airtable, check out my Detailed Comparison of Notion and Airtable.
What are Trello's Weaknesses?
Weaknesses may be a strong term, given how strong of a service Trello is. In fact,  one of Trello's biggest strengths is likely its biggest limitation. That is that Trello is purely a kanban project management service. If you need note-taking or to do management or any other productivity-oriented capability, you will need to use a different application(s).
I personally believe that this focus is a strength more than a weakness. Trello doesn't strive to be something that's not. There's definitely a school of thought that you should do one thing well rather than a bunch of things merely adequately. Trello clearly subscribes to this ideology. it is a beautifully designed service that really delivers the goods when it comes to project management using the Kanban methodology. I have used Trello in the past to manage my projects, and it has always allowed me to visually represent where each aspect of my project is in the project life cycle effectively.
Have you thought about using Notion or Airtable? Check out our comparison guide at the link below to learn which application might be best for you:
Notion vs. Airtable, Which One Should You Choose?
Where You Should Use Trello Instead of Notion
As referenced earlier, the best use of Trello in your workflow would be for project management. Trello is a project management tool and it does that extremely well. if you are looking for a project management tool, Trello should be at the top of your list of options that you consider. Notion does offer the ability to have a kanban like board inside a Notion page, however, it is not as full-featured for project management as Trello is if you subscribe to the Kanban methodology.
What is Notion?

Notion is an all-in-one productivity tool. Notion is based on wikis, which are a series of web pages in a hierarchical structure. Notion really is the Swiss army knife of productivity tools in that it can do a variety of functions well. There really is very little you can't do in Notion. Notion can be your to-do manager, your project management tool, your document repository or many other functions. I use Notion every day and it continues to grow in my workflow as I discover more things it can do. As a matter of fact, if you're interested in learning some notion tricks, check out our blog post detailing are most essential notion tips at the link below:
14 Amazing Notion Tricks You Must Know
What are Notion's Strengths?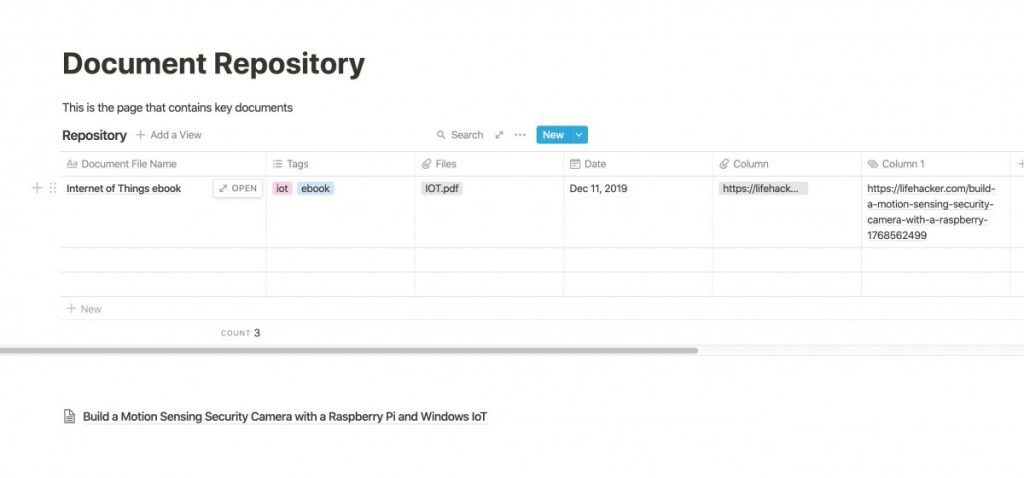 The strength of Notion lies in its versatility. Whereas Trello is solely focused on project management using the kanban system, Notion is built to perform a variety of functions in a productivity workflow. Notion has done a good job with each of the functions that are implemented inside it. Notion was built to be flexible and it does that well. If you are looking for one do-it-all tool in your workflow, Notion is clearly the pick.
What are Notion's weaknesses?
There is the phrase "a jack of all trades, master of none" and that phrase does fit Notion to a certain extent. Notion is a good note-taker as an example but they are better note-takers in the market. Notion is a good project management tool, but, again, there are better tools in the market for project management. Notion can do to-do management as well as tables and databases but there are better tools in the market dedicated to those functions.
That is okay as Notion's core strength is the ability to have all of these functions in one place. In exchange for this one-stop-shop of productivity, there is a trade-off. There is always a balance between picking the best in breed application for each specific function versus picking the one tool that can do them all even if it does each of those tasks a slightly less robust manner. That said I am a huge fan of Notion. Notion really is an amazing service. I have been a paying customer of Notion for over a year and I can say unequivocally that is been a great investment in a boost to my productivity.
If you want to know how Notion stacks up with Asana, check out our Notion vs Asana Guide.
When Should You Use Notion Instead of Trello?
You should use Notion instead of Trello for anything that is not Kanban project management. If you're looking for a document repository, a to-do manager or database application and ideally want them all in one service, Notion is simply the best thing on the market for you. Notion can even do Kanban management so if you want a Kanban project manager but also want some of the other productivity tools and you really want to stay at one application, Notion could fit the bill quite well.
Are Notion and Trello Competitors?
To me, the answer is no. the reason I say this is that they were built to serve two different functions.  Trello was built to be a Kanban project management solution that is geared for software developers. that is what it was built for and that is what it does well. it is simply not fair to compare Trello to an application like Notion for items that it was not built to do. Conversely, it's not fair to compare Notion to Trello it's for project management.
3rd Party Integrations
Enclosed below is a table containing a listing of key integrations with third-party services:
| | | |
| --- | --- | --- |
| Integration | Notion | Trello |
| Slack | Yes | Yes |
| Zapier | Yes | Yes |
| IFTTT | Yes | Yes |
| Hootsuite | No | Yes |
| BitBucket Cloud | No | Yes |
| Google Docs | Yes (embed) | Yes w/Zapier |
| Google Drive | Yes (embed) | Yes |
| MS Office 365 | Yes (embed) | Yes w/Zapier |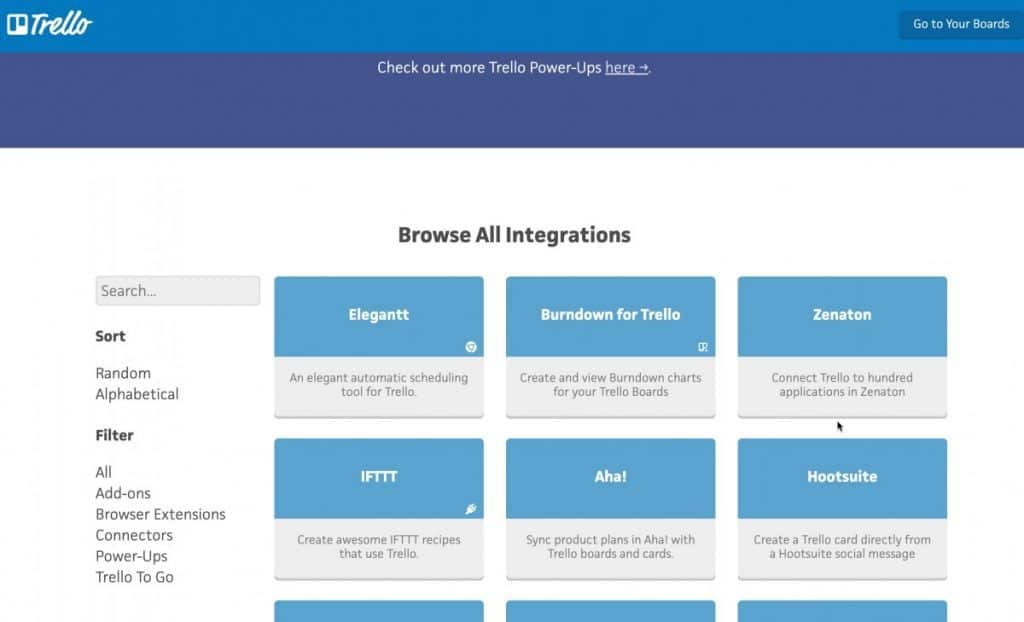 Trello has native integrations to a host of third-party services, which can be found at this link.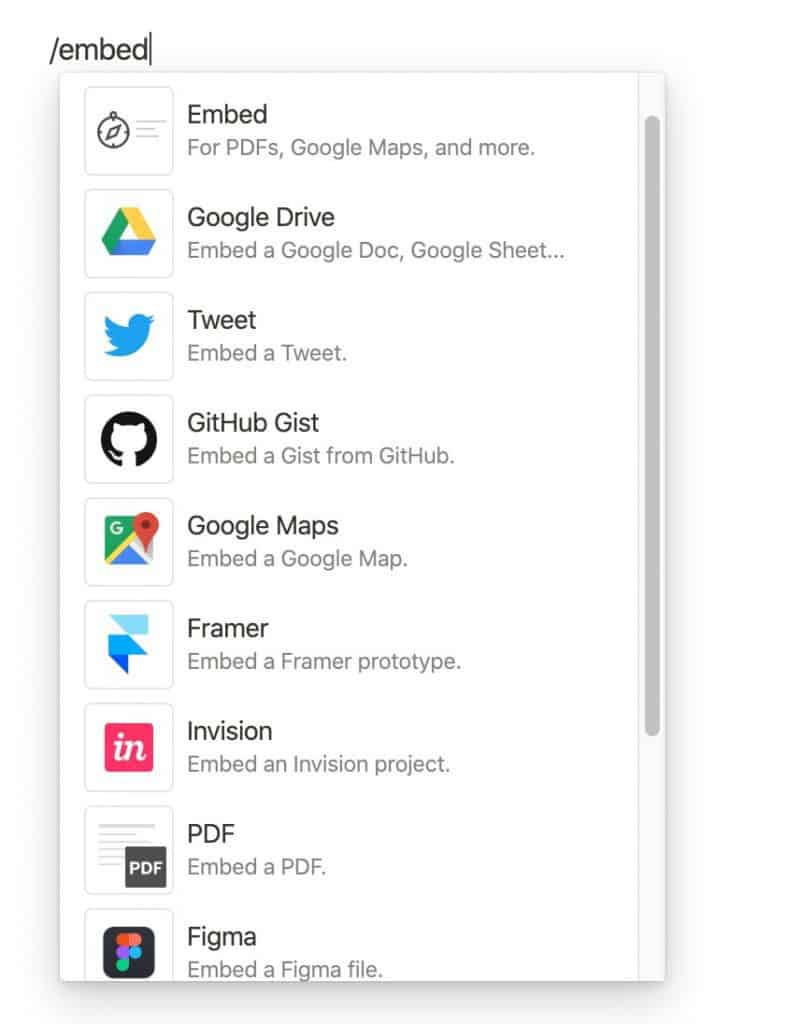 Notion doesn't currently have an API but has stated that it will be releasing one in the future. Notion does have the ability to embed various services into a Notion page, however.
Platform Support
| | | |
| --- | --- | --- |
| Platform | Notion | Trello |
| Web | Yes | Yes |
| iOS | Yes | Yes |
| Android | Yes | Yes |
| Windows | Yes | Yes |
| MacOS | Yes | Yes |
Pricing
Trello Pricing/System Limits
Trello
Free
Business Class
Enterprise
Cost
$0
$9.99/mo annually
or $12.50/mo monthly
$20.83 per user
per month for
100 users (cost
goes down per
user per month
as you add more
users)
Unlimited Personal
Boards
Yes
Yes
Yes
Max file size
per File Attachment
10MB
250MB
250MB
# of Team Boards
10
Unlimited
Unlimited
# of Powerups per
Board
1
Unlimited
Unlimited
Two-Factor
Authentication
Support
Yes
Yes
Yes
Google Apps
Sign-on
No
Yes
Yes
Advanced Admin
Permissions
No
Yes
Yes
Simple Data Export
No
Yes
Yes
Single Sign-On (SSO)
for all SAML IdPs
No
No
Yes
Attachment
Restrictions
No
No
Yes
The table above is not exhaustive of all the features included with each plan. For more information, click this link to go to Trello's pricing page.
Notion Pricing/System Limits
Notion
Free
Personal
Team
Enterprise
Blocks
1000
unlimited
unlimited
unlimited
Databases
w/ 5 views
Yes
Yes
Yes
Yes
Admin Tools
No
No
Yes
Yes
Bulk Export
Yes
Yes
Yes
Yes
Advanced
Permissions
No
No
Yes
Yes
SAML + SSO
No
No
No
Yes
Bulk PDF
Export
No
No
No
Yes
File Uploads
5MB
unlimited
unlimited
unlimited
Pricing
$0
$4/month
$8 per
member
per month
Varies
The table above is not exhaustive of all the features included with each plan. For more information, click this link to go to Notion's pricing page.
Want More Tips and Tricks? Subscribe to our Newsletter!
If you haven't already subscribed, please subscribe to The Productive Engineer newsletter. It is filled with tips and tricks on how to get the most out of the productivity apps you use every day. We hate spam as much as you do and promise only to send you stuff we think will help you get things done.
Check Out Our YouTube Channel!
We have a YouTube channel now and we are working hard to fill it with tips, tricks, how-tos, and tutorials. Click the link below to check it out!
Check out our Resources Page
Check out our resources page for the products and services we use every day to get things done or make our lives a little easier at the link below: