Notion vs. Airtable, Which One Should You Choose?
If you are looking for a productivity application to help you get things done, it can be tough to pick between Notion and Airtable. Both applications offer powerful features that make them excellent choices when it comes to organizing your work in an efficient way. This article will compare the two apps in detail so that you can find the one best suited for your needs!
The rest of this article will talk about the various differences, strengths and weaknesses of the two applications.
Detailed Feature Comparison Chart for Notion and Airtable
Feature
Notion
Airtable
Which App is Better
API
Yes
Yes
Even
Tables/Database Support
Yes
Yes
Airtable
Database
Filtering
Yes
Yes
Airtable
Database Sorting
Yes
Yes
Airtable
Formula support
Yes
Yes
Airtable
Native Automations
Yes
Yes
Airtable
Google Calendar support
Yes (both API and embed)
Yes
Even
Team Collaboration
Support
Yes
Yes
Even
Jira Integration
No
Yes
Airtable
Ability to embed
third-party content
in application
Yes
No
Notion
Gantt Chart view
Yes
Yes
Even
Calendar view
Yes
Yes
Even
Kanban view
Yes
Yes
Even
Pivot Table Support
No
Yes
Airtable
Free plan
Yes
Yes
Even
Student discount
Yes (Free)
Yes (50%)
Notion
Gallery (Card) view
Yes
Yes
Even
Ability to run
scripts in app
No
Yes
Airtable
Store Code Snippets
Yes
No
Notion
Checklist support
Yes
Yes
Notion
Publishable Web Page
support
Yes
No
Notion
Notion vs Airtable Feature Comparison Table
If you want to know how Notion stacks up with Asana, check out our Notion vs Asana Guide.
What is Notion?
Notion is a powerful and beautiful application perfect for organizing your work in an efficient way. The core focus of the app is to provide you with everything you need in one place instead of having multiple apps open at once. Notion is based on wiki-style documents, which are always up to date and easy for you to access. You can create multiple views of the same document so that you have a clear understanding of how it is organized.
Notion comes with pre-built templates as well as free templates available online for any type of project.
What is Airtable?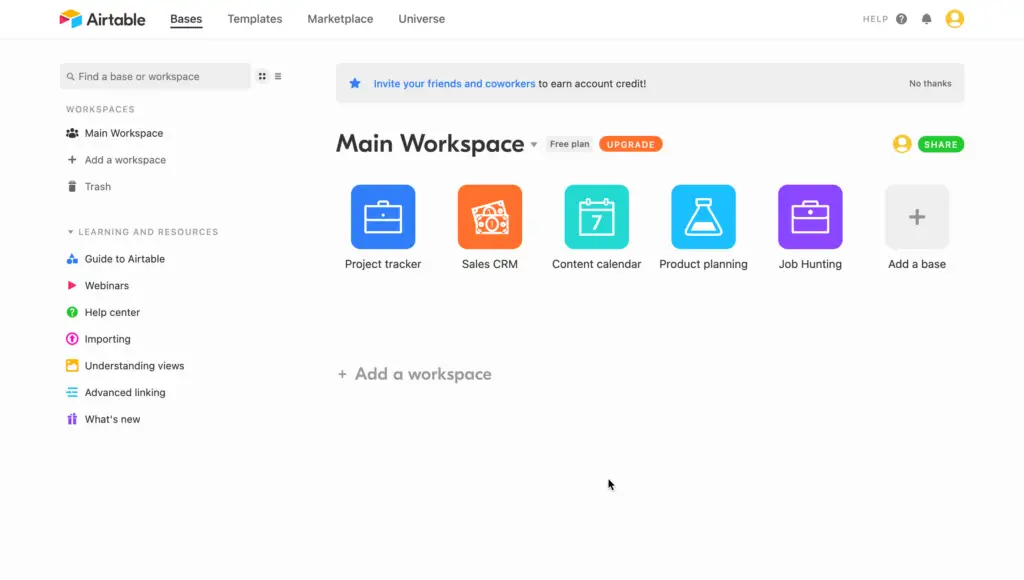 Airtable is another powerful productivity application that you can use to organize your work more efficiently. Airtable is similar to Notion but offers some unique features as well. Airtable uses the concept of a base, which acts like a spreadsheet with rows and columns, it makes organizing information easy. You are able to create multiple views on each type of base.
What are the Strengths of Notion?
Notion offers a sleek and easy-to-use interface that makes it enjoyable for everyone. You are provided with all the tools required in one place, such as task lists, notes, checklists and other organizational features. Notion also has an API that allows integration with third-party services as well as the ability to embed content from third-party service directly on a Notion page.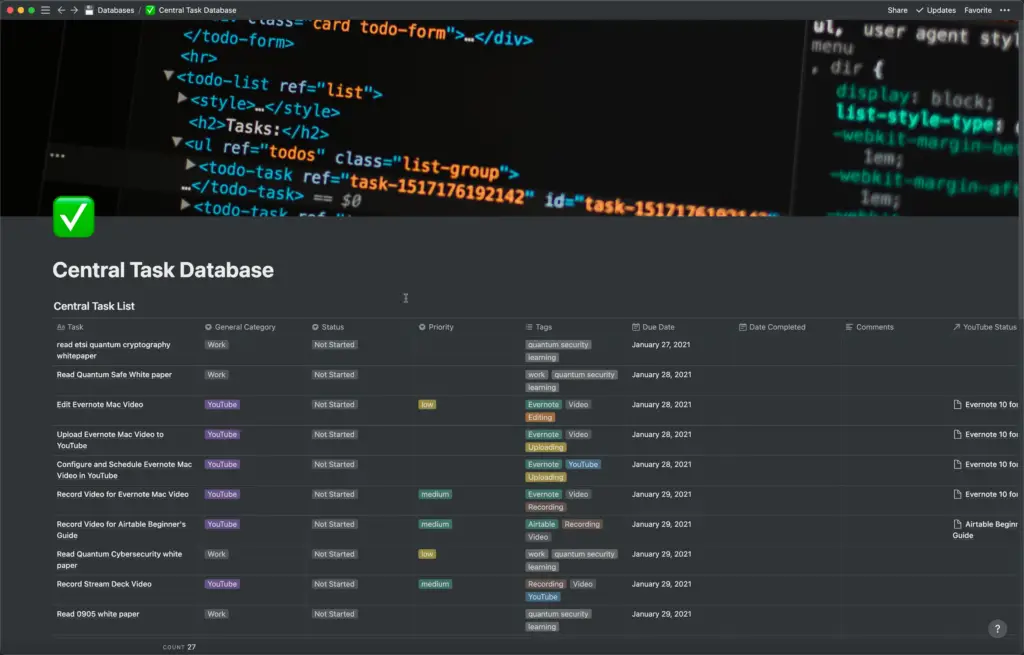 Notion is extremely flexible and versatile and you can configure Notion to do pretty much anything. Some of the things you can do in Notion include:
Project Management
Task Management
Kanban boards
Calendars
Gantt charts
Database Management
Web page host
There are a ton of use cases that you can create in Notion. Notion is, essentially, a bunch of building blocks you can configure to suit your custom needs.
If you are looking to learn on the go, Audible is for you. Audible has a huge library of audiobooks on a variety of topics and listening to audiobooks is a great way to learn on the go. Audible includes podcasts and Audible Originals as well. For more information on Audible, click the link below to get your first 30 days on Audible for free:
Audible – Your First Audiobook is On Us
What are the Strengths of Airtable?
Airtable is an extremely powerful tool that can be used to organize almost anything. It features a large number of tools for organizing information, including checklists and tables. You are able to create multiple views on each type of base as well as the ability to share your work with others via different users or groups.
Like Notion, Airtable also has a rich API that allows for integration into various third-party services like Google Sheets, Mailchimp, and Zapier.
As a database-focused application, the database functionality in Airtable is far more powerful than Notion's database capabilities. This is likely due to focus. Airtable is focused on being a database application while Notion is more geared toward being a multi-purpose application.
What are the weaknesses of Notion?
Notion is still in its early stages, but it's definitely the best option for people who value flexibility and control. The application can be confusing for beginners since there are many features that Notion offers. It can be a bit daunting for beginners to get started in Notion as it is essentially a blank canvas with tons of customizability.
However, once you have learned the basics of Notion, it really is an awesome application that you can extend or adapt as your needs change. Additionally, Notion offers a bunch of pre-made templates you can use to help get started or simply to use as inspiration.
Notion is a jack of all trades but it can be argued that it is a master of none. If you have a specific use case where there is an application that is focused on that use case, it may make sense to use it instead of Notion.
What are the weaknesses of Airtable?
Airtable is an extremely powerful database application. However, with that power comes some complexity. Airtable has a lot of features. This can make it challenging to get started in Airtable without some guidance.
However, once you learn the basics, Airtable is an extremely powerful application that will enable you to do basically anything with your data in terms of organization, filtering, sorting, and calculating data.
If you are looking for an all-in-one productivity application, Notion is the one for you. If your needs are database-related and need powerful database functionality, Airtable is the app for you.
Want More Tips and Tricks? Subscribe to our Newsletter!
Can't Remember Your Passwords? You Need 1Password!