Guide to Using Kanban Boards in Notion
Kanban boards are a really great way to track projects through the project lifecycle. Kanban boards allow you to set up columns that represent a specific phase of the project cycle and use cards to represent each project. As your project advances to each phase, you move the project card from column to column until it reaches the end of the project cycle. The strength of the kanban board is that it provides a clear visual representation of where all of your projects are in the project lifecycle. I typically use kanban boards when I have multiple projects that follow the same process. The added benefit of kanban boards, at least for me, is the little boost I get when I get to move the card to the next column to represent the project advancing to the next phase.
Notion is one of my favorite productivity tools due primarily to its flexibility. One of the cool features of Notion is the ability to create kanban boards in Notion pages. The process to create a kanban board in Notion is extremely straight-forward. Listed below are the steps required to create a kanban board in Notion:
Create new Notion Page or Open existing Notion Page
Click where you want the board to appear
Type /board to bring up the board options. Select one.
Your board will be created.
Before we get started, if you are looking to learn even more about Notion or other apps, Skillshare is a great resource to check out. Skillshare has courses on Notion, Evernote, Todoist, Things 3, Trello and more. In fact, there is a great Notion course by Francesco D'Alessio on Notion that you can check out at the link below:
Link to Notion Course on Skillshare
If you are looking to learn on the go, Audible is for you. Audible has a huge library of audiobooks on a variety of topics and listening to audiobooks is a great way to learn on the go. Audible includes podcasts and Audible Originals as well. For more information on Audible, click the link below to get your first 30 days on Audible for free:
Audible – Your First Audiobook is On Us
If you are just starting out with Notion and aren't sure where to get started, you really need to check out my comprehensive beginner's guide to Notion. It goes through all things you need to know to get started the right way. Enclosed below is the link to the guide:
Link to Beginner's Guide to Using Notion With Screenshots
Creating a Kanban Board in Notion
Let's get started by creating a kanban board in Notion. Notion makes it extremely simple to create a board. To create a board in Notion, do the following: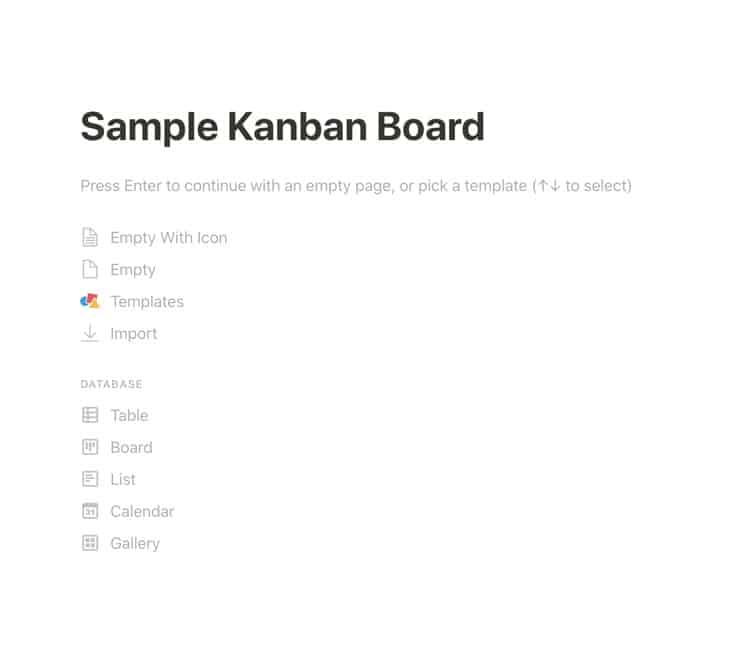 1. Create a New Notion Page or Open an Existing Page.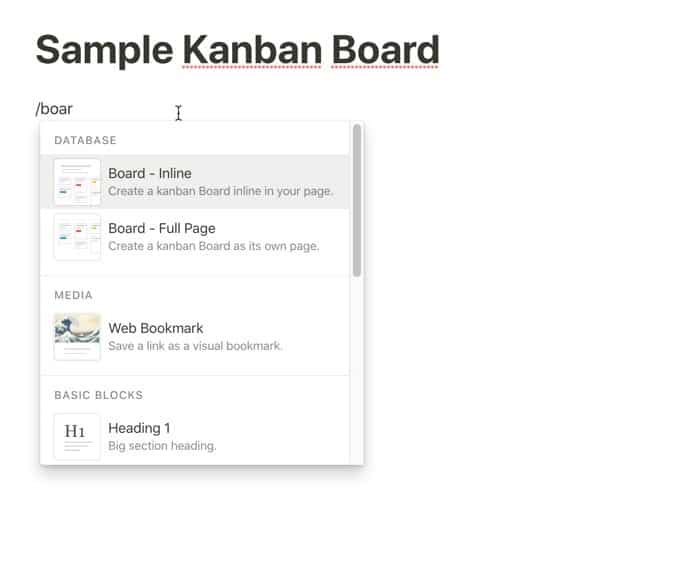 Click where you want to put the board on your page. Type /board to bring up the block menu.
There are two options to choose from when creating a board in Notion:
Board – Inline
Board – Full Page
Inline allows you to place the board inside an existing page. The full page option creates a new page for your board. For this tutorial, we will choose the inline option.

A board will appear on your page with some default column settings pre-configured.
Cards and Groups in Notion
Now that we have a board created, it is probably a good idea to review how a kanban board works. There are cards and groups. Cards typically represent individual projects while groups are the columns that represent project or development phases. As you can see in the default board that Notion creates when you first create the board, there are 3 cards and four groups (columns). You can edit, delete or add both cards and groups to your board.
How to Edit a Card in Notion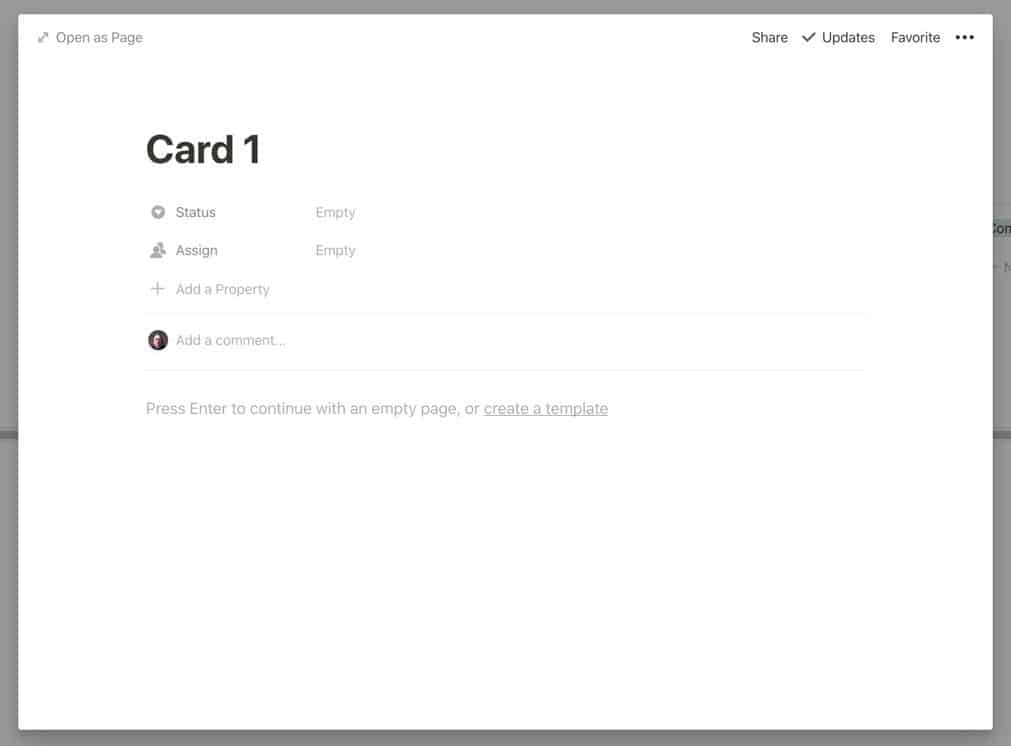 To edit one of the default cards in your board, simply click on it. Cards are really flexible in Notion. They function a lot like pages in that you can add:
Properties
Tables/Databases
Embeds
Comments
The amount of data you can add to the card is tremendous, which makes cards great at representing projects in your board. The first thing you will want to do is edit the name of the card to represent your project. To edit the name of the card simply double-click to select the existing title and type in your new card title.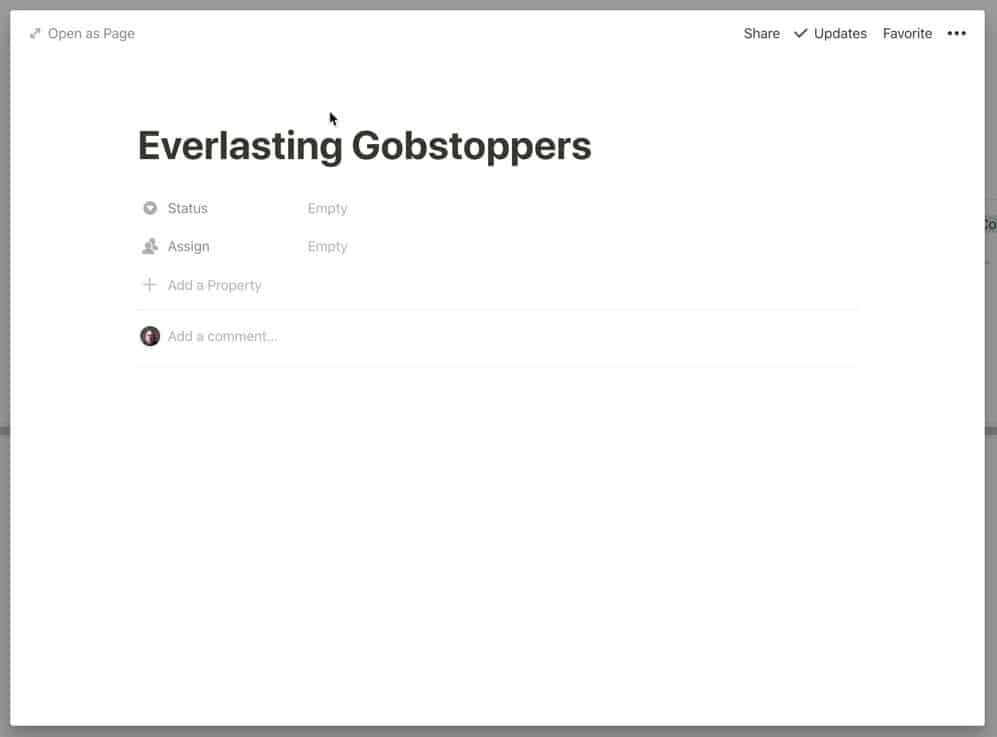 Now that you have a new title for your card, let's take a look at the properties of the card to see how we can customize the card to support our project.
Card Attributes in Notion
Cards come with two attributes by default:
Status is a property that allows you to assign the status of the project. When you click on the text field next to status, a drop-down menu will appear with a list of any groups in your board, as shown below: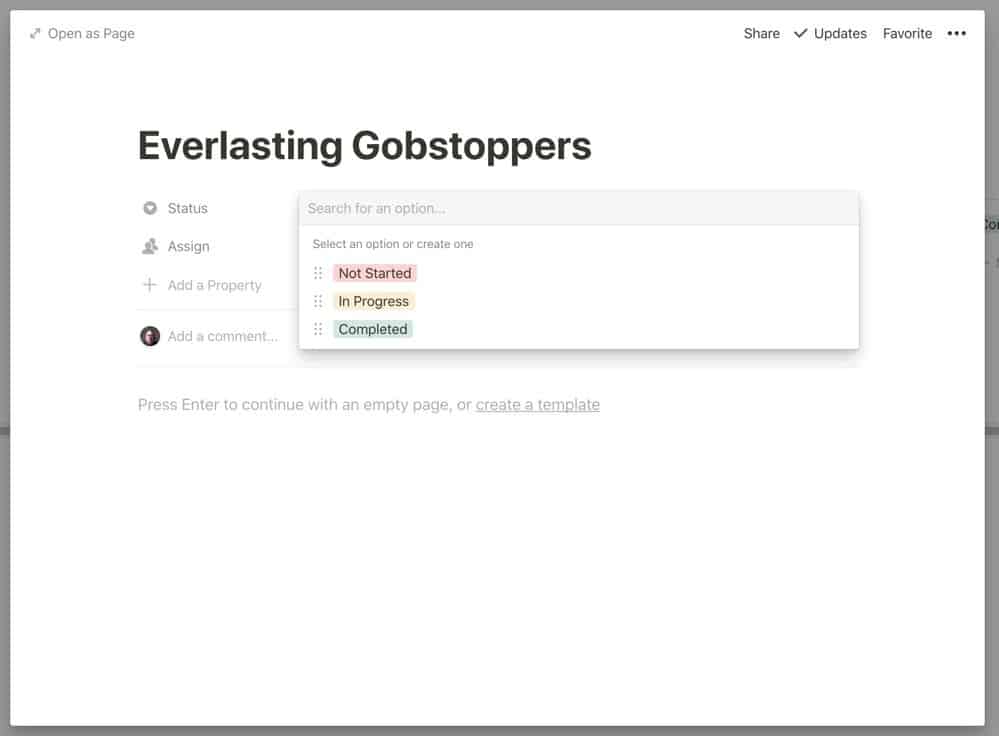 By default, it will show the three default groups: Not Started, In Progress and Completed. Notice that your default board actually has four groups with "No Status" not showing up in the drop-down, which makes sense given you wouldn't assign "No Status" when assigning a status to your card.
Moving Cards between Groups (Columns) in Notion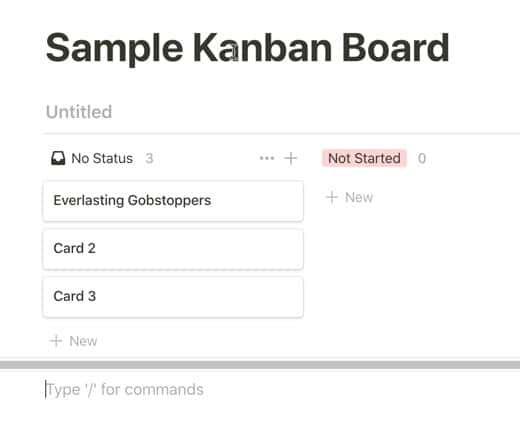 Moving a card between Groups in Notion is very simple to do. To move a card from one group (column) to another in Notion, simply click on the card, hold down the mouse button, and drag it to another group (column).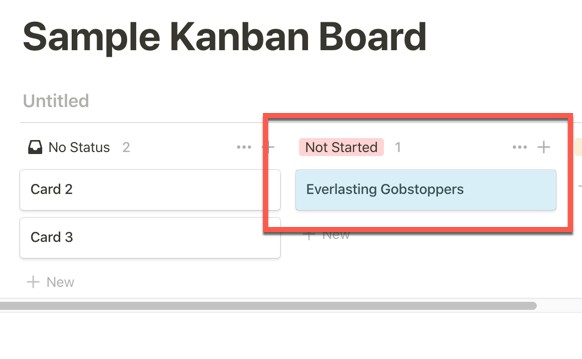 The status of the card will now reflect the name of the group it has been moved to.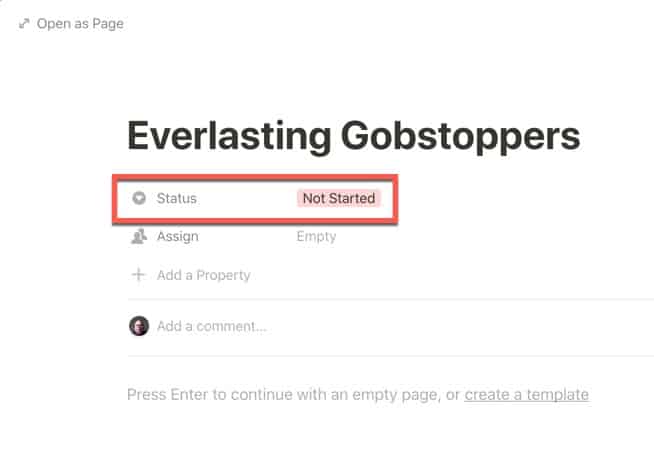 Editing a Column Header of a Notion Board
While the default groups in a Notion board are great, you may want to change the name of one or more of them. To change the name of a group in a Notion board, double-click on the name of the group. The appearance of the title will change, as you can see in the image below: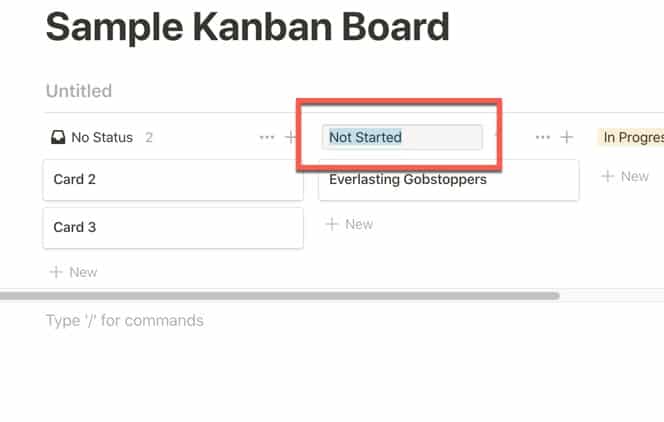 Type in the name you want to assign to the group and press Enter. The new name will now appear as the title of the group.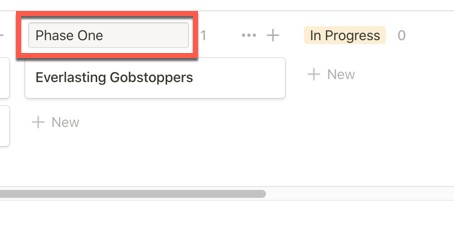 Additionally, the change will propagate into the status of the card itself as you can see in the image below: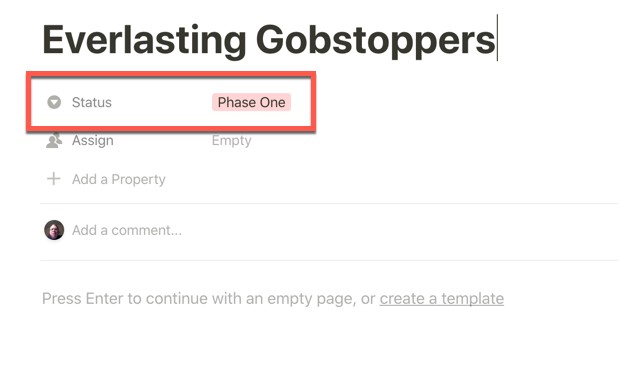 Rearranging Columns of a Notion Board
To re-arrange groups (columns) in a Notion board, you do the following:
Click and hold on the name of the group (column)
Drag the column to where you want it and release the mouse button

Your group and all of the cards assigned to it will now be in the position specified, as shown in the image below: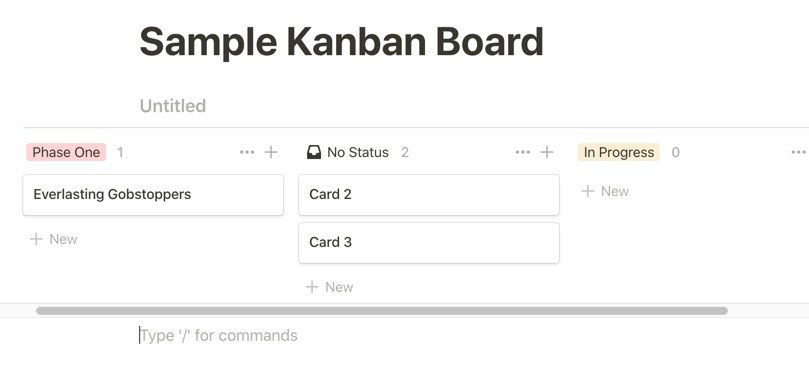 Adding a Column to a Notion Board
Adding a new group (column) to a Notion board is very easy to do. To add a new group or column to a Notion board, click on the + Add a Group button located after the last group on the board.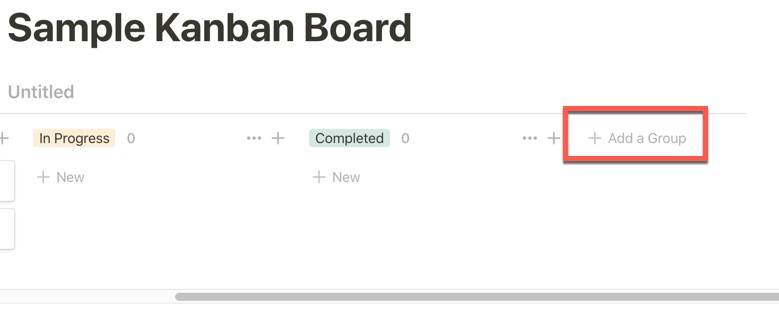 Once you have pressed the button, type in the name of the group and press Enter.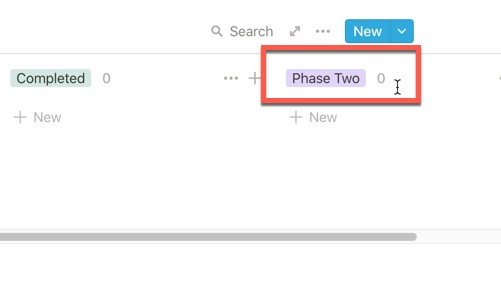 Your group is now ready to be used.
Adding a New Card to a Group in Notion
Now that we know how to edit, arrange and create groups (columns) in Notion, we should add a new card to one of the groups. Adding a new card to a specific group is straight-forward. Simply click the + New button located at the bottom of the group you want to add it to.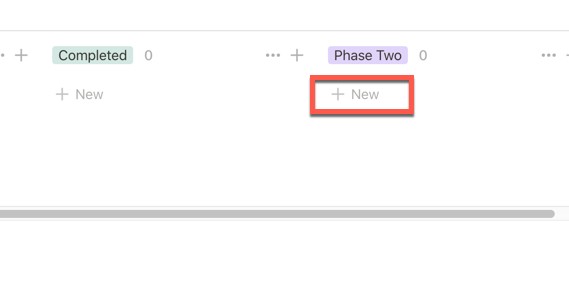 Next, type in the name of the card and press Enter.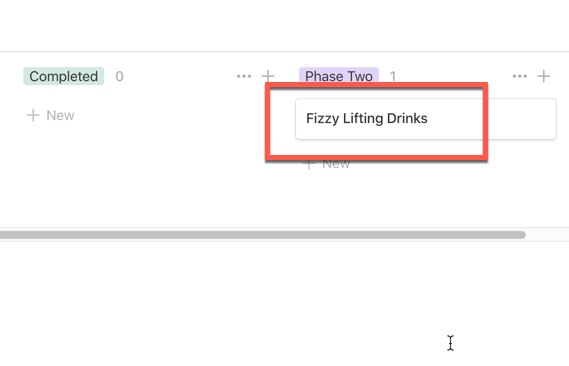 Your card is ready for use.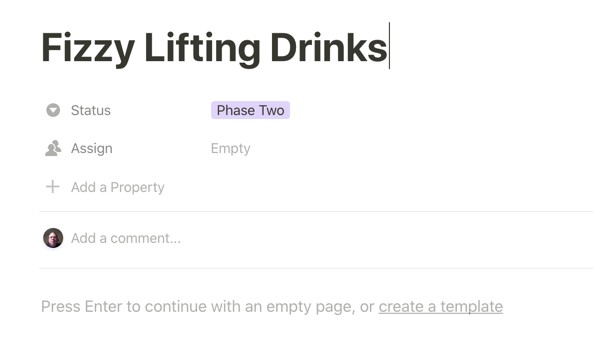 Subscribe to Our Newsletter
If you like this article, subscribe to our newsletter. It contains tips and tricks to help you get things done.
Check out our Resources page
Check out our resources page for the products and services we use everyday to get things done or make our lives a little easier at the link below:
Check Out Our YouTube Channel!
We have a YouTube channel now and we are working hard to fill it with tips, tricks, how-tos, and tutorials. Click the link below to check it out!
Helpful Links
Notion Help and Support webpage
link to Notion Help and Support webpage
Loom Video Recorder website
link to Loom Video Recorder website
Other Articles You May Be Interested In
How to Use the Notion Web Clipper
Link to How to Use the Notion Web Clipper
How to Embed Loom Video in Notion Guide
Link to How to Embed Loom Video in Notion Guide
How to Create a Project Tracker in Notion
link to How to Create a Project Tracker in Notion
How to Embed a Google Sheet into a Notion Page
link to How to Embed a Google Sheet into a Notion Page
How to Import an Excel Spreadsheet into Notion
link to How to Import an Excel Spreadsheet into Notion
How to Embed Codepen into Notion
link to How to Embed Codepen into Notion