Notion vs OneNote – Which is Best for You?
Both Notion and OneNote are great note-taking applications, but which one is best for you? This detailed comparison guide will compare and contrast these two powerful applications and help determine which one is best for you based on your workflow.
Before we get started, if you are looking to learn even more about Notion, OneNote or other apps, Skillshare is a great resource to check out. Skillshare has courses on Notion, Evernote, Todoist, Things 3, Trello, and more. In fact, there is a great Notion course by Francesco D'Alessio on Notion that you can check out at the link below:
Link to Notion Course on Skillshare
What is Notion?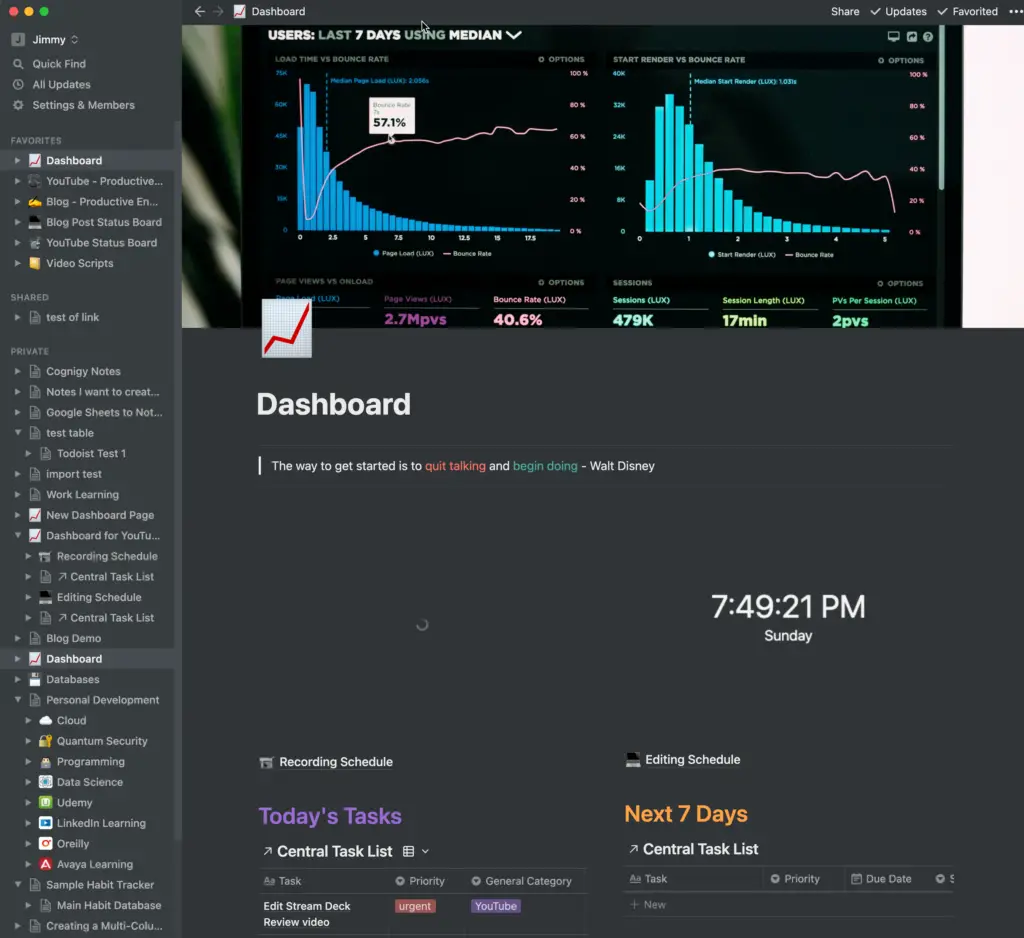 Notion is a wiki-based productivity platform that supports a variety of functionality, including:
note-taking
databases
Kanban boards
calendars
to-do lists
You can customize almost everything to your specifications to keep your work well organized. Notion also provides collaboration capabilities. It is a cross-platform service that runs on:
Web
macOS
Windows
iOS
Android.
If you are just getting started with Notion, you should check out our Beginner's Guide to Notion, which you can find here. Our guide will take you from beginner to Notion ninja! If you are looking for some essential Notion tips and tricks, check out 14 Amazing Notion Tips and Tricks You Must Know.
Once you want to use the template on the page, simply click the template button.
Notion Advantages
Project teams prefer Notion due to its adaptability and flexibility. Look at the most critical features in identifying and encouraging organized work in this software.
The flexibility of Notion
One of the biggest strengths of Notion is its flexibility and versatility. At its heart, Notion is a customizable wiki. Notion allows you to add a variety of content types to Notion. You can use Notion for a plethora of use cases beyond note-taking. 
Project and Task Management
Notion enables teams to schedule, monitor, and update numerous projects and tasks through a centralized platform. Remote teams benefit from high accessibility, reliability, and real-time updates that provide a detailed view of all activities.
Database Management
Notion software is more than a text editor; it utilizes databases to manage all content, including notes and documents. Users can keep their notes private, share them with their team, or publish them on the public web, depending on what they want.
If you are an Airtable user or looking for a comparison between Notion and Airtable, check out my Detailed Comparison of Notion and Airtable.
Notion Disadvantages
Jack of All Trades, Master of None?
Notion is incredibly powerful. You can do anything from note-taking to database management, todo-lists, Kanban boards, and even websites. Because Notion does so much, it can be fair to ask whether it is best in class at any one of them.
Complicated to learn
The learning curve beyond the basics in Notion can be a bit steep, especially if you are new to wikis. Fortunately, there are tons of Notion tutorials out there (many created here) to help you master Notion.
Looking to automate your productivity workflow? You should check out my Guide to the Elgato Stream Deck. Stream Deck allows you to set up actions that can be enabled by a simple push of a button.
What is OneNote?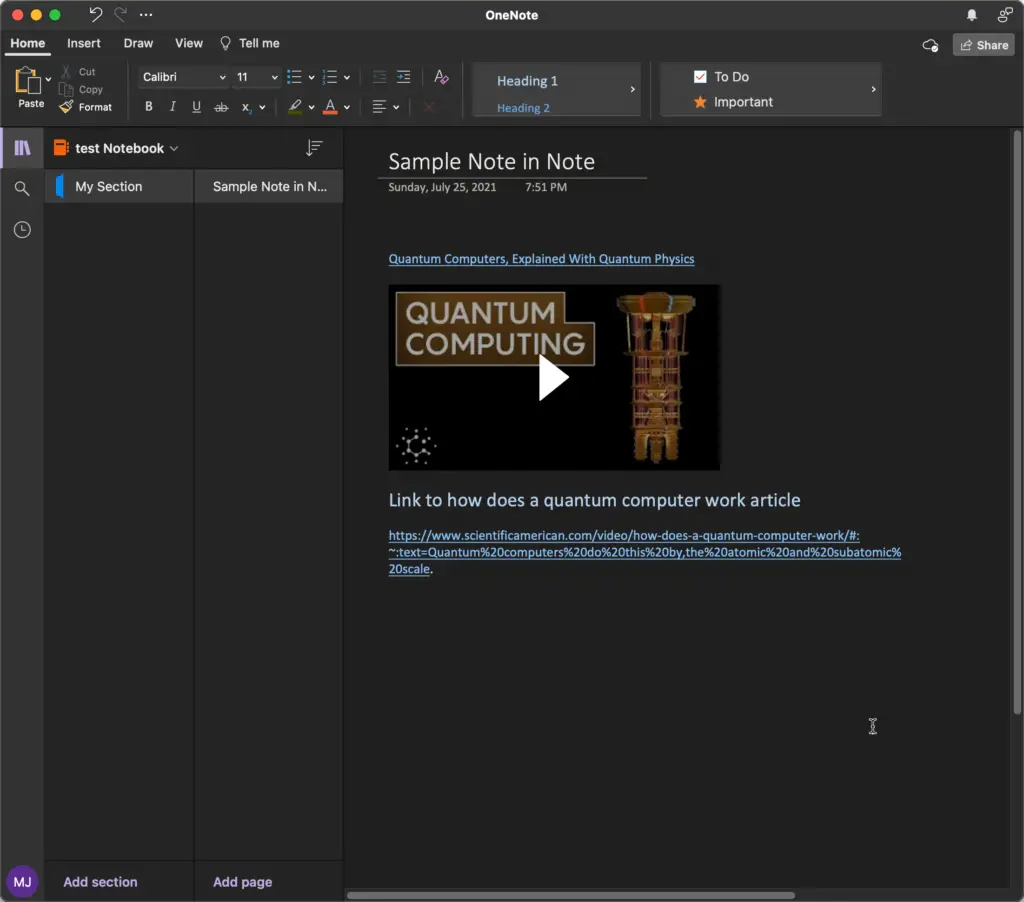 OneNote is a note-taking app developed by Microsoft. It acts as a central repository for all of your notes, structured into different notebooks and sections within notebooks. It is compatible with a wide range of digital formats, allowing you to pin multimedia documents and plain text.
Like Evernote and Dropbox Paper, OneNote enables you to store images and text in free-form documents that you can share or keep private. OneNote is part of the Microsoft Office Suite, which also includes Word, Excel, and PowerPoint.
If you are interested in learning how to implement a Zettelkasten system in Notion, check out our Complete Guide to Zettelkasten in Notion.
OneNote Strengths
Some of the main benefits of OneNote include:
Real-time collaboration
Data Fidelity
Multimedia Support
Integration with other Microsoft Services and Applications
Real-time collaboration:
Due to the cloud-based nature of Office 365, you can share a OneNote file with others to create a collaborative workbook that updates in real-time. Share notebooks for viewing or formatting, and multiple users can collaborate concurrently.
Data Fidelity
OneNote saves all content that users enter into the program automatically. OneNote can sync your OneNote data to all of your devices, and you can rest assured that your data is backed up.
Multimedia Support
Apart from the standard text, image, and other media types supported by Microsoft Word, OneNote enables you to record audio and video directly into your notebook. OneNote is ideal for recording and sharing meetings with coworkers.
Integration with other Microsoft Services and Applications
The wonderful thing about Office 365 is how seamlessly its applications integrate. For example, OneNote can be synchronized with Outlook, allowing you to send information directly from emails to OneNote, and users can email notes directly from OneNote.
OneNote Disadvantages
Here are some of the disadvantages of OneNote as given below:
It Is Complicated for Newcomers
OneNote is different than many other note-taking applications, so there is a bit of a learning curve. In particular, sharing notes and notebooks can be a little complicated to learn at first.
Platform Inconsistencies
The functionality available to MAC and Windows users is slightly different. However, Microsoft has been working diligently to close the gap.
Notion vs OneNote Feature Comparison Table
Feature
Notion
OneNote
Note-taking
Yes
Yes
Text Formatting
Yes
Yes
Pre-Made templates
Yes
Yes
Tags
Yes(per database or page,
not universal)
Yes
Structure
(smallest unit
to biggest)
subpage(s) -> Page
(HTML Web directory like)
page->section->notebook
Embed video
Yes
Yes
API support
Yes
Yes
OCR support
No
Yes
Ability to create database
in application
Yes
Yes*
(basic table only,
or embed Excel
Spreadsheet)
Kanban Boards
Yes
No
native calendar support
Yes
No
Google Calendar embed
support
Yes
No
Google Calendar interworking
via API (Zapier, etc)
Yes
Yes
Notion vs OneNote Feature Comparison Table
Can You Replace OneNote with Notion?
The short answer is yes, but the real question is whether it makes sense to stop using OneNote. 
Whether to replace OneNote with Notion is entirely dependent on:
What do you currently use OneNote for?
What are you missing in OneNote that is available in Notion?
How much do you use the rest of the Office 365 application?
If you only use OneNote for traditional note-taking and want to take your notes in Notion instead, it doesn't make sense to switch. If, however, you wish to incorporate databases and rich tables into your note-taking system, switching to Notion is a great option.
You also need to evaluate the value of how OneNote integrates into the rest of the Office 365 ecosystem. If you are a power user of most Office 365 apps, staying on OneNote may make more sense than switching to a different platform.
Which is better: Notion or OneNote?
This question is tricky because it is highly subjective. Depending on your workflow and use cases, either could be better for you than the other.
That said, enclosed below is a table outlining scenarios and which application, in my opinion, is best for that particular use case:
Use Case
Recommended
Application
Need Note-taking only
OneNote
Need Database functionality
Notion
Need basic tables
OneNote
Desire rich integration
to other Office 365 applications
OneNote
Ability to embed third party
applications in app (Google Calendar,
Todoist, etc)
Notion
Want an all-in-one productivity
application (todos, database,
note-taking)
Notion
Notion vs OneNote Recommendation Table
Notion vs OneNote Pricing
Notion Pricing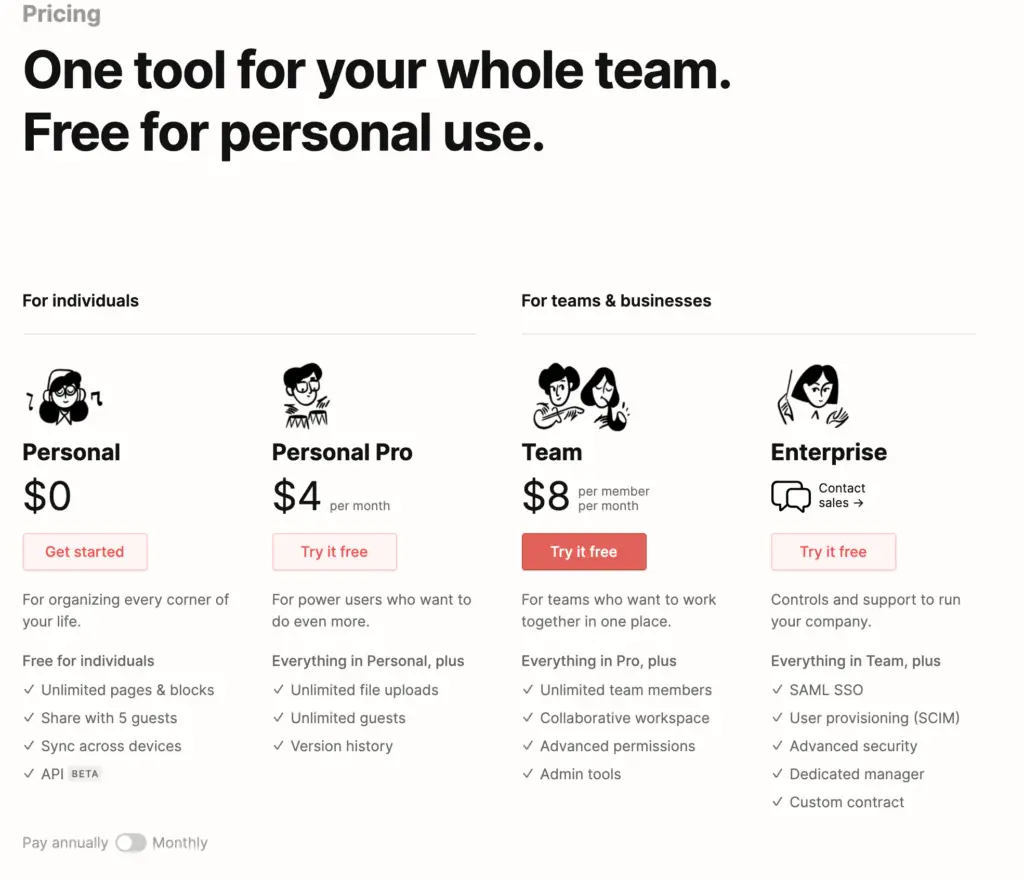 Notion offers 4 different packages, 2 for individual users and 2 for teams and businesses. You can choose the package according to your requirements.
As OneNote is included in MS Office, OneNote is free if you are an MS Office paid user.
If you want to know how Notion stacks up with Asana, check out our Notion vs Asana Guide.
Want More Tips and Tricks? Subscribe to our Newsletter!
If you haven't already subscribed, please subscribe to The Productive Engineer newsletter. It is filled with tips and tricks on how to get the most out of the productivity apps you use every day. We hate spam as much as you do and promise only to send you stuff we think will help you get things done.
Check Out Our YouTube Channel!
We have a YouTube channel now and we are working hard to fill it with tips, tricks, how-tos, and tutorials. Click the link below to check it out!
Looking to Get Started Blogging or on YouTube?
Getting started can seem daunting and scary (I know it was for me) but it doesn't have to be. I was very lucky to find a program that that has helped me grow my blog to over 95,000 page views and a YouTube channel that is monetized and growing at over 100% month-over-month.
Income School is the program that I have used. I have been a member for over a year now and just renewed my membership. I cannot recommend Income School enough! For more information on Income School, click the link below:
Income School – Teaching You How to Create Passive Income from Blogs and YouTube
Check out our Resources Page
Check out our resources page for the products and services we use every day to get things done or make our lives a little easier at the link below: