What is the Elgato Stream Deck?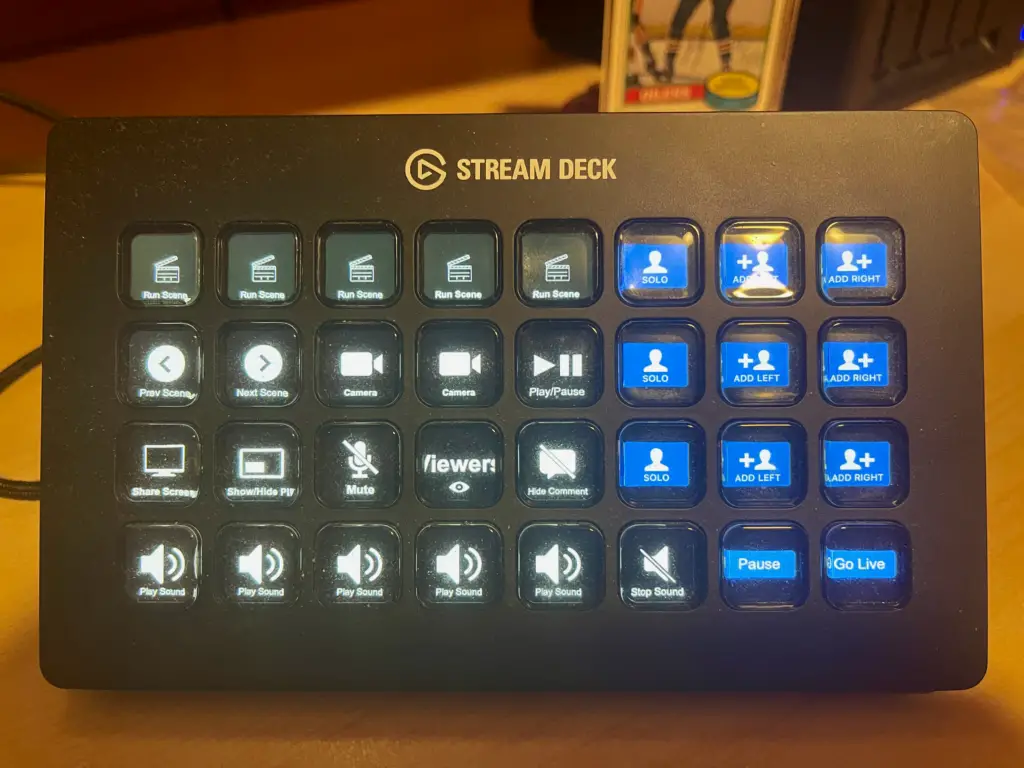 The Elgato Stream Deck is a customizable control pad primarily designed for live-streamers to set hotkeys to manage their broadcasts. Featuring a panel of user-assignable LCD keys, the Stream Deck is one of the most advanced macro keyboards on the market right now.
Not only is the Stream Deck a fantastic time-saving tool for those that livestream on platforms like Twitch and YouTube Gaming, non-gamers can also use this control pad to improve their workflow in productivity tasks. Here's what a Stream Deck can do for you and which model you should buy.
Model Comparison: Which Elgato Stream Deck should I get?
There are four models of Stream Deck currently available right now: Stream Deck, Stream Deck MK.2, Stream Deck Mini and Stream Deck XL. Here's how they compare.
Model
Stream
Deck
Stream
Deck MK.2
Stream
Deck
Mini
Stream
Deck
XL
Number of
Keys
15
15
6
32
Size (mm)
118 x 84 x 21
118 x 84 x 25
84 x 60 x 56
34 x 182 x 112
Weight (g)
190
145
160
408
Interface
attached
USB 2.0
cable
detachable
USB 2.0
w/ type C
cable
attached
USB 2.0
cable
detachable
USB 3.0
w/ type C
cable
Stand
Type
adjustable
detachable
stand
45 degree
fixed-angle
detachable
stand
non-detachable
fixed-angle
stand
45-degree
fixed-angle

Price on
Amazon
link
link
link
link
Quick
Start
Guide
link
link
link
link
Elgato Stream Deck Model Comparison Chart
The original Stream Deck features 15 customizable LCD shortcut keys and weighs 190g. The first Stream Deck is the only model to have an adjustable stand. Its replacement – the Stream Deck Mk.2 – ditches this for a fixed angle removable stand.
The main upgrades of the Mk.2 are the detachable USB 2.0 Type-C cable and Detachable Faceplates. While we find the cable on Stream Deck 1.0 to be long enough for most setups, we appreciate the added flexibility of the removable cable.
Elgato sells custom $10/£10 faceplates for the MK.2, allowing users to swap out the device's façade to match their desk aesthetic.
If you're looking for a smaller and more affordable control pad, the Stream Deck Mini is your option. We find the six buttons too limiting, and we think you'll run out of macro keys very quickly with the Mini. The standard size Stream Deck is compact enough for all but the smallest desks. But, if you need to save a buck and can get by with six keys, the Mini is yours for $79.99 / £89.99.
Most people, however, would benefit from an upgrade to the standard Steam Deck.
Why should I get the Stream Deck XL?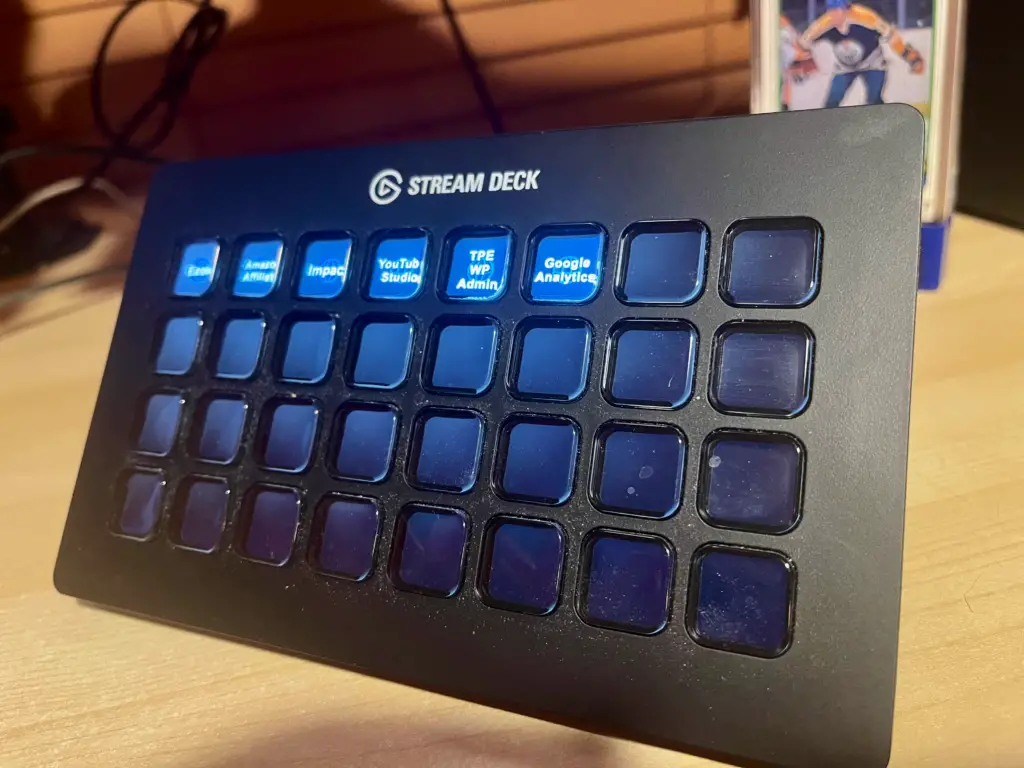 The Stream Deck XL comes with a whopping 32 customizable control keys, bring the device's dimensions to 34mm x 182mm x 112mm. This behemoth will begin to look imposing on smaller desks and should only be considered by experienced productivity masters due to its $249.99 / £229.99.
We like the inclusion of a USB 3.0 Type-C detachable cable, although we're unsure why it doesn't include an adjustable stand. If you can find an effective use for 32 macro keys and have the cash to spare, Stream Deck XL is a great choice.
However, the Stream Deck XL is probably not worth it for most people, and the standard Stream Deck is a good enough sweet spot.
What can I do with a Stream Deck?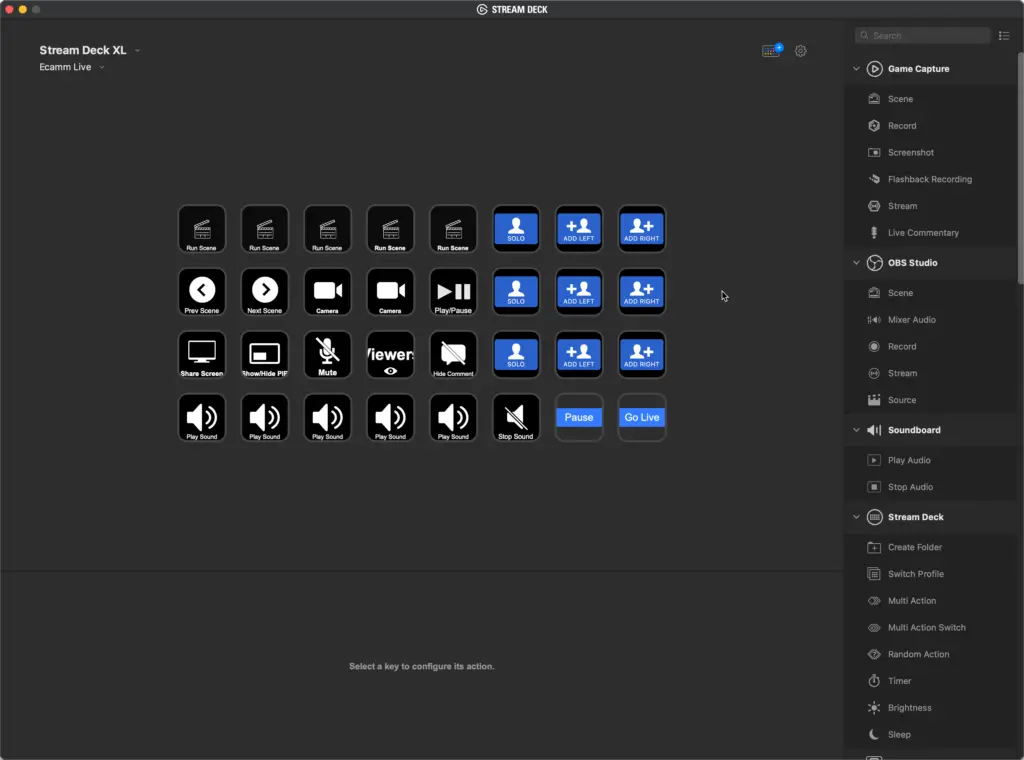 The Stream Deck was designed primarily for live-streamers, allowing them to quickly switch between scenes on OBS, hide elements, mute their microphones, and trigger custom events. However, the Stream Deck is also a great tool for productivity nerds looking to get work done.
The device is controlled through the Stream Deck app for Mac and Windows. This allows you to map the keys to any command you could think of executing.
With the Stream Deck, you can:
Launch programs
Initiate keyboard shortcuts
Navigate to webpages
Play multimedia like videos and music
Use integrations with Twitter to send out pre-prepared tweets
Paste pre-prepared text
And much more!
We find the pasting text feature useful for maximizing productivity for those who work with email marketing, allowing for easy insertion of templates and pre-defined responses.
Video editors, for example, can benefit from the ability to easily execute keyboard shortcuts. You can set keys to perform specific functions in your editing software like, cut, trim, and even export – saving you lots of time remembering key combinations or taking the long way around with your mouse.
Elgato Stream Deck XL – Advanced Studio Controller, 32 macro keys, trigger actions in apps and software like OBS, Twitch, ​YouTube and more, works with Mac and PC
Advanced Live Production: easily control your favorite tools and platforms.
32 Customizable LCD Keys: instantly trigger unlimited actions with a tap.
Powerful Integrations: Elgato 4KCU, OBS, Twitch, YouTube, Twitter, Discord, Spotify, Philips Hue, vMix, VoiceMod, and more.
One-Touch Operation: change scenes, launch media, switch cameras, tweak lighting, adjust audio, post tweets – anything.
Visual Feedback: know that your command has been executed.
Does the Stream Deck work with Zoom?
Yes! You can use your Stream Deck as the perfect control board for your Zoom Meetings. Whilst there isn't currently an official Zoom plugin for Stream Deck, you can perform a host of functions in your video meetings using your Stream Deck through the Hotkey feature.
First, you'll want to set and remember keyboard shortcuts for your commonly used Zoom functions. We recommend mapping functions like Mute, Mute All, Invite to Meet, Start Screen Share, Stop Screen Share, etc.
Then, you can set a profile for the device through the Stream Deck app when the Zoom application is open. Select your hotkeys, pair them with snazzy icons, and you're all set! Whenever you open Zoom (or use the Deck to launch the app), you will be met with your dashboard of video meeting controls.
Can you use 2 Stream Decks at the same time?
Yes, you can use as many Stream Decks as you like. As long as you have enough USB ports, you can hook up more than one Elgato Stream deck, and the Stream Deck software will be able to differentiate between the devices.
This will allow you to assign different hotkeys to the second Stream Deck, and it will work independently to the other device. This represents a massive advantage over using number pads for macro keys as Windows can't distinguish between the inputs from two different keyboards.
Do you need a stream deck to use stream deck mobile?
No, you don't need a Stream Deck to use the Stream Deck Mobile app. Stream Deck Mobile allows you to turn your smartphone into your very own Stream Deck.
The free app will pair with the Stream Deck and gives you 15 customizable control keys to play with. The app uses visual and haptic feedback to simulate pressing an actual button. While the experience doesn't compare to using a real Stream Deck, the Android & iOS app is an affordable way to get extra macro keys for productivity.
Want More Tips and Tricks? Subscribe to our Newsletter!
If you haven't already subscribed, please subscribe to The Productive Engineer newsletter. It is filled with tips and tricks on how to get the most out of the productivity apps you use every day. We hate spam as much as you do and promise only to send you stuff we think will help you get things done.
Check Out Our YouTube Channel!
Check out our Resources Page
Looking to Get Started Blogging or on YouTube?