Which is the best app for task management? Productivity enthusiasts everywhere are asking this question. The answer really depends on what you value most in a task app.
Notion vs Todoist which should you use? These two productivity tools have some similar functionality but offer different experiences. Ultimately it's up to you to decide which one is best for you based on how you like to work. This guide will give you all the insights and comparisons you need to make the best decision for you.
What is Notion?
The notion is an all-in-one productivity service for organizing and managing your work. It's a different kind of productivity app that's flexible enough to adapt to your workflow and powerful enough to help you stay organized in your professional and personal life.
You can use Notion for writing, task management, keeping notes, and collaborating with your team — all in one tool. Notion combines the best of other productivity apps so you can keep everything in one place and get more done in less time.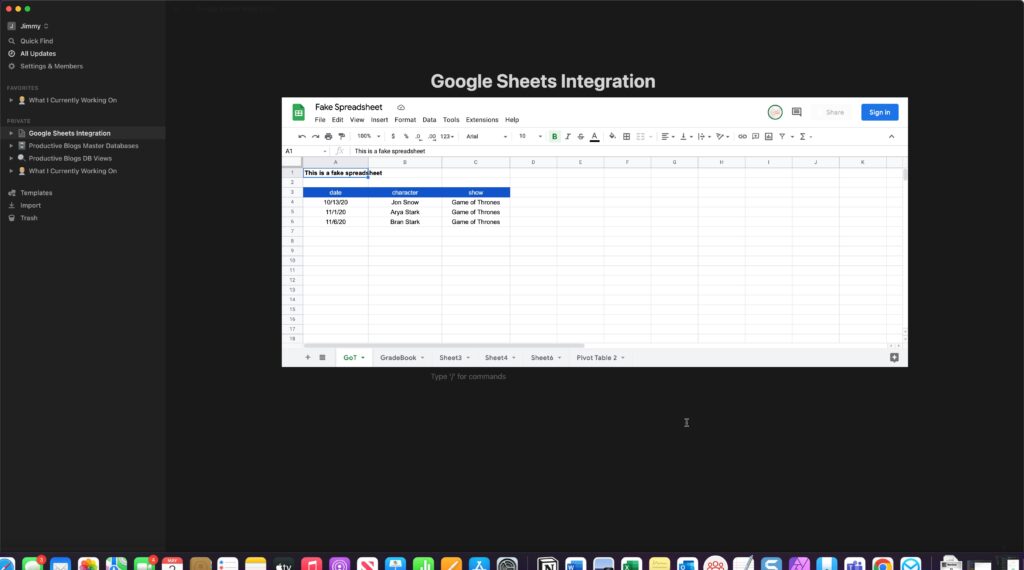 Notion is based on a wiki-style system of pages and subpages, much like a website. Notion is extremely flexible and powerful. You can embed content from third-party services like Google Calendar and Google Sheets. Notion also released an API that allows you to integrate with third-party services quickly and easily.
If you are new to Notion or just looking to learn how to best use it, you must check out our beginner's guide to Notion. This guide will teach you everything you need to know to get started managing your workflow inside Notion.
What is Todoist?
Todoist is a task management app that helps you create to-do lists and custom schedules so you can work more effectively. You can use Todoist on all of your devices, including iOS and Android devices to stay motivated and on top of things no matter where you are or what you're doing.
Todoist can be used as a personal task list or in collaboration with your team. Todoist includes shared projects, comments, reminders, recurring tasks, and due dates to improve communication and accountability among your team members. You can also add comments to any of your tasks so you can easily keep track of any discussions or updates on the progress of different tasks.
Is Todoist Better Than Notion?
Todoist is a task management and reminder app that works across nearly every platform — mobile, desktop, and web. Todoist is likely better than Notion for you if you are solely looking for a project/task management service. Notion can do task and project management but needs more configuration and customization as it is more of a "do anything" platform than a focused task management service like Todoist.
Notion is best known as a general productivity app as it is a powerful productivity tool that can handle:
tasks
reminders
kanban boards
Databases
note taking
galleries
Todoist has been around for more than 10 years and has built up a loyal user base. The app offers light-touch task management with cross-platform support and useful add-ons, such as integrations with Evernote and Dropbox, as well as natural language support for scheduling tasks.
Can Notion replace Todoist?
The short answer is yes. Notion can be set up to do many of the features and functions that Todoist provides. However, the key is set up. Notion doesn't come out of the box as a task or project management solution. Todoist is a task management solution whereas Notion is a flexible productivity solution that can be set up for task management.
Can Todoist Replace Notion?
The short answer is it depends. If you are using Notion for task or project management then Todoist can replace those aspects of Notion. However for things like image galleries and databases, you will still need Notion as Todoist does not support galleries or databases.
In terms of features, Todoist and Notion are clearly two very different beasts. The former is primarily a to-do list manager, while the latter is a much more flexible tool for managing tasks and projects as well as organizing thoughts and ideas.
Notion is perfect for managing content and documents. It's ideal for writing, but also great for storing notes and keeping track of information you need to refer back to regularly.
Todoist is better at managing tasks, projects, and personal goals. You'll never forget what's on your plate with Todoist because it's always in front of you, whether that's on your phone or desktop.
Notion vs Todoist Feature Comparison
Notion vs Todoist Price Comparison
| Notion | Todoist |
| --- | --- |
| Personal For organizing every corner of your life. Price: Free   | Free For starters   |
| Personal Pro For power users who want to do even more. Price: $4   | Pro For power users Price:$3 if billed annually otherwise $4 monthly.   |
| Team Collaborate with your entire team in one place. Price: $8   | Business For teams   Price: $5per user per month, billed annually, $6 billed monthly |
| Enterprise Controls & support to run your company. Price: Contact Sales Department   |   |
Notion vs Todoist Price Comparison Table
Is Notion free for Students?
Yes, Notion is free for students. You can apply for Notion's student discount online. To get your discount, you need to be a full-time student with a valid ".edu" email address. If you're not a student but would still like to try Notion, you can always start with the free plan. Students can get 50% off their team plan by verifying their status with their edu email address.
Is Todoist free for Students?
Todoist is free for students if they are enrolled in a school. They need to provide proof of enrollment when they sign up, and then each year after that. If a student loses their status as a student, they will lose access to Todoist Premium until they can prove they have enrolled in school again. If you are not a student and still want to use Todoist then you can always go for the free plan to test its features.
Notion vs Other Applications
Conclusion
It is interesting to compare Notion (cloud-based, workspace for teams) and Todoist (cloud-based, task manager). Both apps are a part of a project management and task management toolset. Both offer an array of features to help users organize their projects, save time, and support team workflow.
Notion and Todoist are some of the most commonly used task management tools. Although they have very similar features, Notion and Todoist each have their advantages. If you're still having trouble deciding which one you need, consider the areas in which each excels, as well as their pricing structures, and see which one better suits your needs. We hope that this article was helpful, and good luck choosing the right one!