Project management is a very stressful task. It can make the best of us falter too. If you also are struggling to manage your projects with a group of people, then the Trello app might be the solution that you are seeking.
Trello is a tool that you can use in the way that it benefits you the most. For efficient project management or to manage your To-Do list, Trello offers a great tool that you can use to do either of these things. This blog post will walk you through how to get started using Trello.
By making use of the Trello app, you will be able to stay on top of your tasks and streamline the entire project. Collaboration is an easy task, thanks to Trello. By being able to communicate as well as see the progress of your teammates, you will be able to plan and execute it efficiently.
With so many project management tools out there, Trello stands out amongst the crowd. It has impressive features that are unique to Trello and offers a low learning curve to get started.
Before we get started with the tutorial, if you are looking to learn more about apps like Evernote, Notion, Todoist, Google Docs or others, you should really check out SkillShare. Skillshare is an online learning platform with courses on pretty much anything you want to learn. To learn more about Skillshare and its vast library of courses and get TWO FREE MONTHS of UNLIMITED CLASSES, click the link below:
SkillShare – Online Learning Platform
Let us now take a closer look and understand how Trello has simplified the whole process of project management.
What is Trello?
At its core, Trello is simply a board that you can organize easily. Trello is based on the Kanban method of project management. That sounds fancy but essentially it is just a bunch of columns and cards. Columns represent milestones in your project, cards represent tasks or activities. Think of Trello as a virtual pinboard that you can put virtual index cars on.
If you would like to learn more about the Kanban project management system, I recommend you pick up Kanban in Action. This book is a really great primer on what Kanban is and how it can help you manage projects more effectively.
Boards, Lists and Cards in Trello
The core of the Trello service can be broken down into three categories:
Boards are projects. A board is composed of a series of lists. Lists are categories or phases within your project. Cards are the tasks, ideas or things you need to do in your project.
How to Create a Board on Trello
Everything that happens on Trello occurs on a board. A board can consist of only you if you want to organize your daily routine or the entire team if you are working on a big project.
To create a board on Trello, follow the steps below:
1- Once you log into your Trello account, click on the Boards button in the top right-hand corner of the Trello window.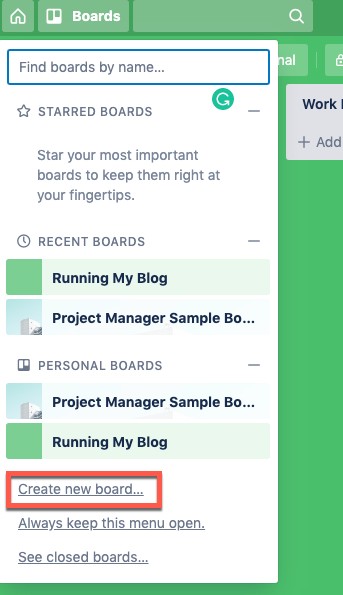 2- A menu will appear. Select Create new board..
3- A new board pop-up dialog will appear. Give you board a name, select a background and select Create Board to create your board.
Your new board should be displayed in the window.
Once you have created your Trello board, it will show up on your Trello account. If you want to add more people onto the board, you will need to follow these steps below: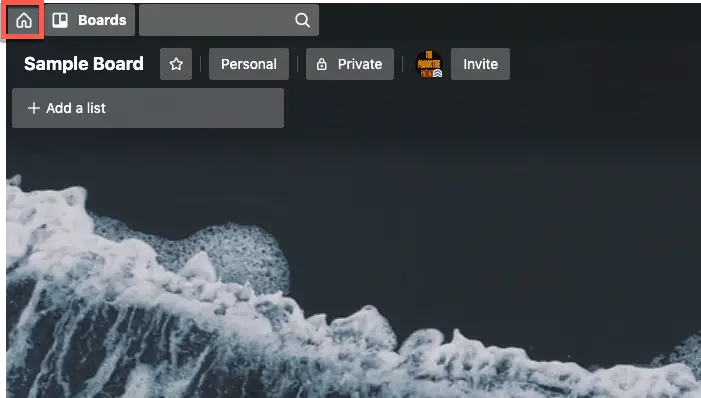 1- From the Home Screen (press the Home button in the top-left-hand corner of the window if not already on the home screen), click on the box containing the board's name that you want to allow your team to access.

2- You will now be able to see an Invite button. Click on this button to share your Trello board.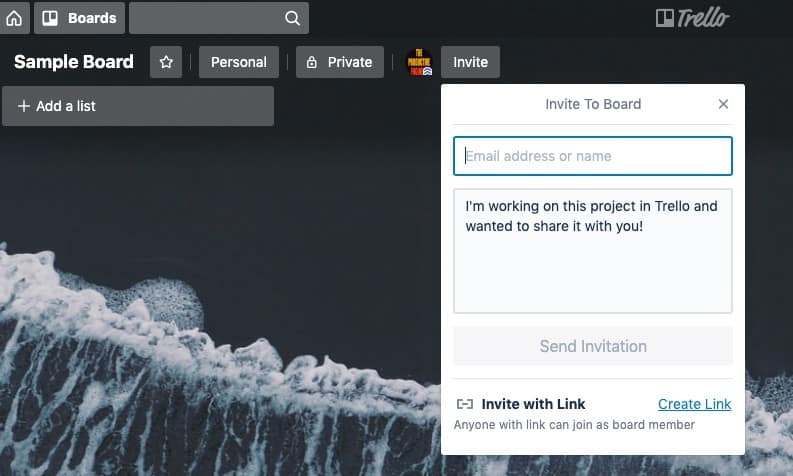 3- You can now add the email addresses of people with whom you want to share the board. You can also create a shareable link and invite people onto your board.
How to create lists in Trello
Once you have created your very first Trello board, you need to make lists inside the board to create and assign tasks. Follow these steps to create a list on your Trello board.
1- After you have created your board on Trello, navigate to your board. If this was your very first board, you will not see anything other than an option to create a new list.


2- Click on Add a list and provide the name of the list that you want to create. Lists can contain the name of the sub-project or even the names of the team members.

3- Once you have provided the name of the list, click on Add List and your list wil be created.

6- As this is a new list, you will not see anything other than a button to add a new card.
Trello Cards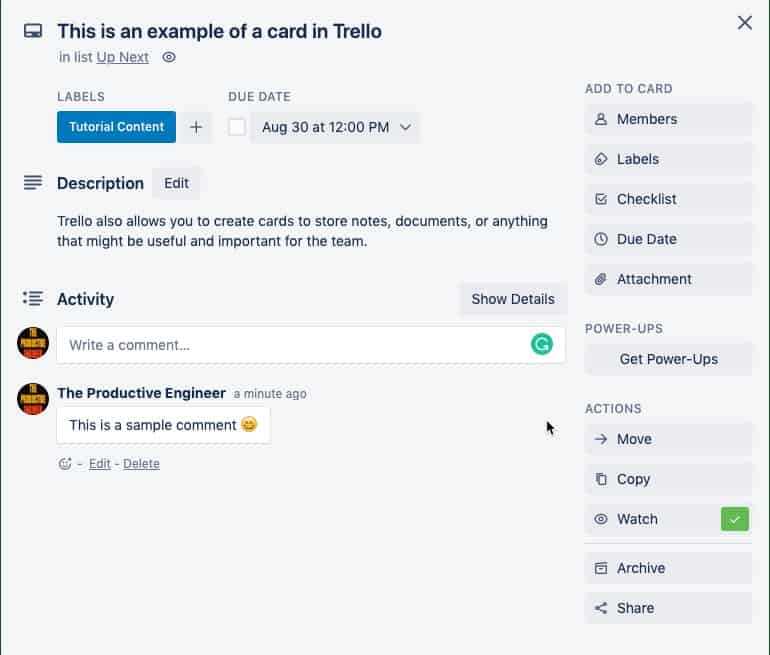 Cards, as mentioned earlier, are tasks, ideas or things that need to happen in your project. Trello allows you to create cards that can store notes, documents, or anything that might be useful and important for the project.

As Trello helps you visualize all your tasks, you will be able to analyze, manage as well as rearrange the tasks, represented in the form of cards.
How to create a new card on Trello?
Now that we have created a list, the next step is to add a card to the list. Cards are tasks, the things you want to do.
To create a card in Trello, do the following:
1- To create a card, navigate to the board of the project that you are working on.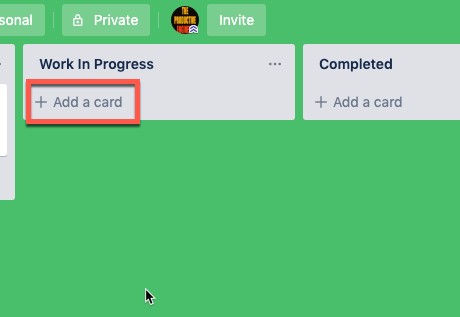 2- Pick the list you want to create a card in and click the Add a card button.

3- You will now have to provide a name for your card. Type the name of the card in the section marked Enter a title for this card…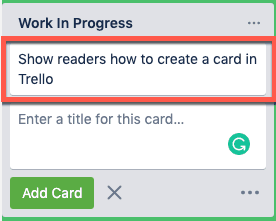 4- After typing the name of the card, you can simply hit the enter button or click on the Add Card button to create the card.
How to Add a Description to a Card in Trello
Now that you have created and can see a card in the list of your Trello board, it is time to provide a suitable description for the card. Descriptions provide context and additional information about the task or idea that the card represents. Follow the steps given below to add a description to your card: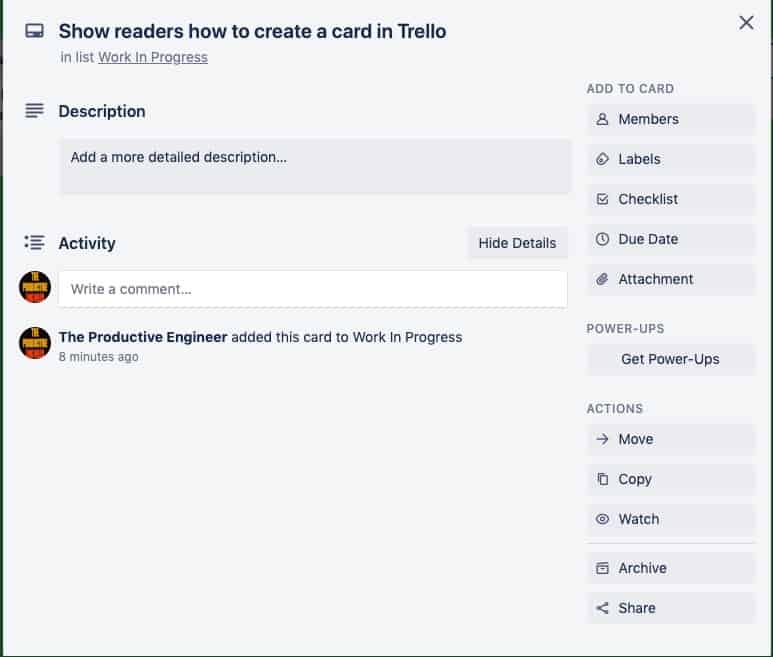 1- Open the card by click on the card. This will bring up the card window.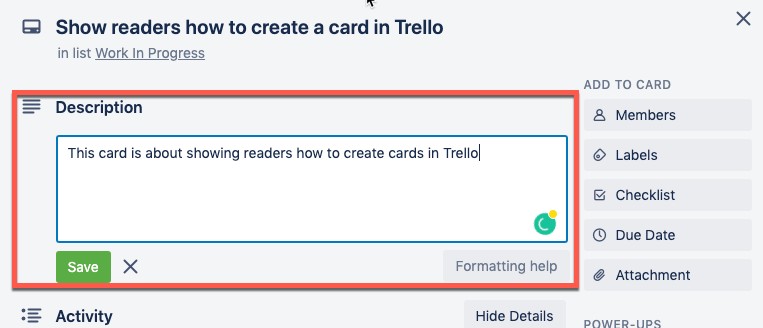 2- Once you are inside the card, you can start writing the description by typing your description in the Description section marked Add a more detailed description… and press the Save button. The description of the card can be both brief or an in-depth explanation of the task. It can also contain links to external websites.
Adding Due Dates to a Card in Trello
After you have added the description, you can add a due date to your card. To add a due date to your card, do the following:
1 – Open your card.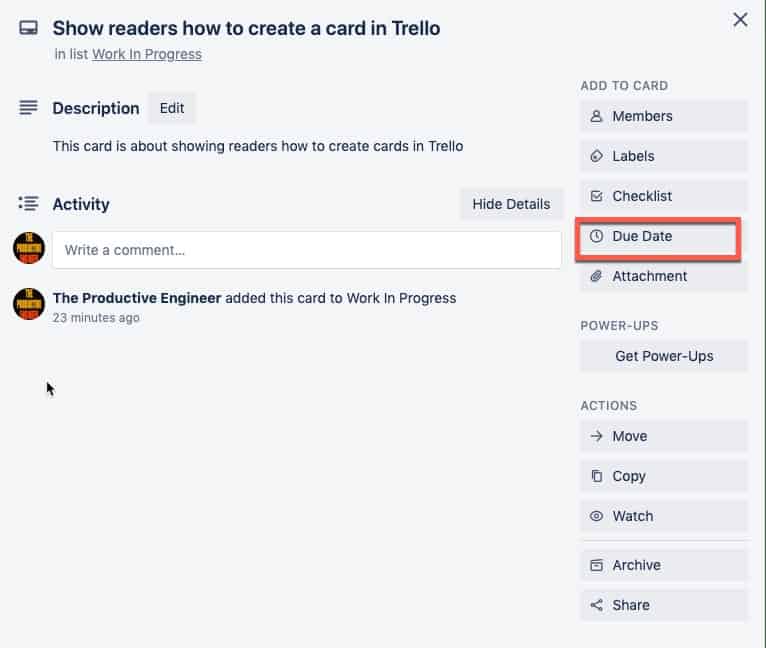 2- On the right-hand-side of the card, press the Due Date button.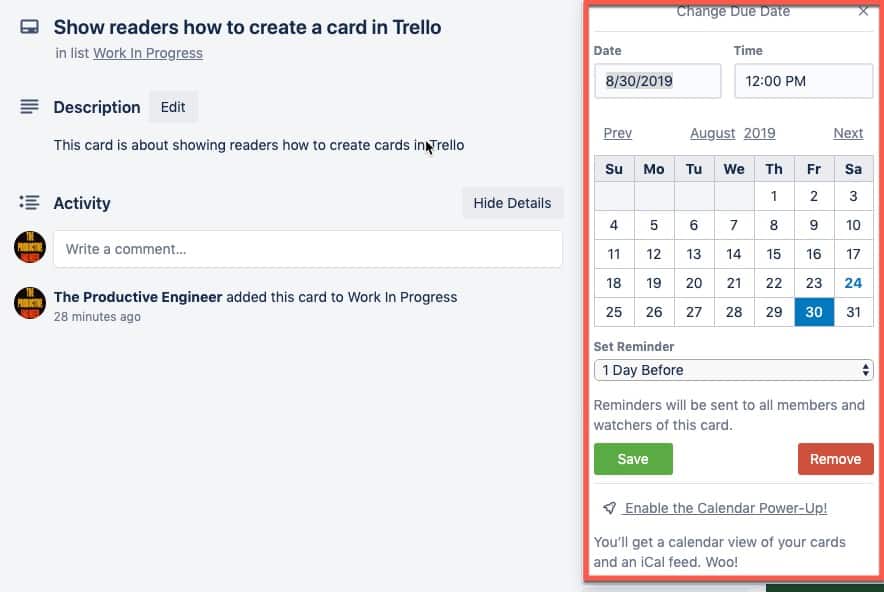 3- A pop-up window will appear. You can set the due date, the time of day on the due date that the task is due and when you want to be reminded of the task. Select the due date, time and reminder day and press the Save button.
Trello also provides additional features that make the card more interactive. These pieces of additional functionality are called power-ups. Let's look at the various power-ups that are available on Trello.
How to add power-ups to your card in Trello
Trello can make any card visually more appealing with the help of power-ups. You can add a power-up to your card to make it aesthetically pleasing or to make it easy to manage the tasks.
Follow these steps to add power-ups to your task.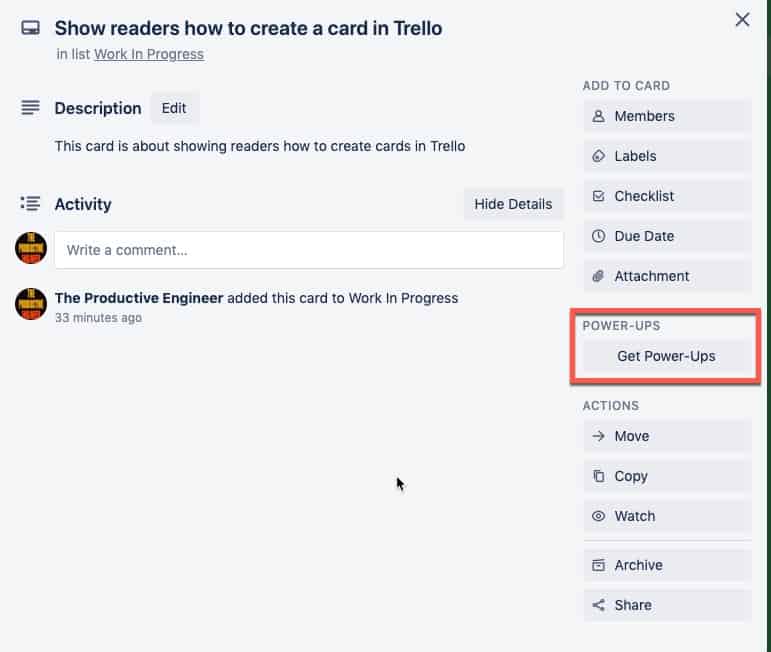 1- Navigate to the card that you just created on your Trello board. On the right-hand side of the card, press the Get Power-Ups button.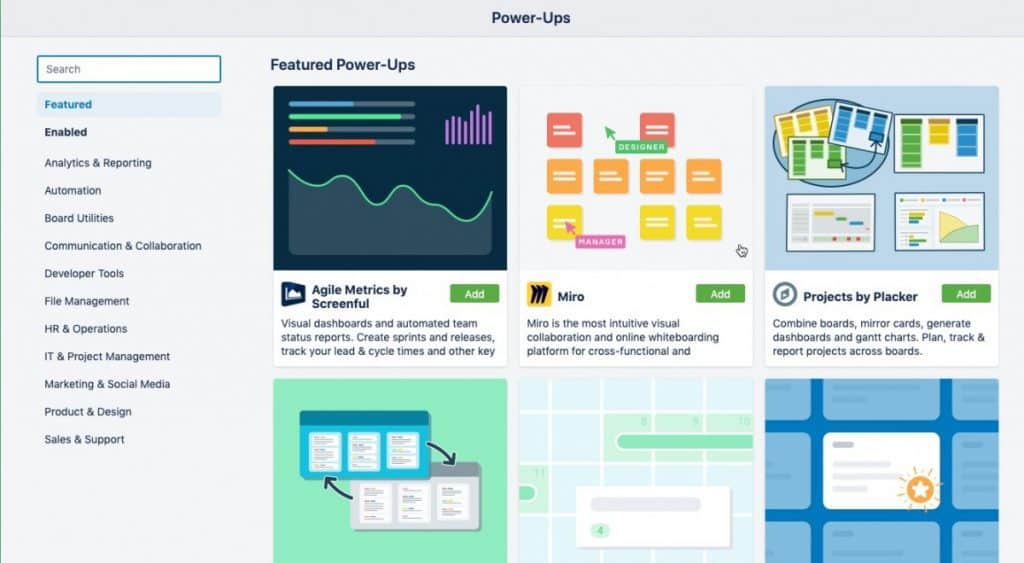 2- This will open a new page where you will be able to choose from a list of new options.
4- Power-ups can be very useful as they not only help you in visualizing your tasks better but also provide a performance report. Thus, making it a very useful feature to monitor your progress.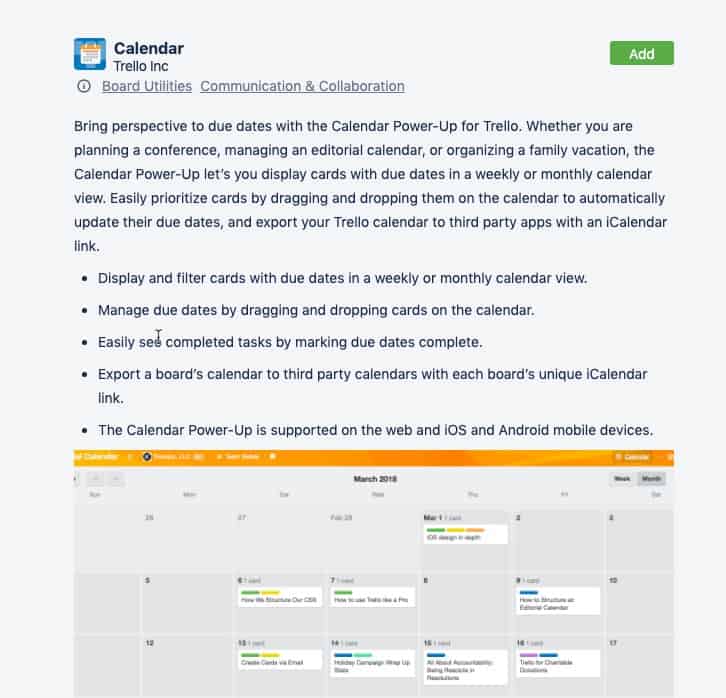 One of the simplest yet most powerful power-ups available is the calendar view. By using this power-up, you will be able to view all the tasks in chronological order. The calendar view helps you and your team decide which task to work on first and which of the tasks to defer.
Trello also allows its users to add labels to the cards. Labels help understand the type of task without having to read its description.
Let us now see how you can add labels to your card. Labels allow you to add a classification to your card. Typically, your tasks will fall into a handful of types. Examples include research, documentation, video recording, etc.
The next section will show you how to add labels to your cards.
How to add labels to your card in Trello
Adding labels to a card is straight-forward. To get started, follow these steps:
1- Log onto Trello and navigate to the board that you want to add a new label to.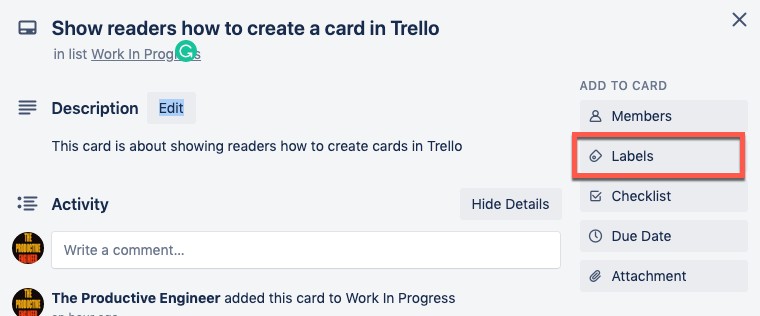 2- On the right-hand side of the board, click the Labels button.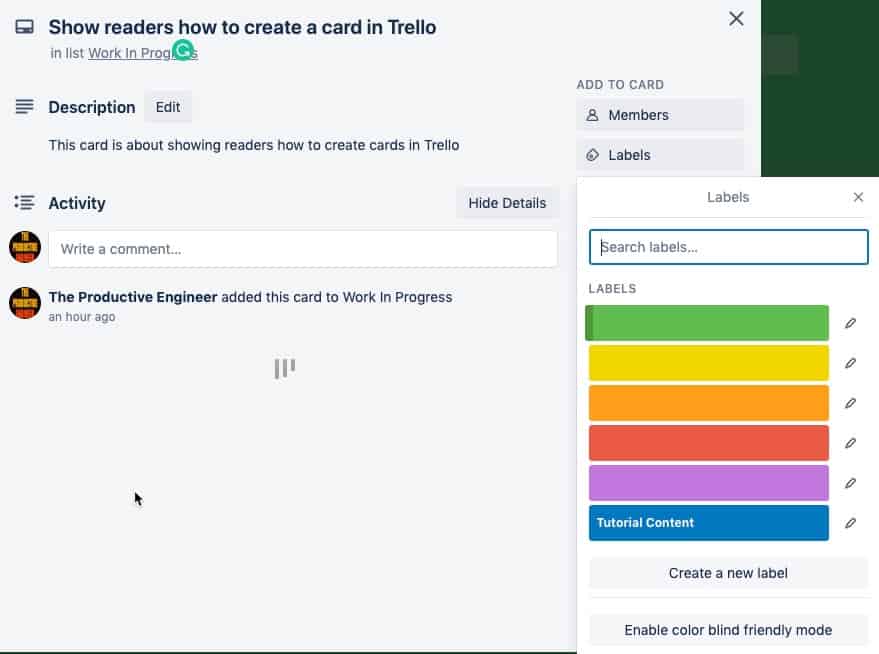 3- You will now see colored labels. Select the color that you want, edit the type and click OK.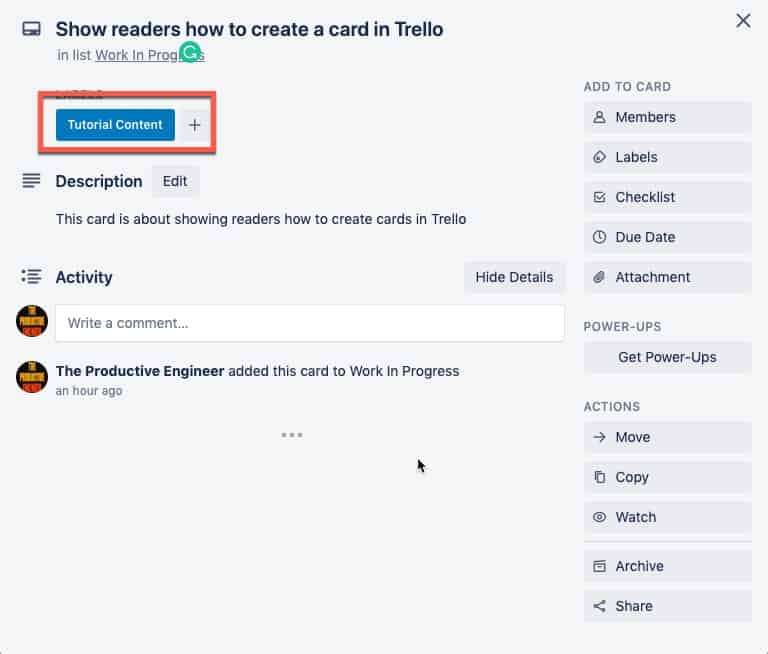 4- Once you have added a label to your card, you will be able to see the label alongside the card on your board itself. Thus, it helps to understand what kind of task you would be working on before going through the description itself.
Collaboration With Trello
Perhaps the best part about Trello is the transparency that it offers its users. While collaborating with your team, you can invite your team members to work on the same project simultaneously.
Designating tasks to different team members is straightforward, and everyone on the team can stay updated with the progress of the work as well.
Trello boards can be shared with your entire team. This level of visibility means that collaborating on a project will no longer be a hard task. Team members can help each other out by looking at the delayed tasks.
Trello boards can now replace work previously managed in long email threads, making it more efficient. As all the information is in a single location, Trello makes it simple to:
Keep track of the whole project
See all the ongoing tasks
Look at what has been accomplished
Adding People to a Trello Board
To give users access to your board, do the following:
1- Open your board.

2- On the second row of your board, press the Invite button.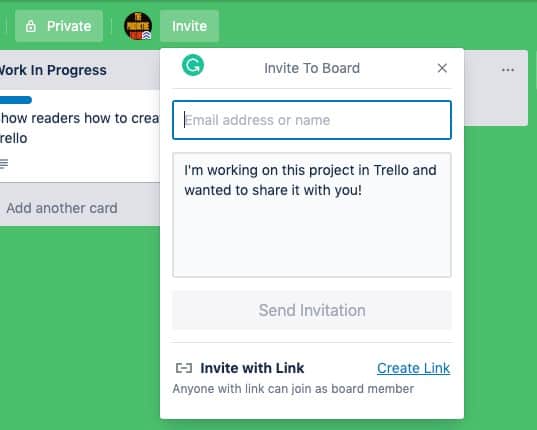 3- A pop-up window will appear. Type in the email addresses of the users you want to provide access to your board.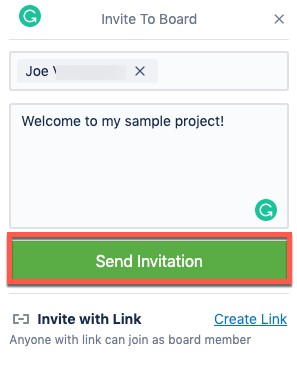 4- You can add a message to your invite by clicking on the text box marked I'm working on this project in Trello and wanted to share it with you!
5- Click the Send Invitation button to send out your invitation.
What Are Some Potential Uses of Trello?
From being able to manage your projects more efficiently, you can also manage your day-to-day activities. By being able to work collaboratively with your team, Trello provides the best tool for you to manage your project.
You can configure your board to work with your development cycle. You will be able to see the work of the entire team.
Additionally, you get notified whenever a new task gets added to the board. Thus, helping keep track of all the tasks.
Now that we understand the various applications of Trello let's review how you can use Trello to do multiple types of tasks.
Additional features of Trello
While the services offered by Trello are mainly available at no additional cost, the power-ups are not. Trello provides only one power-up per board for free.  Any additional power-ups require a premium subscription.
This limitation means that you should not waste your power-ups unless it is necessary. As an example, instead of making use of the calendar view power-up, you can opt to sort the cards on the list via the due date.
Trello also provides you with features to copy the entire list or even archive them. You can move a card from one list to another if needed as well. Trello helps you to organize your tasks more efficiently. Hence, you will always be on top of all your tasks.
Personal Uses for Trello
Trello has been a very powerful tool to plan your daily activities as well as work projects. This tool empowers its users to delegate tasks to others on the team. Due to its transparency, everyone can be aware of what tasks are complete.
Here are some potential use cases for Trello:
Wedding planner
As Trello is a very efficient management tool, it can be used to plan an entire wedding. By creating a board and sharing it with everyone on your planning team, you will be able to plan a wedding more efficiently.
From the floral arrangements to the caterers, everything can be planned by simply using Trello. The best part is that everyone on the board will know the order of the event and can help to avoid any delays or fix problems that might arise during the whole planning process.
Vacation Planning
Planning vacations with friends is not an easy task. You might think that you have got everything under control. However, without a proper plan, your entire vacation might end up being a disaster.
From travel to all the accommodation, you can add everything to the board. If a task has not been taken care of, then everyone on the group will know of it and can work towards completing it.
Home improvement
If you are planning on renovating your home, then Trello might be your best buddy. You can create a new board and add all your family members. You can then add the various tasks that need to be completed.
If any of them is still pending, then the whole family will be aware of it. Additionally, this will also allow others in the family to contribute by providing ideas for renovating your house.
Trello is by far one of the easiest and most powerful tools that you can use to plan projects. Setting up projects in Trello is pretty straight forward. The simplicity of the Trello platform and its visual nature lowers the learning curve for new users.
Summary
Trello has been in use to plan various kinds of events for a long time. The tools make it very easy for entrepreneurs and managers to assign and keep track of all the tasks in one single place. As this platform also has a mobile app, it is easy to manage the tasks no matter where you are.
From this Trello guide, you have understood the various uses that Trello offers its users. Additionally, you have also understood how to use Trello. Now it's your time to start organizing things and become more efficient at managing your time.
Want More Tips and Tricks? Subscribe to our Newsletter!
If you haven't already subscribed, please subscribe to The Productive Engineer newsletter. It is filled with tips and tricks on how to get the most out of the productivity apps you use every day. We hate spam as much as you do and promise only to send you stuff we think will help you get things done.
Check Out Our YouTube Channel!
We have a YouTube channel now and we are working hard to fill it with tips, tricks, how-tos, and tutorials. Click the link below to check it out!
Check out our resources page for the products and services we use every day to get things done or make our lives a little easier at the link below:
Helpful Links
Trello Help Site
Getting Started with Trello
Other Articles You Might Be Interest In
How to Use Templates in Evernote
Link to How to Use Templates in Evernote
How to Organize Todoist
Link to How to Organize Todoist
How to Use Lucidchart to Create a Basic Flowchart
Link to How to Use Lucidchart to Create a Basic Flowchart