Notion recently introduced the ability to create nested filters for databases. Nested filters allow you to create multiple levels of filters that work together to provide greater granularity in how you can view your database data. This makes the already powerful Notion database functionality even more powerful and useful.
So how do you create a nested filter? Listed below are the steps necessary to create a nested filter:
Open Notion to the database you want to add the nested filter
Click the ellipsis (…) at the top of your database
Select Filter from the drop-down menu
Create your primary filter by clicking "+ Add a filter" and configure your primary filter
Click "Add a filter group" to create a nested filter and configure it.
Before we get started with the tutorial, if you are looking to learn more about apps like Notion, Todoist, Evernote, Google Docs, or just how to be more productive (like Thomas Frank's Productivity Course), you should really check out SkillShare. Skillshare is an online learning platform with courses on pretty much anything you want to learn. To learn more about Skillshare and its vast library of courses and get TWO FREE MONTHS of UNLIMITED CLASSES, click the link below:
SkillShare – Online Learning Platform
If you are just starting out with Notion and aren't sure where to get started, you really need to check out my comprehensive beginner's guide to Notion. It goes through all things you need to know to get started the right way. Enclosed below is the link to the guide:
Link to Beginner's Guide to Using Notion With Screenshots
Looking for some information on the power of Notion? Check out our article containing tips to help you become a power user of Notion at the link below:
Let's get started with the tutorial 😀.
Creating a Nested Filter in Notion
Nested filters in Notion provide a great deal of power while still being easy to get started using. Nested filters act essentially as sub-filters in that you can define a hierarchy of filters. This allows you to have the ability to slice your database data in a more specific way.
The first step to setting up nested filters is to open up a database and start setting up filters.
Open Notion to the Database You Want to Add Nested Filters to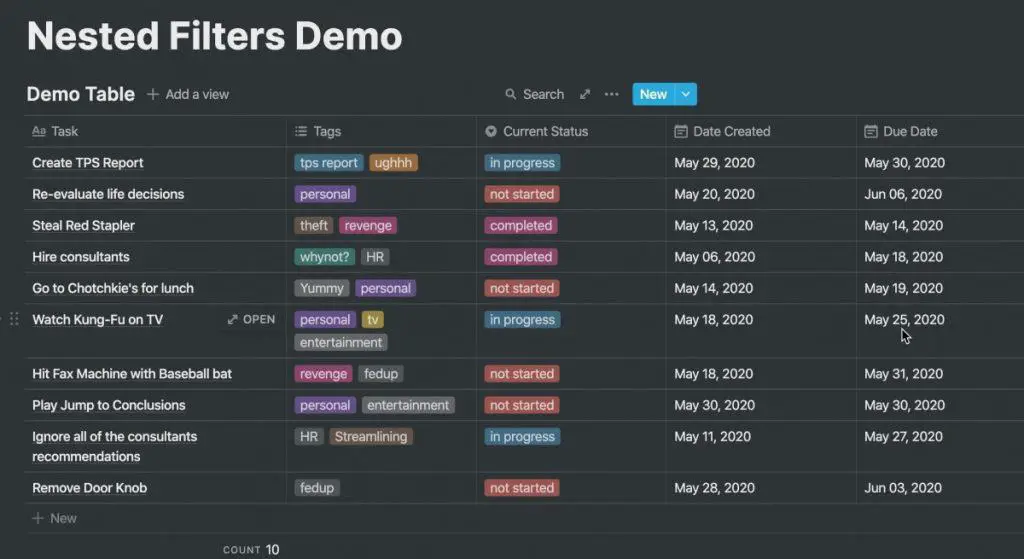 Open Notion to the page that contains the database you would like to filter.
Click on the Ellipsis (…)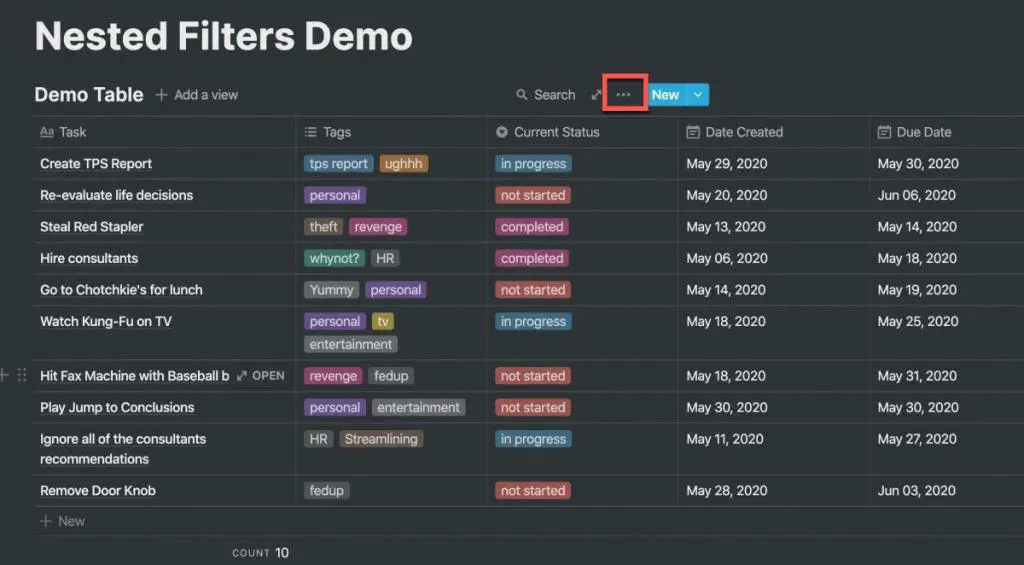 Hover your mouse over your database. You should see an ellipsis (…) appear on the title line of your database. Click on the ellipsis to bring up the database options menu.
Select the "Filter" Option
Select the Filter option from the drop-down menu to bring up the database options menu.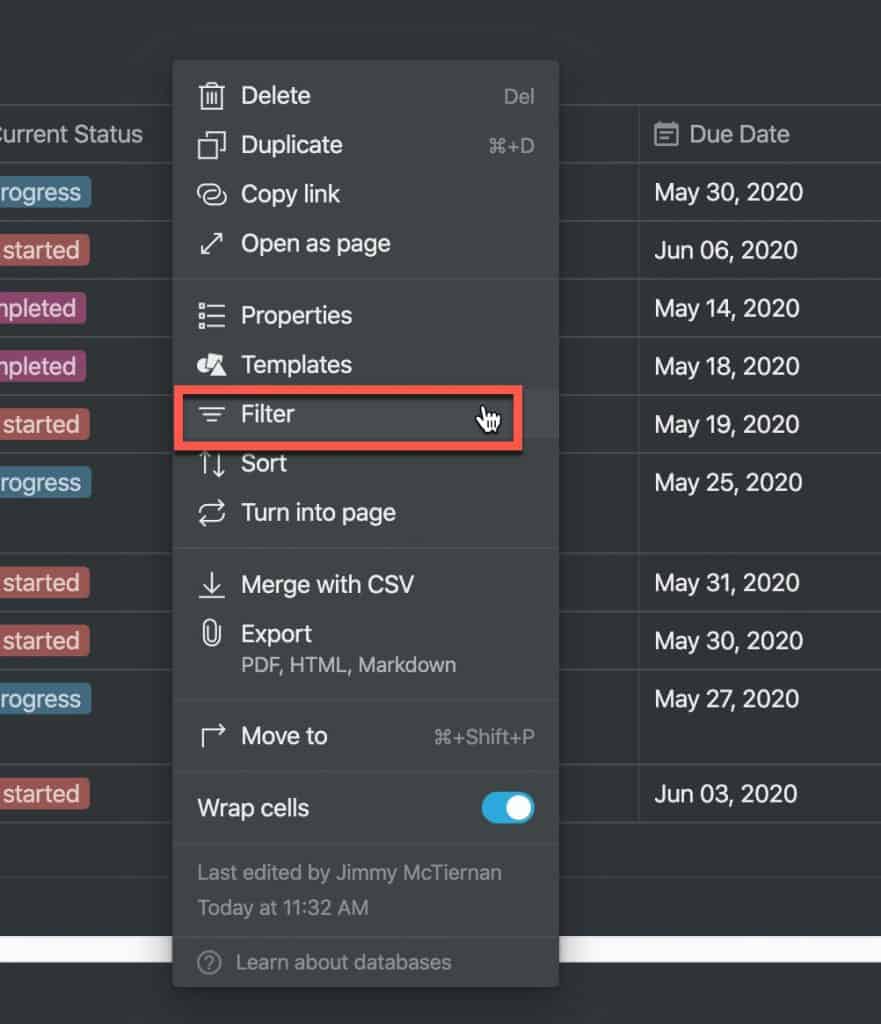 Configure Your Primary Filter
You should now see the filter configuration options on your screen. Click the "+ Add a filter" drop-down button.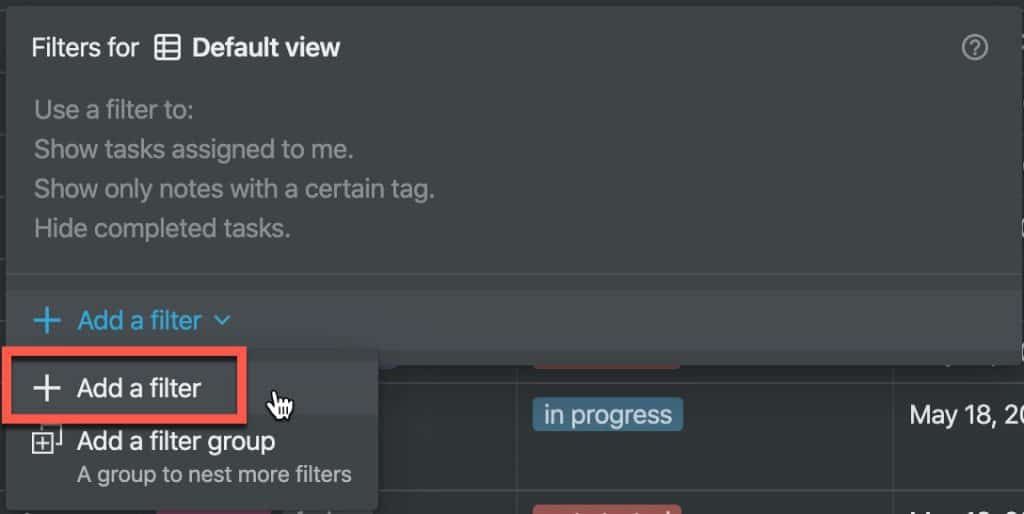 Select "+ Add a filter" from the drop-down menu options.

Configure your primary filter criteria.
Add a Filter Group to your Filter Criteria

Click on the "+ Add a filter" to bring up the filter drop-down menu. Click the "Add a filter group" option from the drop-down menu as shown above.
Configure your Filter Group

Configure your filter group using the drop-down options.
You can also create more than one filter group or a nested filter group by:
Clicking the "Add a filter" drop-down button
Selecting "Add a filter group"
Configuring the filter group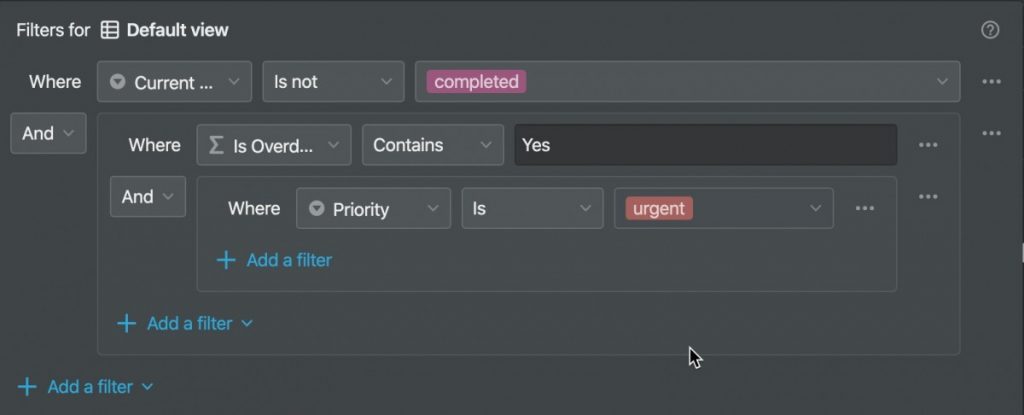 As you can see from the screenshot above, you can nest your filters up to three (3) layers of filters. This allows you more granularity in terms of how you parse your data, allowing you to see only what is relevant to you at a given time.
Summary
Nested filters are a great addition to Notion. They allow you to create custom views of your database quickly and easily. Once you get the hang of using them, nested filters can really expand your usage of databases in Notion. I hope this tutorial has been helpful to you. Good luck!
Want More Tips and Tricks? Subscribe to our Newsletter!
If you haven't already subscribed, please subscribe to The Productive Engineer newsletter. It is filled with tips and tricks on how to get the most out of the productivity apps you use every day. We hate spam as much as you do and promise only to send you stuff we think will help you get things done.
Check Out Our YouTube Channel!
We have a YouTube channel now and we are working hard to fill it with tips, tricks, how-tos, and tutorials. Click the link below to check it out!
Check out our Resources Page
Check out our resources page for the products and services we use every day to get things done or make our lives a little easier at the link below: