Gone are the days of pen and paper, and more and more students are turning to cloud-based online note-taking apps. These services help users increase their productivity by providing intuitive canvases to take notes and share information.
One of the most advanced online note-taking services is Notion, available for free on the web, Microsoft Windows, macOS, Android, and iOS. Notion is perfectly positioned to allow college and university students to go completely digital. Here are some of Notion's most important features and how they can completely transform studying for students.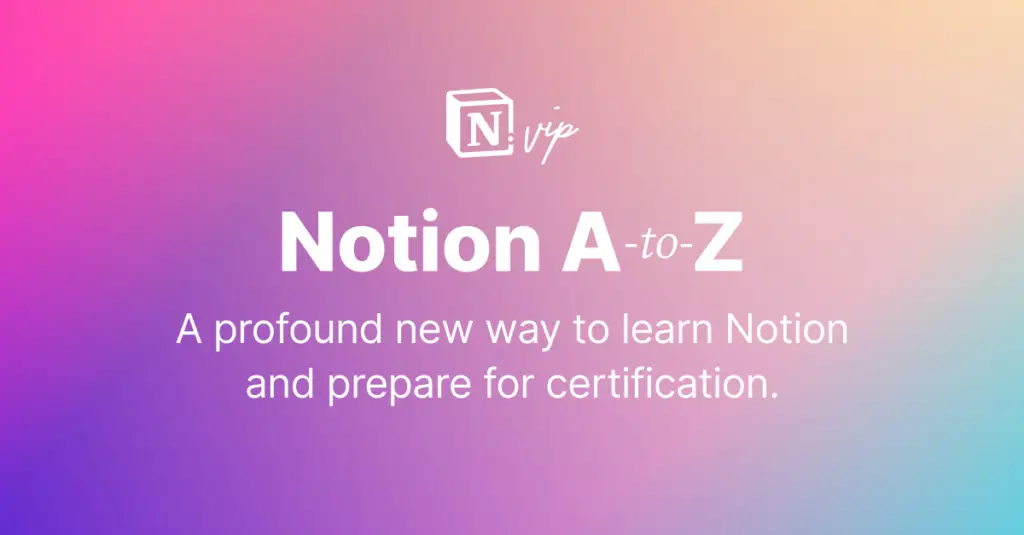 If you are looking to master Notion, William Nutt of Notion.vip is creating a new course: Notion A-to-Z. Notion A-to-Z is a masterclass on all things Notion and is a must if you want to truly master Notion. Notion is actually coming out with a Notion certification for everyday users and William is the person developing it for Notion. What better way to prepare than to take William's course? For more information about the course, please visit the link below:
Notion A-to-Z – From the creator of Notion VIP and Notion's expanding certification programs
If you are just starting out with Notion and aren't sure where to get started, you really need to check out my comprehensive beginner's guide to Notion. It goes through all things you need to know to get started the right way. Enclosed below is the link to the guide:
Link to Beginner's Guide to Using Notion With Screenshots
If you are looking for some Notion tips, check out our article containing tips to help you become a power user of Notion at the link below:
What can Students do with Notion?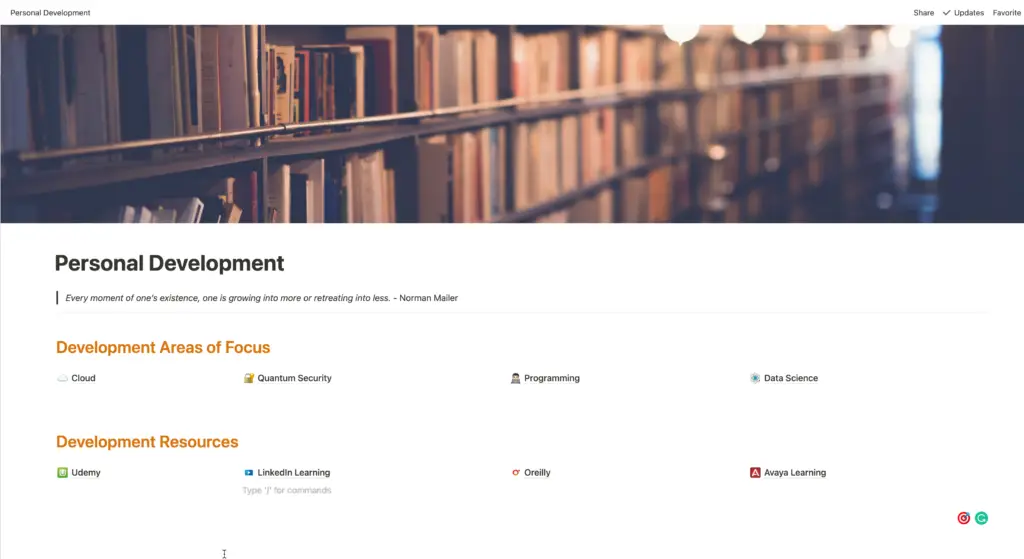 Notion is an all-in-one productivity platform for users to record information and share ideas. It is mainly designed for teams in the workplace to collaborate, but Notion is still a really powerful tool for a student studying alone.
Some of the things you can do with Notion as a student are:
If you sign up with a college or university email address, Notion offers individual students and educators a free Personal Pro plan that gives you access to unlimited pages and blocks, file uploads, and version history. 
To get started, just create an account with a .edu or .ac.uk email and create a workspace.
What are Workspaces?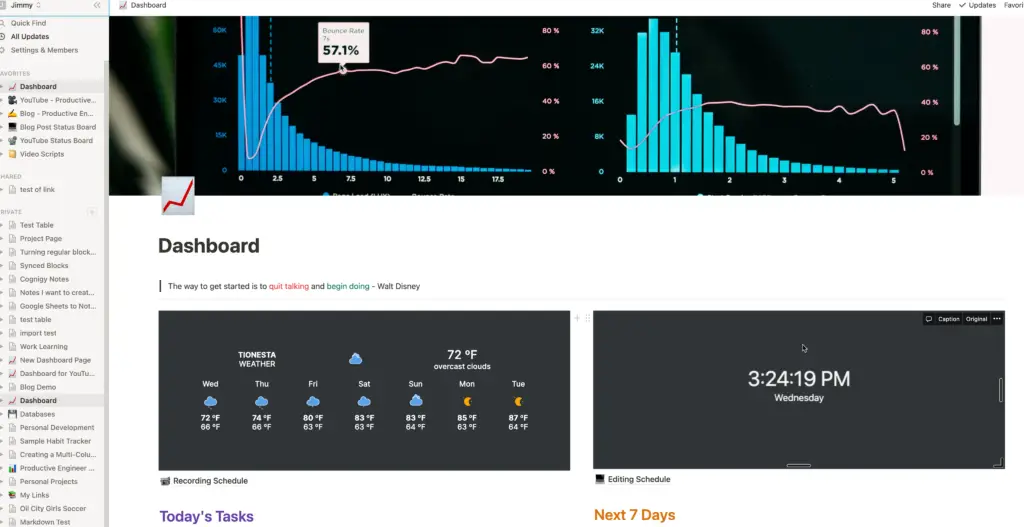 Workspaces act as a virtual desktop for your notes and content. Here, you can add pages for different subjects or modules or create subpages to organize subsections of revision information.
With Notion, you can store your class notes on a workspace. You can use databases to easily add class notes to a table, allowing you to organize documents like a file explorer.
Using these table headers, you can filter and order your notes to show the most important documents at any given time. 
Blocks, blocks & more blocks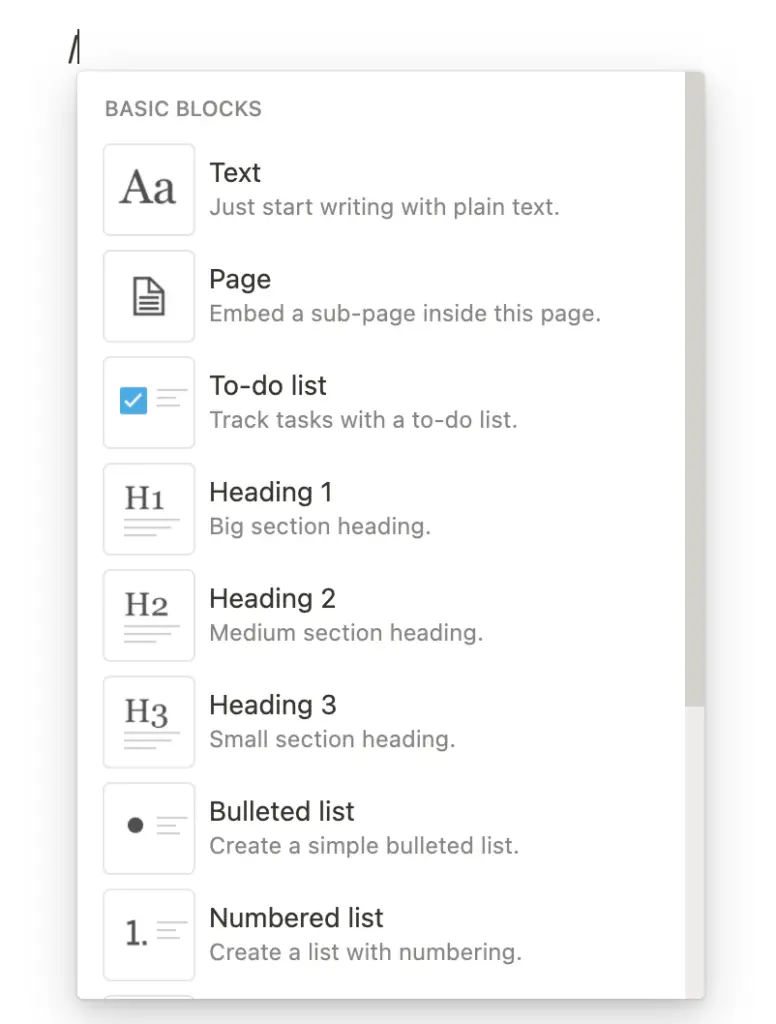 Notion functions on features called blocks. These blocks are simply elements on a workspace page that contain one piece of content. It is the base unit of content in Notion.
The most basic block is text, and its use should be immediately clear. You can, of course, use Notion to type words. However, it is the more advanced blocks that make Notion really special: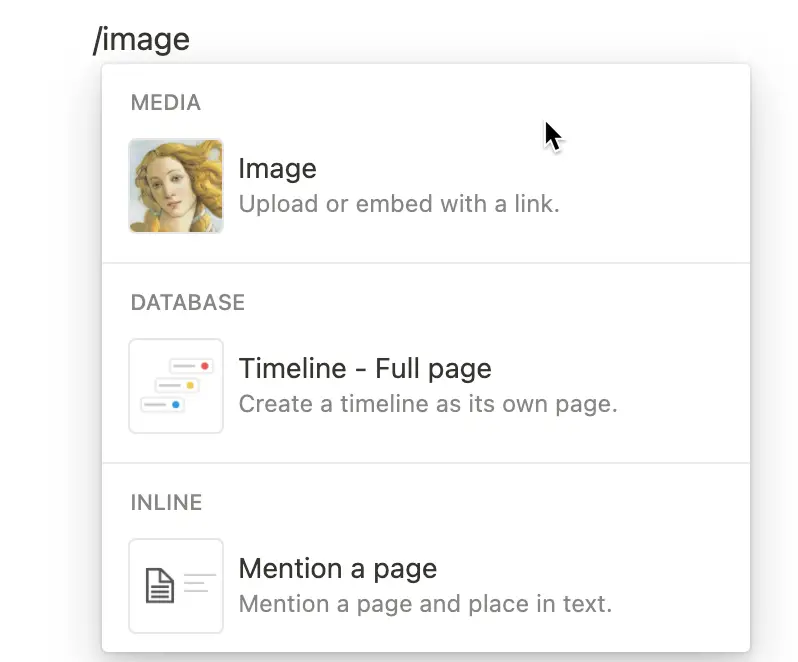 Images: Images can be inserted as their own block, allowing you to easily organize and place them beside other blocks. To get images to appear beside text, all you'll have to do is drag the image block and place it to the left or right of the text block—no need to worry about clunky wrap settings.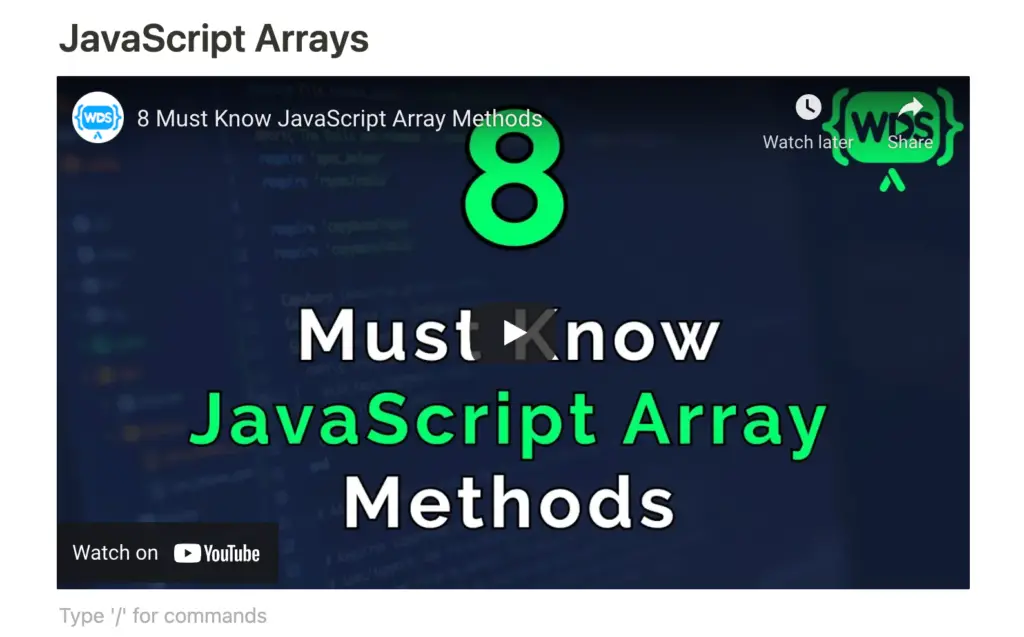 Video Embed: You can embed videos to your class notes, allowing you to easily watch reference footage, revision videos, or lecture recordings straight from your workspace. This embed feature makes it extremely easy to take notes while watching a pre-recorded lecture on YouTube.


To-Do List: Do you want an easy way to track tasks and things to do? You can easily organize your obligations with a to-do list. Use this block to track your progress in revision or even things to do around the house.

Quote: Embed block quotes with the Quote block, perfect for citing references or adding inspirational quotes.


Inline Equation: For those Math folks, the inline equation block uses the KaTeX equation language (an upgraded version of LaTeX) to allow mathematicians to easily insert equations into their notes. Check out my guide to inline equations in Notion.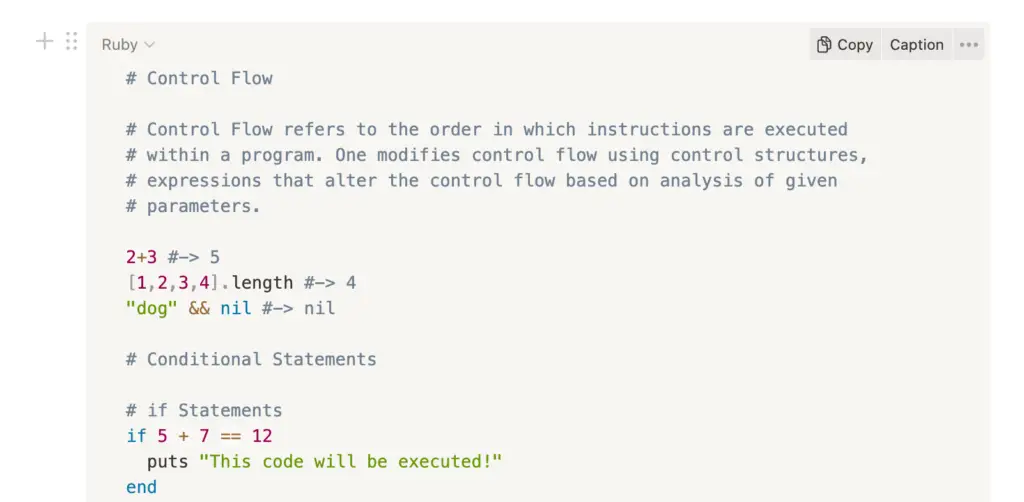 Code: Computer Science students will love that you can easily add snippets of code to your class notes. This block displays code so that it's separated from the rest of your content and formatted perfectly according to your language.
We especially like the Calendar block, which allows you to add events to a beautiful custom calendar straight from your workspace. 
This is great to keep track of lectures and events alongside your course syllabus. Each event that you add to a calendar will include a subpage for you to add notes and insert any block you'd like. You can therefore use this calendar to organize your class notes by event or use the subpages to link to the main notes page for the class.
If you are looking to learn on the go, Audible is for you. Audible has a huge library of audiobooks on a variety of topics and listening to audiobooks is a great way to learn on the go. Audible includes podcasts and Audible Originals as well. For more information on Audible, click the link below to get your first 30 days on Audible for free:
Audible – Your First Audiobook is On Us
Why Notion is great for Students
The main benefit of using Notion over services like OneNote or Microsoft Word is the deep level of customizability. Notion is built to be endlessly tweaked and customized, and any page or text box can be used to insert any block you like.
A lot of the other productivity apps have annoying and unnecessary limitations, whereas Notion gives you the freedom to add whatever content you what to any page.
Do you want to add a to-do list to a calendar entry? Or do you want to embed a video to a Kanban board card? You can do it. If you're daring enough, you can even add another calendar inside of a calendar event. The possibilities are endless.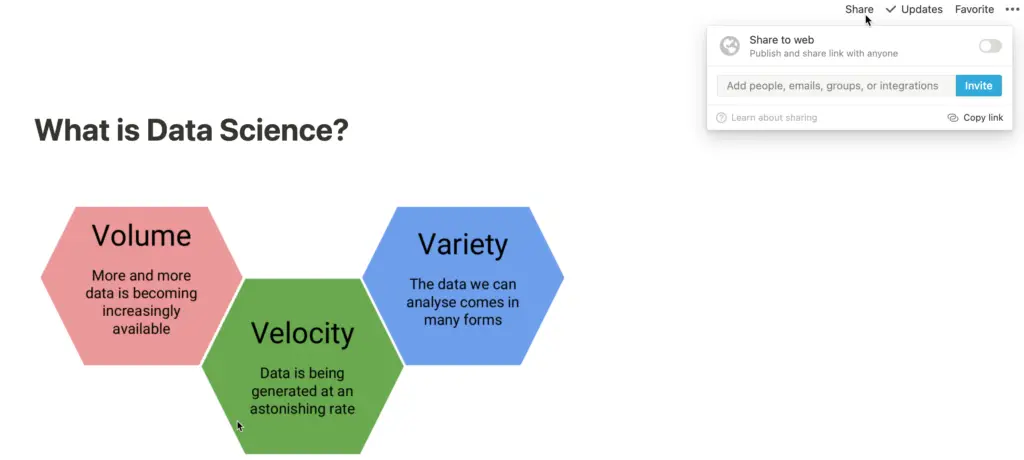 If you want to share notes with friends, teachers, or lecturers, you can easily press the share button, and the designated workspace will be available to view on the web via a share link. 
Even students can take advantage of Notion's great collaborative working capabilities. You can invite friends to edit your workspace, allowing for easy group studying or tracking the progress of a group project.
If you are interested in learning how to implement a Zettelkasten system in Notion, check out our Complete Guide to Zettelkasten in Notion.
Is Notion free for Students?
Yes! Notion offers the Personal Pro plan for free to any individual students or educators. For non-students, this Personal Pro plan would cost $4 a month. 
This plan unlocks: 
Unlimited pages and blocks
Share with an unlimited number of guests
Sync between devices
Unlimited file uploads
Version history
This includes real-time collaboration, three timeline views, and over 50 starter templates. This Personal Pro plan will also unlock access to priority support in case anything goes wrong.
For large group projects or tight-knit study groups, you may wish to upgrade to the Team plan for $8 per member per month. This will unlock a shared collaborative workspace. 
Simply create an account with your college or university email, and you'll have access to all features you'll need to level up your study productivity.
Want More Tips and Tricks? Subscribe to our Newsletter!
If you haven't already subscribed, please subscribe to The Productive Engineer newsletter. It is filled with tips and tricks on how to get the most out of the productivity apps you use every day. We hate spam as much as you do and promise only to send you stuff we think will help you get things done.
Check Out Our YouTube Channel!
We have a YouTube channel now and we are working hard to fill it with tips, tricks, how-tos, and tutorials. Click the link below to check it out!
Looking to Get Started Blogging or on YouTube?
Getting started can seem daunting and scary (I know it was for me) but it doesn't have to be. I was very lucky to find a program that that has helped me grow my blog to over 100,000 page views and a monetized YouTube channel that is growing at over 100% month-over-month.
Income School is the program that I have used. I have been a member for over a year now and just renewed my membership. I cannot recommend Income School enough! For more information on Income School, click the link below:
Income School – Teaching You How to Create Passive Income from Blogs and YouTube
Check out our Resources Page
Check out our resources page for the products and services we use every day to get things done or make our lives a little easier at the link below: