Notion vs. Obsidian Notes: Which Application is the Best Fit for you?
In this article, you will learn about two note-taking applications: Notion and Obsidian Notes. We will compare the features of these apps to help you make a decision as to which app is best for your needs.
Let's get started!
What is Notion?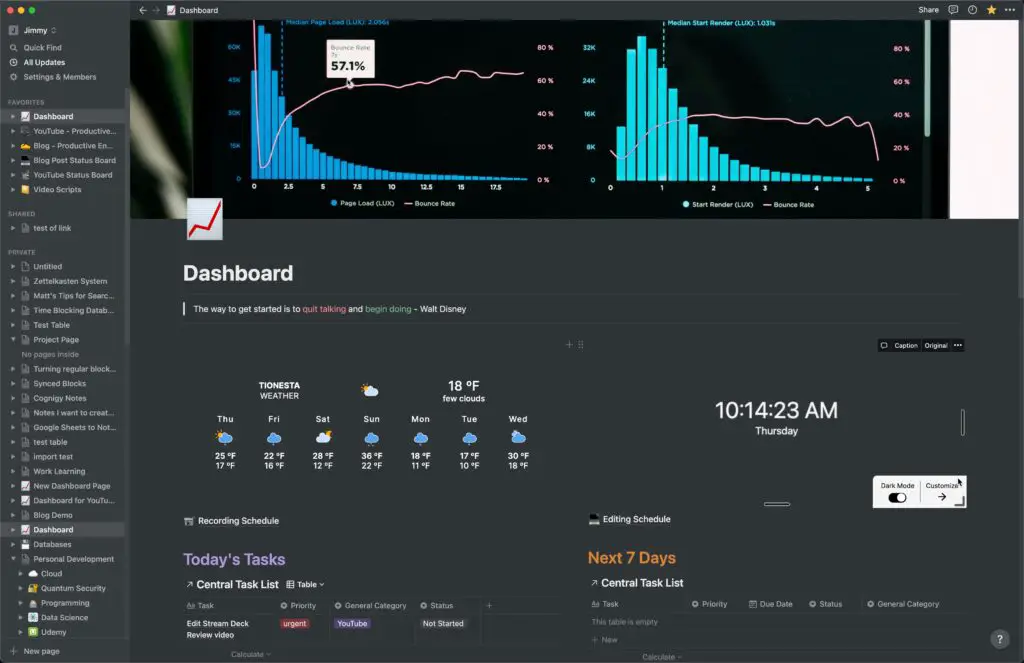 Notion is a note-taking application that has been designed with business people in mind. It can be used as an information hub where you can share files, documents, and folders across your team members easily. This application also integrates well with other tools such as Google Drive and Slack to provide more features for its users.
If you are looking to master Notion, you should check out our Beginner's Guide to Notion. This guide will get you from newbie to productive in Notion quickly.
You can also embed web content into Notion from services like Google Calendar and Google Sheets.
What is Obsidian Notes?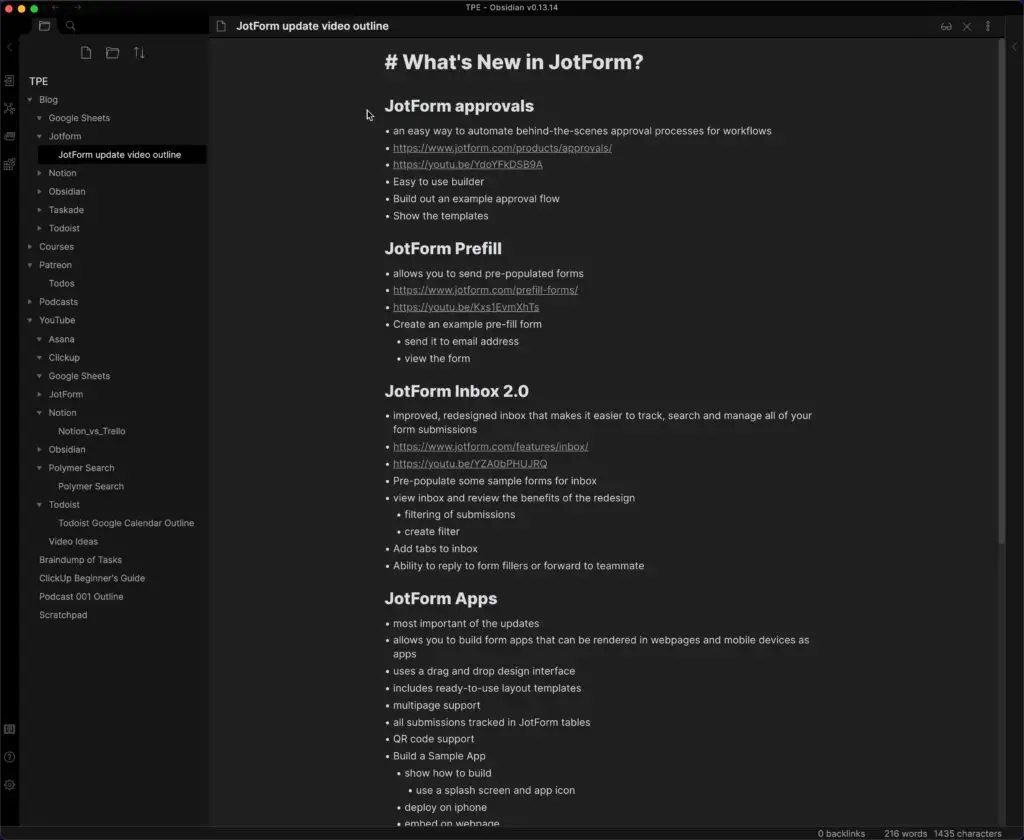 Obsidian Notes is a note-taking application that was designed to be as minimal and straightforward as possible. It provides users with just the basic functionalities without any distractions, allowing them to focus on the task at hand. This app can also be used across multiple platforms such as Windows, iOS, and Android so you will never have trouble accessing your notes from anywhere.
Notion vs Obsidian Feature Comparison Table
Feature
Notion
Obsidian
Comments
basic note-taking
Y
Y
markdown support
Y*
Y
Notion supports markdown
for markdown-supported
functions but some additional
functionality, like databases,
boards, etc. that are not defined
in Markdown are not
supported.
spell check
Y
Y
Web client
Y
Y
Windows client
Y
Y
MacOS client
Y
Y
Linux client(s)
N
Y
Android client
Y
Y
iOS client
Y
Y
Sync across devices
Y
Y*
Notion is web-based and sync is
enabled by default. Obsidian has
its own syncing service. Obsidian
supports Dropbox sync on all but
iOS devices. Users wanting sync
across Apple devices should use
iCloud Drive Sync or Obsidian
Sync
Database Support
Y
N
Kanban Board Support
Y
Y*
Obsidian supports but requires
third-party community plugin
Knowledge Graph
N
Y
API support
Y
Y*
At the time of writing this guide, Obsidian
has an alpha version of its API available
on GitHub
Custom Theme Support
N
Y
Backlink Support
Y
Y
Programmable Hot Key
Support
N
Y
While Notion supports keyboard
shortcuts, you cannot create your own
programmable hot keys
Ability to embed web
content from third-party
services
Y
N
Ability to publish notes/
pages as web pages
Y
Y
Native Calendar support
Y
Y*
Obsidian requires third-party community
plug-in for calendar
Template support
Y
Y*
Obsidian requires third-party community
plug-in
Ability to display notes
in Mind Map view
N
Y*
Obsidian requires third-party community
plug-in
Notion vs Obsidian Feature Comparison Table
Do you have an M1 Mac Mini or Mac Studio and want to get the best accessories for it? Check out my Mac accessories guide here.
Notion Strengths
The core strengths of Notion, when compared to Obsidian Notes, is it's:
Flexibility
API for Third-Party Integrations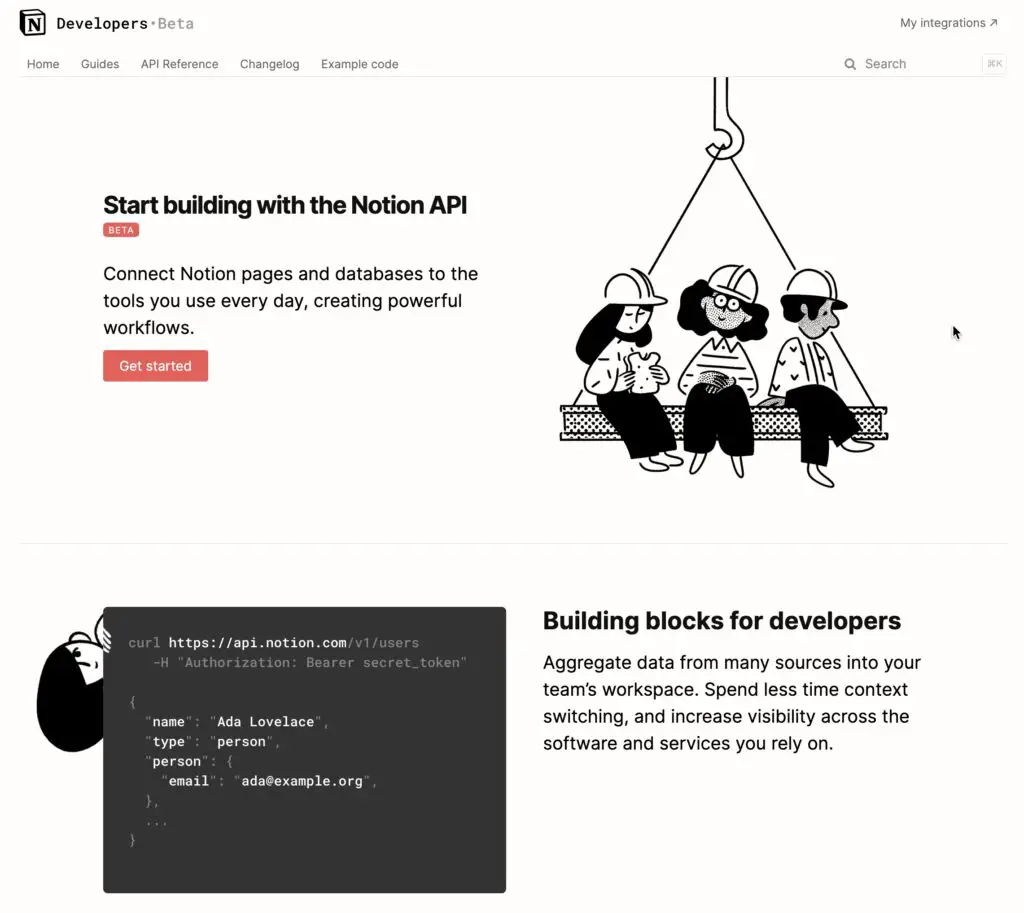 Notion is a great application that offers users an array of different functionalities. The core strength of this app revolves around the fact that it has been built with flexibility in mind, allowing its users to build their own workflows and processes according to what works best for them. In addition to this, Notion also provides a rich API that can integrate with automation services like Zapier and IFTTT, allowing users to connect with other tools they may be using.
Obsidian Notes Strengths
The core strengths of Obsidian Notes, when compared to Notion, is that it:
Lightweight Interface
Minimalism and Simplicity
Knowledge Graph
Obsidian Notes is a minimalistic note-taking application that can definitely get the job done. This app provides its users with a lightweight interface where there are no distractions and unnecessary menus to navigate through, allowing for increased focus on what matters most – taking notes!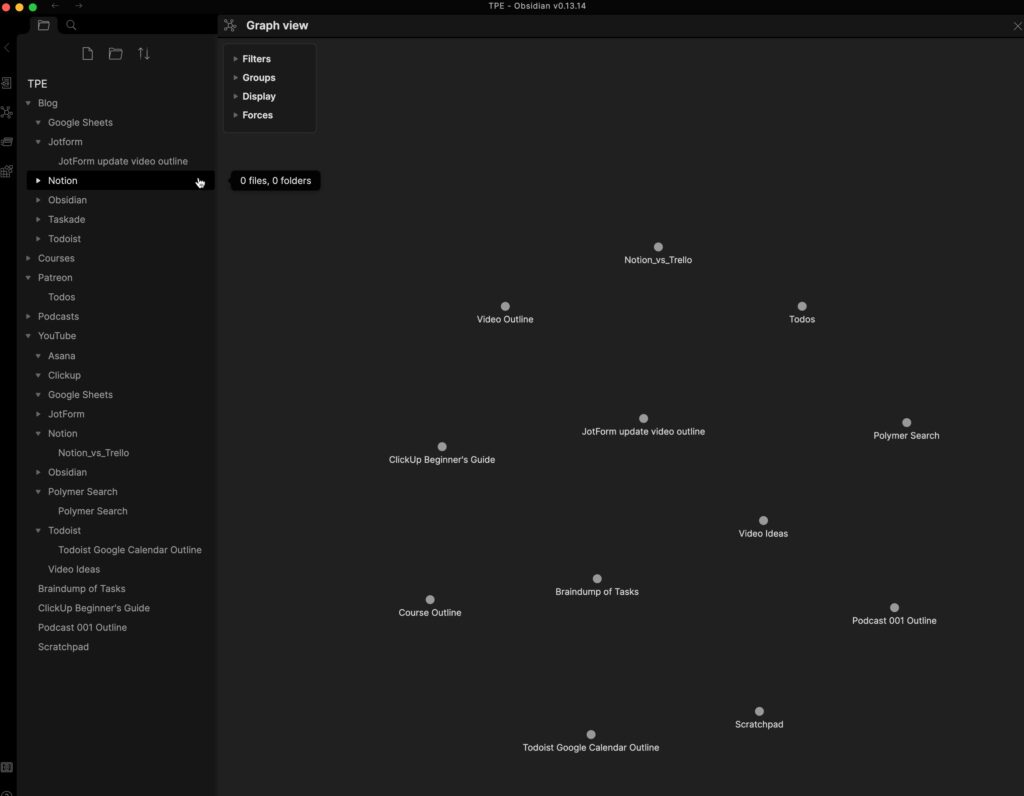 In addition to this, Obsidian provides a knowledge graph to can be used to visually represent relationships between various notes. Obsidian leverages back-linking to create relationships between notes. Notion also supports backlinks but does not currently have a knowledge graph view.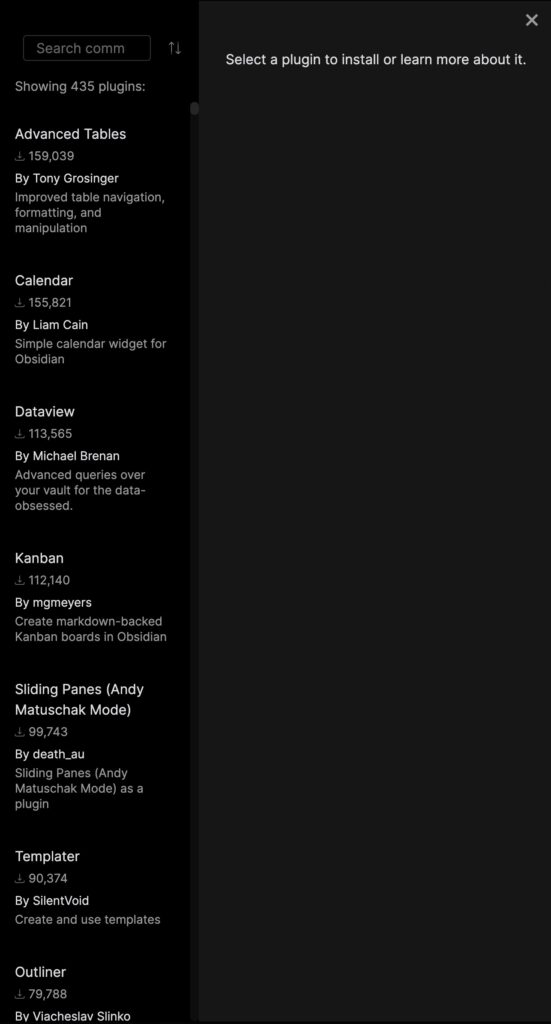 Obsidian also has a vibrant community that builds themes and plugins that greatly extend the functionality of Obsidian.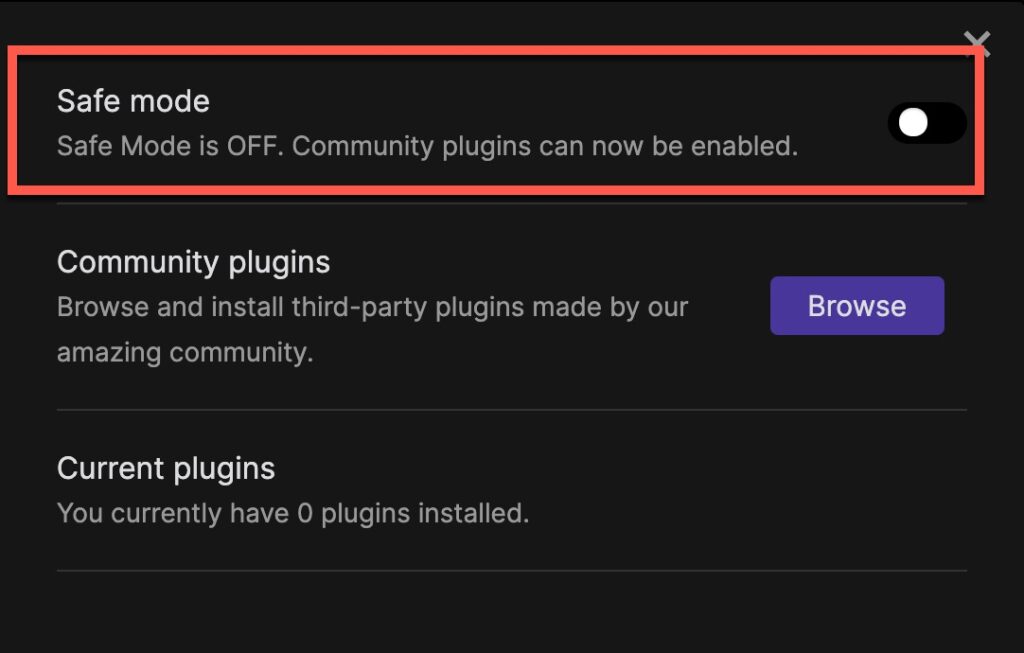 You must turn off Safe Mode in order to access community plugins in Obsidian. There is some risk as these plugins have enhanced permissions to access your account as Obsidian prompts you in the message below: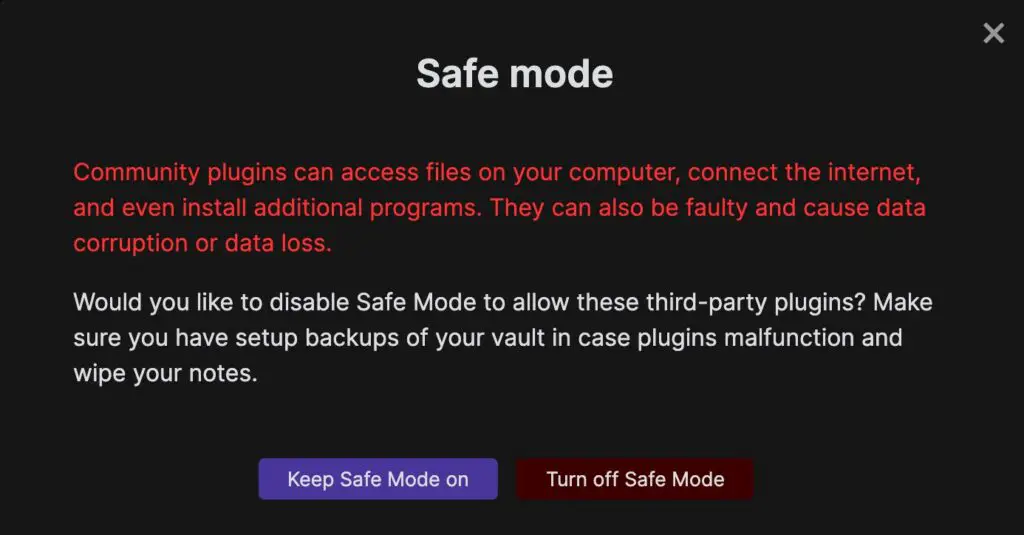 As referenced by the prompt, if you are going to use third-party plugins, it is a good idea to make regular backups of your Obsidian vaults to protect against data loss.
Use Cases for Notion
Notion is a good choice if you are looking to create a central hub where all of your data can be collected and shared, as well as being able to access this information across multiple devices. It will also provide you with integrations with other applications such as Slack, Google Calendar, and others.
Notion can be used for:
Note-taking
Calendaring
Project Management
Task Management
Database Management
Hosting Web Content
The list of use cases Notion can support underlines its flexibility and versatility.
Use Cases for Obsidian Notes
Obsidian Notes is a good choice if you are looking to move away from all of the distractions on other note-taking apps and just want a simple, straightforward solution.
Obsidian can be used for:
Blog writing
Note taking
View relationships between notes
Publishing content to web via Obsidian Publish
Task Management
Which Application is Best for Your Needs?
Both Notion and Obsidian Notes are good applications depending on the needs of each individual user. If you want an information hub where you can share files, documents, and folders with your team members easily across devices, Notion is the app for you. However, if you are looking to move away from all of the distractions on other note-taking apps and just want a simple solution that will allow you to focus on your task at hand, Obsidian Notes might be the better choice.
It can be difficult to manage all of your tasks, projects, and notes in one place. That's where Notion comes into play. Notion gives you an overview of everything so it's easy to see what needs attention next. For those who prefer note-taking apps instead, Obsidian Notes is the perfect tool for organizing thoughts by linking related ideas together across different documents with backlinks between them.
Can't Remember Your Passwords? You Need 1Password!