The Must-Have Accessories for Your M1 Mac Mini
Apple's M1 Mac mini is the perfect size for a desktop. It has sleek good looks, and packs powerful performance into a compact package. The problem with it though, is that you might not know what accessories to get for your M1 Mac mini! I've found 6 must-have accessories for your new M1 Mac mini so you can be sure you have everything you need to take full advantage of this awesome system. 
Listed below are my six must-have accessories for the M1 Mac mini:
Logitech MX Master 3 Mouse
Keychron K2 Bluetooth Wireless Mechanical Keyboard
Elgato Stream Deck XL
Elecife USB-C Hub for M1 Mac mini
Apple AirPods Max Headphones
BenQ ScreenBar Desk Lamp
Logitech MX Master 3 Mouse
Logitech MX Master 3 Mouse
The MX Master 3 is the best mouse for the Mac due to its horizontal and vertical scroll wheels and application-specific customizations. It's perfect for anyone who spends hours on their computer every day, from creatives to gamers. And it works great with the M1 Mac mini.
You can customize it just how you like it by choosing from four different thumb buttons (forward/back, zoom in/out), three customizable gestures (horizontal scrolling, vertical scrolling, side-to-side swiping) and even an adjustable wheel resistance setting so you can feel exactly what you want when navigating around your screen. With this mouse at your fingertips, there's nothing holding you back from getting things done faster than ever before!
I have been using this mouse since before I got my M1 Mac mini and it is amazing. The app-specific customizations for apps like Final Cut Pro, Google Chrome, and the Microsoft Office suite are cool and I am completely in love with the horizontal scroll wheel when working in Final Cut Pro or switching tabs in Chrome.
Keychron K2 Bluetooth Wireless Mechanical Keyboard
Do you want a keyboard that feels better than anything you have ever typed on?
The Keychron K2 is a Bluetooth mechanical keyboard that can be used without having to install any drivers or other configuration. I love the feel of the keys as they feel very comfortable when typing. Once you start using mechanical keyboards, you will never go back and the K2 is a great keyboard for those looking to get started with mechanical keyboards. The
With full-sized keys and functions, this compact wireless or wired keyboard gives you all the keys and functions you need while keeping it small enough to fit in any bag or backpack so you can take it anywhere.
The K2 is perfect as a keyboard for your M1 Mac mini, and I cannot recommend it enough.
Elgato Stream Deck XL
The Elgato Stream Deck XL is the most useful accessory you can add to your m1 Mac mini if you're interested in streaming, and it's also the most expensive. This simple remote with 15 customizable LCD keys allows you to fully customize and control anything on your m1 Mac mini, all from one device.
You can launch applications and websites, automate your m1 Mac mini (it comes with preset formats like "Fishing Mode" that will automatically launch different programs according to whatever you're doing on your m1 Mac mini), add custom shortcuts, copy and paste text, control your m1 Mac mini's volume, change OBS (and m1 Mac mini) settings.
If all this sounds like overkill to you, that's because it is. You don't need to be streaming in order to enjoy the benefits of owning a Stream Deck XL – if anything, the device is more useful for the average m1 Mac mini user – but it's definitely worth trying out if you're interested.
For more information on the Stream Deck XL, check out my Steam Deck XL Guide.
Elecife USB-C Hub for M1 Mac mini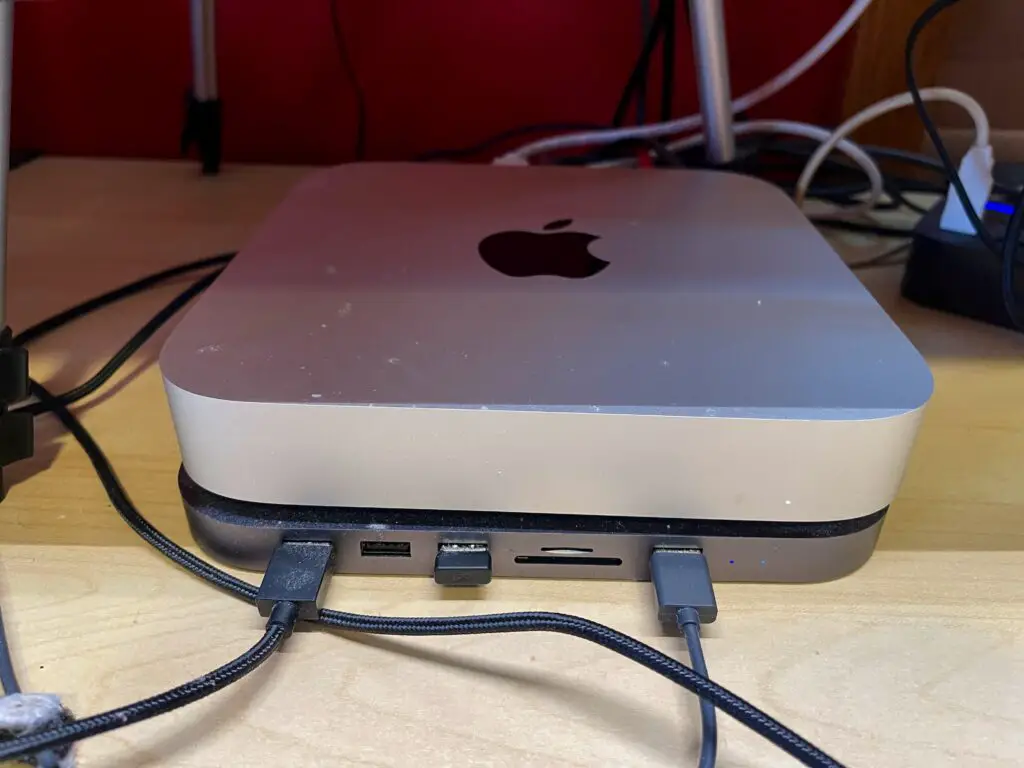 There is a severe lack of ports on the M1 Mac mini and you will need a USB-C hub. The Elecife USB-C hub for the M1 Mac mini is a good value pick. It provides you with two USB 3.0 ports, two USB 2.0 ports, and micro/SD card readers. The two key decision points for me in buying this hub were:
I could get it in space grey or silver
it supports adding an SSD up to 5TB in the hub for additional hard drive storage.
The hub actually matches the width and depth of the M1 Mac mini. The hub sits underneath the Mac mini and connects via a USB-C cable. The hub gets all the power required from the Mac mini so no power cable, which is a lifesaver for me given all the things I have plugged into my power outlets.
Apple AirPods Max Headphones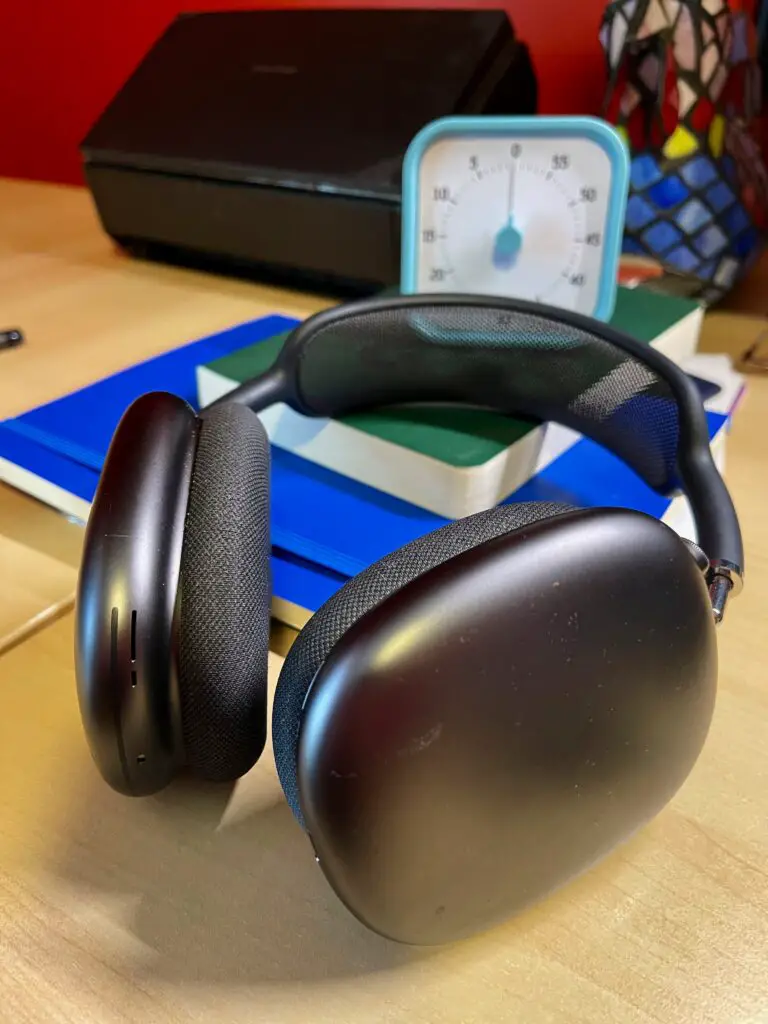 Now that you have your m1 Mac mini, you need to invest in a quality pair of headphones. The Apple Air Pods Max is the perfect product for people who want to enjoy high-quality sound from their m1 Mac mini. This wireless headphone also has a quick charge feature so they can be fully charged within a few minutes.
The main reason why I love my AirPods Max, besides being an Apple fanboy, is that these headphones have the best noise cancellation out there. I work from home where there are two kids and a dog. I need to be able to block out the outside world to get things done.
I am not exaggerating at all when I say that when I turn on noise cancellation, I can't hear anything around me, even when nothing is playing through the headphones. It is great for Zoom calls or listening to ambient music while working away.
BenQ ScreenBar Desk Lamp
The BenQ ScreenBar Desk Lamp is a good addition to the m1 Mac mini. It acts as both an adjustable lamp (with 3 different brightness levels) and keyboard light, removing the need for any external lights you might have had before.
Reasons Why I love the BenQ Lamp:
The m1 Mac mini is a small device that should be placed on your desk to save space, this is why you need a lamp that is small and optimized for desks.
The BenQ ScreenBar helps reduce eye strain and is easy to install.
It is powered by USB, so you can easily plug it into your m1 Mac mini.
I spend way too much time in front of my computer screen and having this lamp has helped reduce eye strain.