Taking notes on the iPad is a great way to be more productive. Whether you are at home, in the office, or on the go, iPad note-taking can make your life easier. This article will provide tips and examples for how to take notes on the iPad.
Is the iPad Good for Taking Notes?
The iPad is great for many tasks, including note-taking. There are a variety of ways you can take freehand notes, typed or audio notes on the iPad.
Enclosed below are several reasons why the iPad is good for note-taking:
iPad includes Apple Notes at No Cost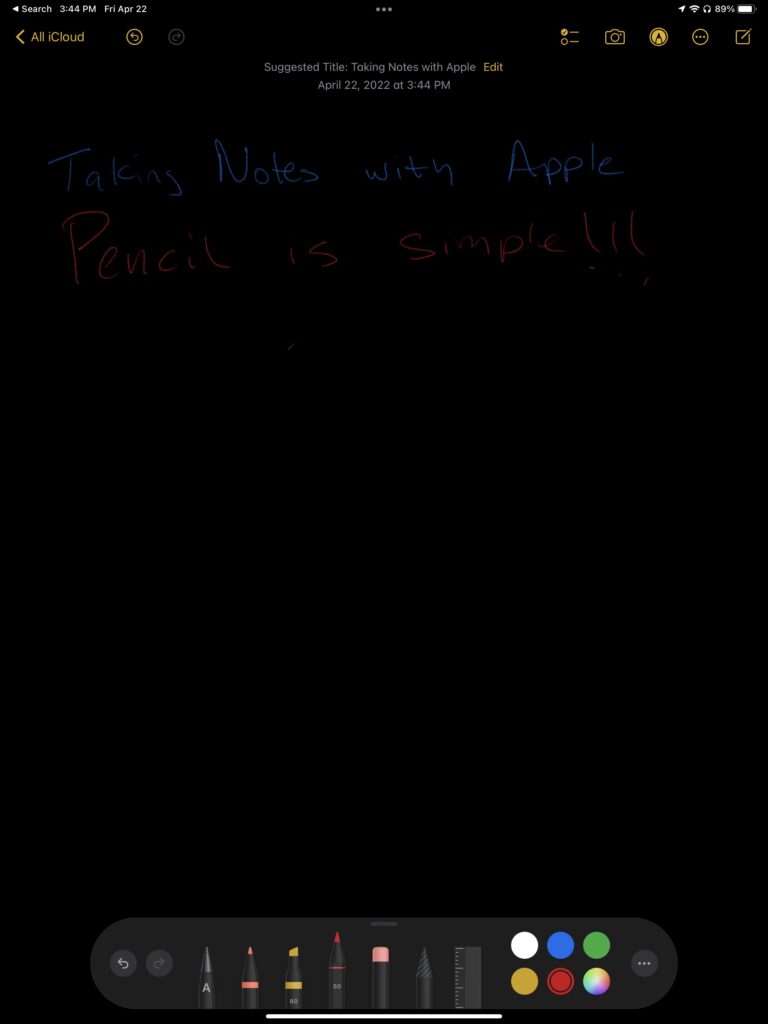 The iPad has the Notes app installed by default which allows users to take quick notes at any time without having to install a separate application. The notes app, as it is known by users, is free and has a good amount of features, including handwriting and apple pencil support.
Capturing Notes and Information via Camera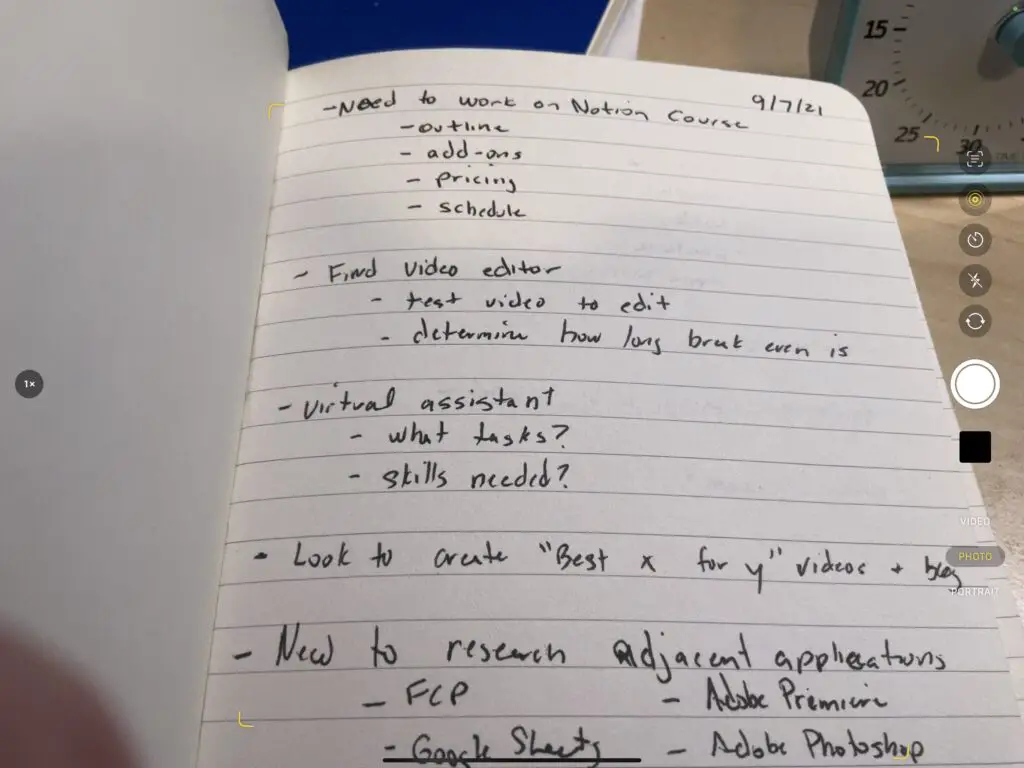 Another way iPad users can capture information is through the iPad's camera. You can take pictures of a physical note via the iPad camera.
Several note-taking applications for the iPad support OCR, which stands for Optical Character Recognition, meaning iPad users can take a photo of handwritten notes or text from a book and have it be converted to digital format.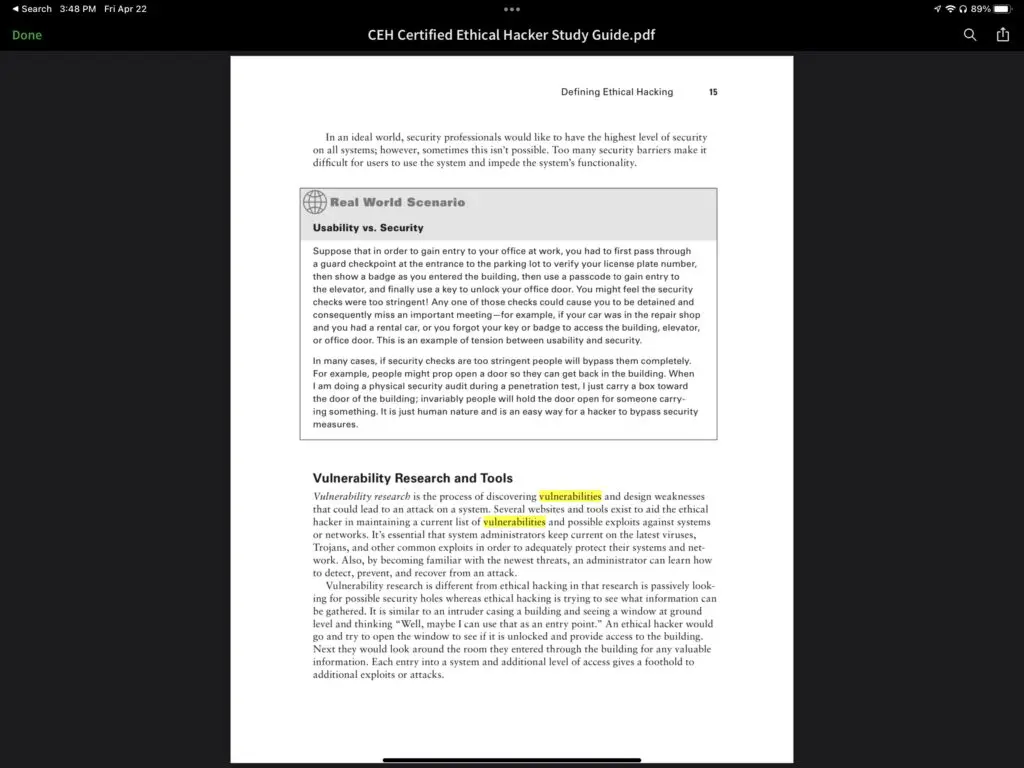 Evernote, for example, has rich support for indexing OCR'ed images and pdf files. This means that you can search for a phrase in any image or pdf file that contains that phrase will appear in the search results.
Capture Ideas and Make Notes Using Voice Dictation
The iPad is also great for typing as well as dictation. The virtual keyboard on the iPad has been improved with each new generation device Apple releases and will continue to improve in quality over time. Additionally, there is a multitude of keyboards that attach to the iPad, including the Apple Magic Keyboard, which is amazing.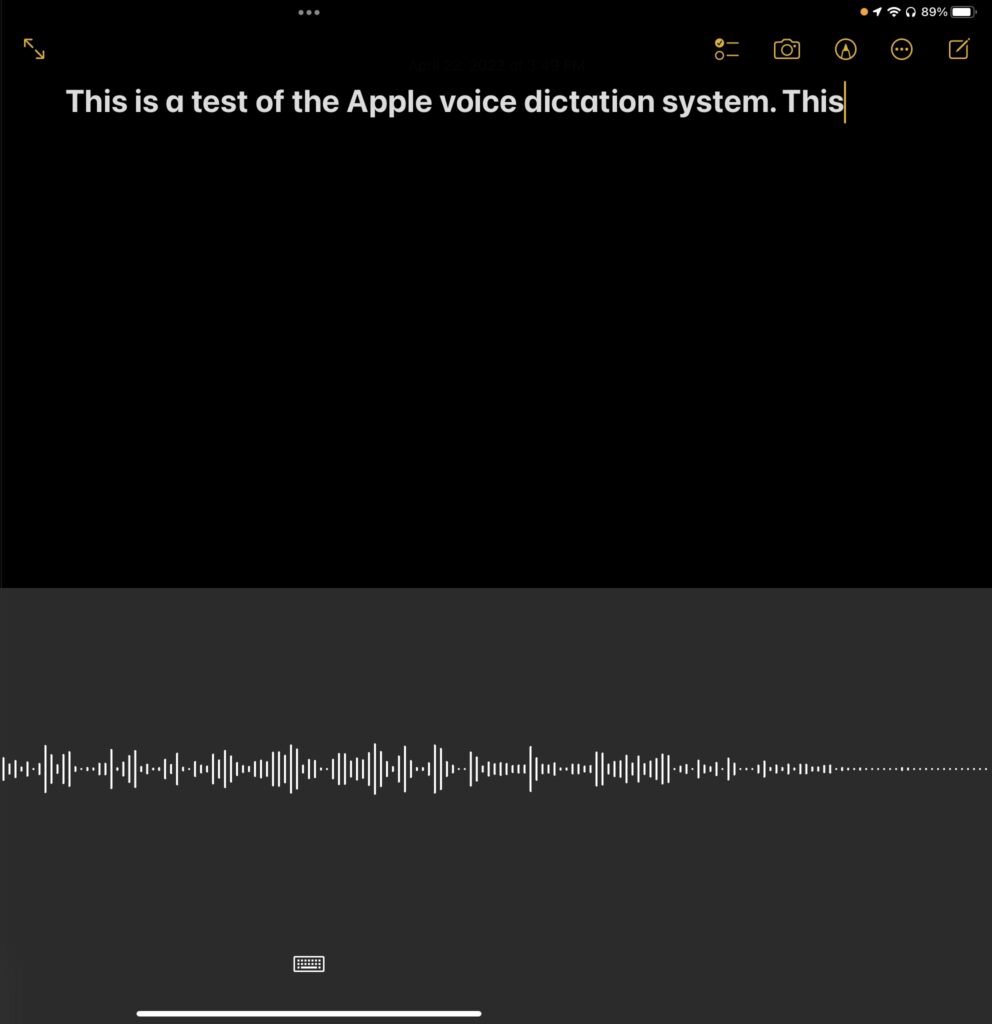 You can even take audio notes in apps like the notes app, which has an audio recording feature. Notability and Evernote also have audio note recording functionality.
What are the Best Note Taking Apps for the iPad?
Listed below are the best note-taking applications for the iPad:
Apple Notes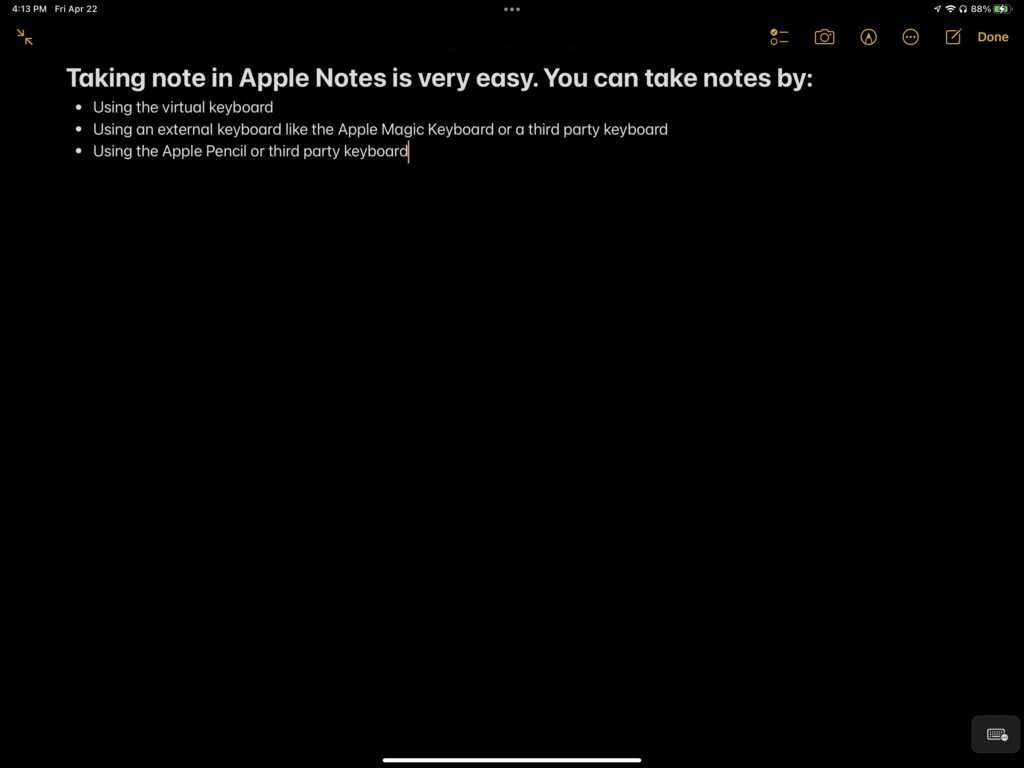 Notes is a great iPad note-taking app. It organizes your notes into categories and offers many features to make your life easier, such as iCloud syncing across devices.
Evernote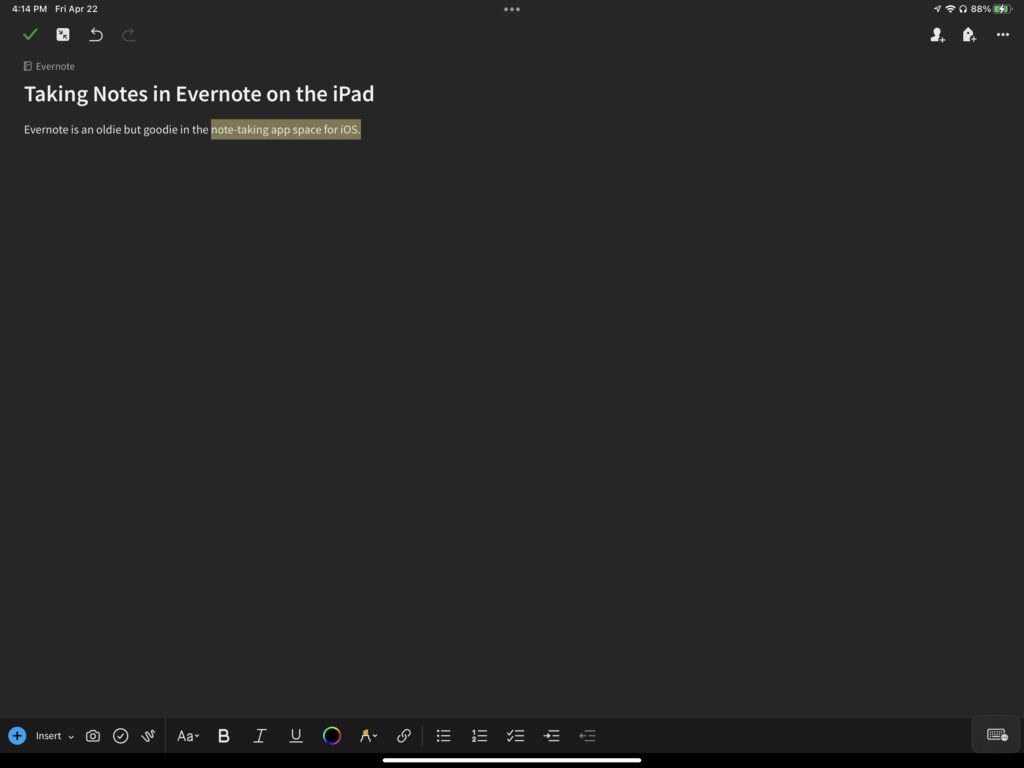 Evernote is another excellent iPad note-taking option that can help you be more productive. You can use this application for free on one device or
Notability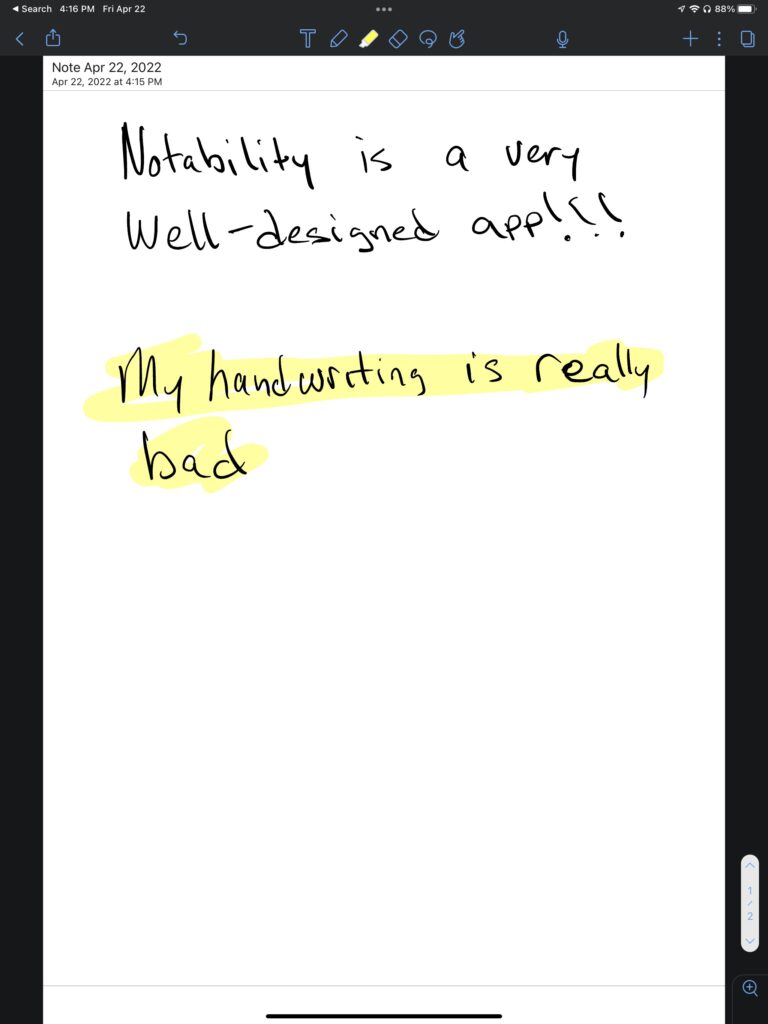 This note-taking application allows you to take notes in a variety of ways, including typing or handwriting with your finger. It also includes audio recording and video recording so that you can keep up with all types of information. If this is a feature that appeals to the way you want to work, it might be a good option.
Microsoft OneNote
This iPad note-taking application is part of the Office 365 service from Microsoft, so you will need an account for this to work properly on your iPad. It's great for keeping notes and lists organized as well as having collaboration features with students or co-workers.
Notes Plus
This iPad note-taking application allows you to take notes in bullet form, handwriting, or typing. It also includes the ability to easily share your notes with others using email and can be integrated with Dropbox for easy saving of files.
Google Keep
Google Keep is a great iPad note-taking application to use for things like working on projects or keeping track of simple lists. It's very easy to set up and works quickly; it also has the ability to attach images directly to your notes, which can be helpful when trying to remember something that you need at home or in the office without having access to your iPad. (Free)
Simplenote
This iPad note-taking application is very simple to use and it's free. The interface is clean and lets you start taking notes straight away.
GoodNotes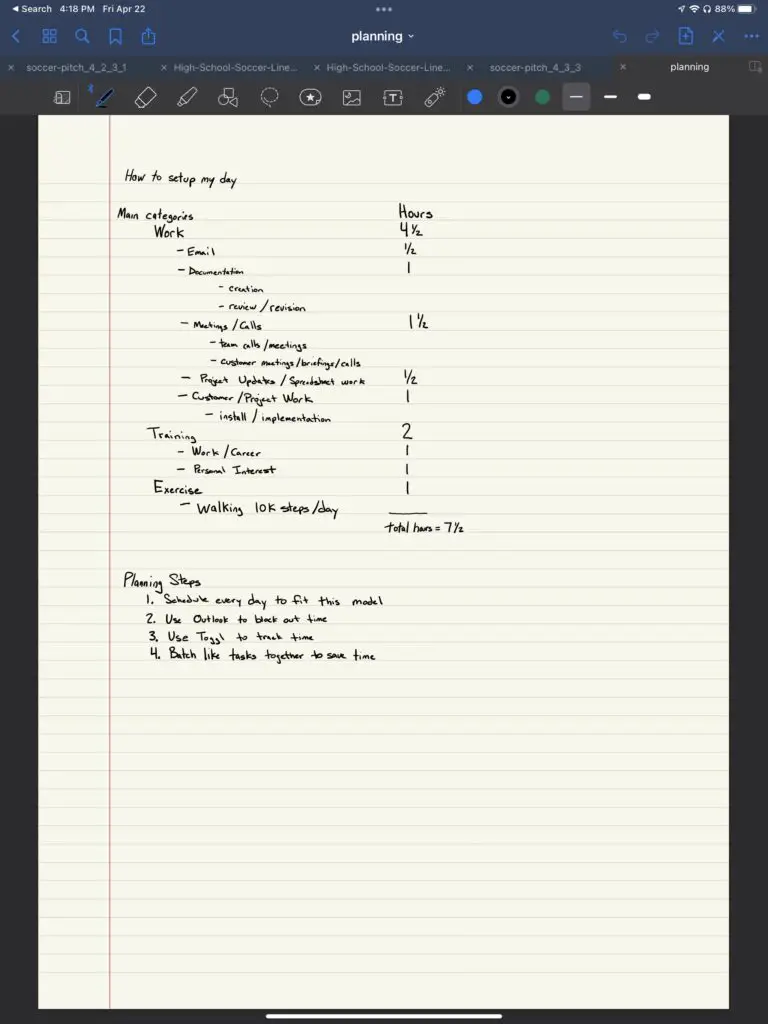 This iPad note-taking application is great for those who like to take notes in a notebook format with the ability to organize and include different types of notebooks. You can also insert images into your notes which helps students or professionals when it comes to working on projects, presentations, or anything that requires them to have easy access to photos
Notion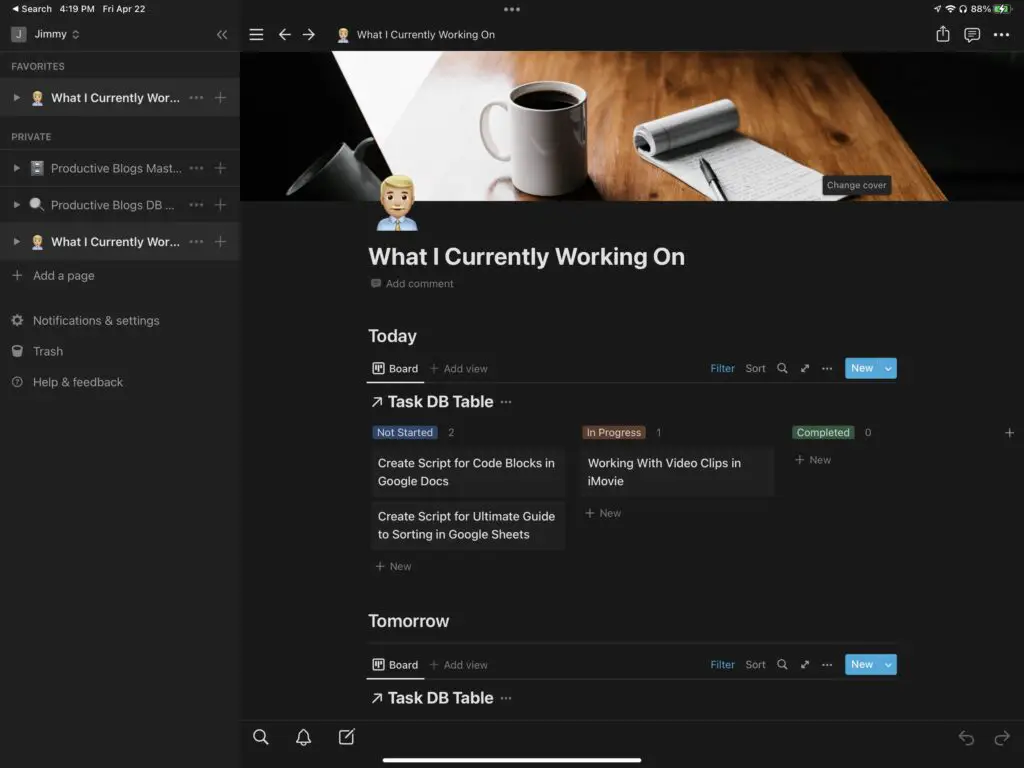 Notion is a wiki-based productivity application that provides a variety of functions including note-taking, database management, calendaring and task management.
What are the Best Apps for Taking Handwritten Notes on iPad
With the Apple Pencil, the iPad allows you to take handwritten notes quickly and easily. Apple Notes, for example, support the ability to take handwritten notes but there are several third-party applications that really show the power of taking handwritten notes on the iPad:
Notability
GoodNotes
OneNote
MyScript Nebo
While there are other apps, these are the best applications, in our opinion, for creating handwritten notes on the iPad.
How Do I Convert Handwriting to Text on the iPad?
Several applications can perform this transformation, including Apple Notes, which comes pre-installed on the iPad. Apple Notes allows you to take handwritten notes that the application converts to text.
To convert handwriting to text on the iPad, do the following:
Open Apple Notes.
Tap the Pencil icon with the "A" on it to get started.
Then, start writing on your iPad screen using the Apple Pencil or other stylus.
The iPad will automatically convert what you have written into text that can be edited as needed.
Can GoodNotes Convert Handwriting to Text on the iPad?
Yes, GoodNotes can convert handwriting to text. You have the option to use it or not, and your handwritten note will be fully readable if GoodNotes is turned off. This way there is no need for a separate iPad app if all you want to do with your iPad is take notes on meetings or class lectures – just start taking notes in GoodNotes, and convert them to text using the Lasso Tool.
To convert handwriting to text in GoodNotes, do the following:
Open GoodNotes.
Tap on the Tools icon in the top toolbar, and select Lasso Tool.

This is located next to the Eraser Tool (the one with an eraser).
Selecting this will bring up all kinds of shapes you can create using your iPad stylus or Apple Pencil – but we are interested in the OCR (optical character recognition) tool.

If you want to convert your handwriting into text, select "OCR" as the lasso option and draw a circle around all of the handwritten notes on your iPad screen that should be converted to text.
Tap anywhere outside of this circle area again to complete selecting it.
Tap on the Tools icon again, and select "Convert to Text".

This will bring up a little toolbar with options – make sure you are converting your handwriting into text. If not, tap on OCR -> Convert to Image first.
You can also choose which language should be used for automatic recognition of handwritten texts if needed
How to Convert Handwriting to Text in Notability
Listed below are the steps to convert handwriting to text in Notability for iPad:
Open Notability and start a new note.
Write your note
Press on the Lasso tool (It is the first tool on the top-right of your iPad)
Using the lasso tool, draw a circle around the handwriting you want to convert to text
Next, tap "Convert to Text" to convert the handwriting to text
Your handwritten selection should now appear as text on the Notability page.
Can I Use my iPad as a Notebook?
Yes! iPad note-taking is a great way to save ideas and thoughts as you go about your day. iPad notes can be synced to all of your other devices giving you access to them anytime anywhere.
If you are looking to use your iPad as a notebook, I highly recommend using the Apple Pencil and either GoodNotes or Notability. Both of these note-taking applications support handwriting and are most analogous to physical notebooks in terms of their organizational structure.
Is it Hard to Write on the iPad?
Given the fact that the iPad is glass and the tips of most styluses are rubber or plastic, the feel of handwriting on an iPad can take a little to get used to. The iPad isn't as easy to write on as paper, but it is much easier than using a traditional computer for note-taking.
However, if you find the feel of handwriting on the iPad too foreign and long for the feel of writing on paper, there are options out there that can make writing on the iPad feel like writing on paper.
Paperlike iPad Screen Protector
iPad users who are looking for the feel of writing on paper might want to try out the PaperLike screen protector. The PaperLike iPad screen protector gives iPad users that familiar feeling they're used to when taking notes with pen and paper. Paperlike is a clear screen cover that works with iPad, iPad Air and iPad Pro and provides a paper-like texture to the iPad screen.
If you want the feel of writing on paper while writing on your iPad, the PaperLike iPad screen protector might be the perfect solution for you.
Can't Remember Your Passwords? You Need 1Password!