Gone were the days when the Microsoft software bundle was mandatory for us to manage our office routines. It's high time professionals switch to Google-based applications like Docs, Sheets, and Drive to store documents and process them. However, there's a common confusion between Google Drive and Google Docs. 
Google Drive is a cloud-based solution offering additional storage and is linked to Gmail and other Google-based applications to share files easily. On the other hand, Google Docs is a cloud-based word processing program meant to create/modify documents and share them with teams with a click. 
In this article, let's look at the pros and cons of Google Drive and Google Docs to make better use of them going forward. 
Google Drive

Have you ever wondered where documents or information shared on emails get stored? Well, it's at the most renowned, cost-effective cloud-based storage solution – Google Drive. 
Overview
As a cloud storage solution, Google Drive is undeniably a regularly used application by working professionals. Here are a few things that you should know about this amazing solution. 
Google Drive is a catalyst for collaborating files of all formats and sharing across work locations. 
Google Drive permits up to 15GB of free storage, beyond which you're expected to pay an affordable amount monthly or yearly. This is only a case when you're running out of storage space. 
Google Drive is quite synonymous with a virtual USB flash drive. Login to your account, and you've all the files in a click. 
It's an integral part of Google enabling users to organize information into files and folders. 
Thanks to Google Drive's existence since 2012, remote working has turned easier and more productive. 
Tip: You can store files of any format when using Google Drive. 
Pros & Cons
Like any storage solution available in the market, Google Drive has a range of pros and cons that every user should be aware of. 
| | |
| --- | --- |
| Pros | Cons |
| Convenient to store files  | It fails to provide adequate clarity on users' privacy and the security of files. |
| Share files and collaborate with any number of members | Doesn't work great for storing heavy documents.  |
| Works anywhere if there's an internet connection | It relies strongly on the internet connection. |
| It's free to use up to 15 GB. | Charges are levied regularly when the storage limit is exceeded. |
Google Docs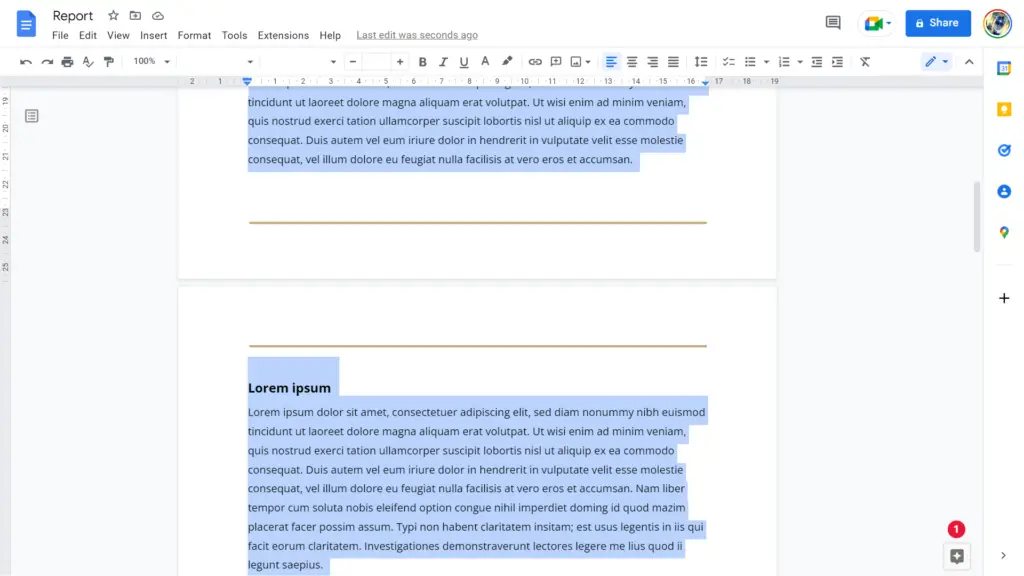 Google Docs could easily be termed one of the widely used web-based applications. Working via a secured system, Google Docs evolved in 2006 and has been regularly making upgrades to outperform Microsoft Word. 
Overview
Google Docs is a solution for those looking for a web-based program that needs no installations. Simply log in to your account and go to docs.google.com. Voila, your documents are there!
Here are our favorite features that you should know as well:
You can save documents in Google Docs in a wide range of formats, including HTML, RTF, DOCX, PDF, and ZIP. 
It also includes advanced search and storing features. 
There are high-end editing opportunities, and you can collaborate with your team members almost instantly. 
Eventually, you should note that it's a subset of Google Drive, and all files are stored in Google Drive.
Pros & Cons
| | |
| --- | --- |
| Pros | Cons |
| It's a free program. | It has all the basic features required. If you're looking for advanced features like integration, this can disappoint you. |
| Real-time collaboration features  | It doesn't have a folder option. |
| Access documents if you've an internet connection. You can make some documents available offline as well.  | Strongly relies on internet connection. |
| It's an integral part of Google's productivity tools.  | It relies on a Google account for users to utilize its features. |
FAQ
Is Google Drive The Same As Docs
Google Drive is a cloud-based file hosting service, while Google Docs is a web-based word processing program. Both are different but are interconnected as Docs is a subset of Drive. 
Are Google Docs Stored In Google Drive
Google Docs stores all files in Google Drive. While it gives the option to download or use the document offline, creating a document automatically means occupying storage in Google Drive. 
Do I Need Both Google Drive And Google Docs
If you've a Google account, you automatically begin using Google Drive. However, if you require word processing features, Google Docs is the one you need, and it stores documents in Google Drive. 
Eventually, you need both if you're using Google Docs. Otherwise, Google Drive is the one you'll be using with your Google account.
Conclusion
Millions of users use various productivity tools of Google, including Google Docs and Drive, because of their flexibility, compatibility, and accessibility. 
Before you access one of them, make it a point to know them better so you can get the best out of them. 
References
https://www.appsadmins.com/blog/heres-the-difference-between-google-docs-and-google-drive
https://blog.suitebriar.com/google-drive-vs-google-docs
Can't Remember Your Passwords? You Need 1Password!