Google Docs allows users to easily create, edit, and share a document from anywhere in the world. It's easy to use, intuitive and integrates well with other platforms. But are there limits to how many Google Docs you can have? How many Docs will fit on a single account?
An individual-use free Google account can hold up to 300 Google Docs of maximum size. Other paid accounts allow for even more storage, however, and the number of allowed Google Docs will also depend on the length of the individual document.
Keep reading to learn how many documents a Google Docs account can hold, how to maximize space, the unique features of Google Docs, and the various ways that Google Docs can benefit your business or career.
How Many Google Docs Can My Account Hold?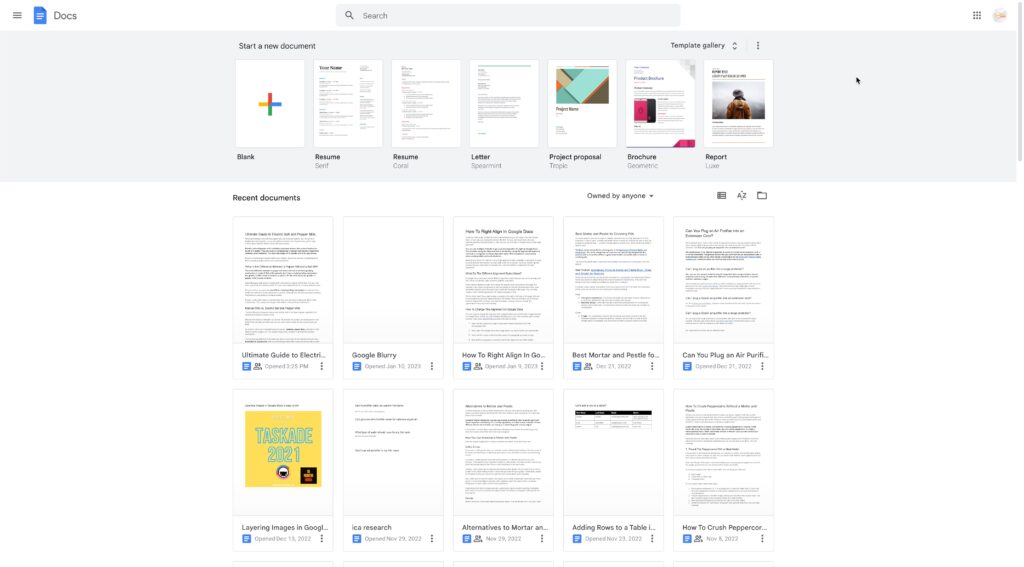 The number of documents your Google Docs account can accommodate depends upon the size of each document. The maximum size allowed for a single Google Doc is 50 megabytes or 1.02 million characters.
This translates to roughly 48 pages of text or 17,000 – 18,000 words, though the number will differ based upon factors such as vocabulary used, punctuation, and the technicality of the document.
Should all of your Google Docs contain the maximum amount of data, a free individual account would be able to store 300 Google Docs, providing that these Docs were the only thing taking up space on your account. This would convert to about 14,000 – 15,000 pages total and about 5.1 million words.
What can a user do if they need even more space? Does Google allow for more than 300 maximum-size Google Docs in exceptional cases?
Paid Plans Can Maximize Google Docs Storage
The 300 document limit applies to documents that use up all of the allowed document sizes and which are stored on an individual-use, free, or legacy plan of 15 gigabytes.
Google offers several professional plans via Google Workspace that can maximize your storage space, allowing you to save unlimited documents. The Enterprise Plan, for example, allows unlimited storage on Google's secure servers, with advanced protection and professional support.
Google One also offers paid tiers of service for private use, up to 2 terabytes of data. What would this look like regarding the number of pages you could write? Well, with 133 times the amount of storage as a basic free plan, you'd be able to fill out roughly 1.8 million pages of text.
That is a lot of writing, and even the world's most prolific novelist might be able to store his life's work on a single account! It's important to note that this storage is shared across all of Google's platforms and that space is limited.
Does Every Google Docs Account Allow for Maximum Storage?
The 15 gigabytes of space you'll get with your free individual or legacy account is shared across platforms. This means that some space will be taken up by Gmail, Google Photos, or any other services you use.
To truly maximize the amount of space reserved for Google Docs, you'll have to ensure that your storage on other platforms is minimal or nonexistent. This can become difficult if your business is being run through Google services, as professional files of every variety tend to require a lot of room.
The more photos you store, the more your 15 gigabytes will be dedicated to photo size. The more you store Google Sheets slideshows, the less space you'll have for Google Docs. As Google includes a wide range of platforms for every account, you'll have to allocate space carefully. These platforms include
Gmail
Google Sheets
Google Docs
Google Pictures
Calendar
Forms
Contacts
Getting the most out of Google Docs will mean using less space on other services. An upgrade can eliminate this dilemma, though you shouldn't worry. The amount of space that Google offers its users is generous and should be able to accommodate all business and private needs.
Are these documents stored forever? Are there limits to how long a Google Doc will stay on your account?
Do Google Docs Expire?
This is an important question, especially if you plan on using your Google account for many years or decades. It's vital to have access to all your documents, whether you created them yesterday or five years ago.
Unless you specifically delete your Google Docs, they will remain available to you in one place. No matter how old your Google Doc is, you can view it, edit it, and share it, with no expiration date set by Google. 
To limit third-party access to shared Google Docs, however, it is possible to set a date for the document to expire manually. This can be especially useful if you prefer to rescind an outsider's access to a document. While you can still see and access the Google Doc, the third party's access will have ended.
Another exciting feature is your ability to transfer ownership of a Google Doc to another user. This will free up space on your Google account and remove the document from your care.
Conclusion
Google Docs will allow an individual user on a free account 15 gigabytes of space. If used only for Google Docs, this will translate to 300 Google docs of the maximum allowed size, roughly 14,000 – 15,000 pages of text, or 5.1 million words.
More space can be added by upgrading accounts, with up to 2 terabytes available for Google One users and unlimited space for Workspace Enterprise plans. This space is shared across all platforms and is not exclusive to Google Docs services. 
Your Google Docs will never expire, though ownership can be transferred to another user, freeing up room on your account. You may also limit a third party's ability to view a specific Google Doc by setting an expiration date for outside access.
Sources
https://support.google.com/docs/thread/21534951
https://support.google.com/docs/answer/9312312
https://workspace.google.com/pricing.html
https://one.google.com/about/plans
https://support.google.com/a/users/answer/9308784
https://support.google.com/drive/answer/2494892
Check Out Our YouTube Channel!
Can't Remember Your Passwords? You Need 1Password!