Google Docs comes in handy with a host of features for those wanting a cloud version of the conventional application – Microsoft Word. An interesting feature in Word is the possibility to view texts side by side and perform better comparisons. However, for those users switching from Microsoft Word to Google Docs, there's a question – how do you view Google Docs side by side?
There are three ways to view Google Docs side by side – sizing two windows next to each other, using columns, and Chrome extensions like Tab Scissors and Tab Resize. However, there's no inbuilt feature in Google Docs to let documents appear side by side. 
Would you like to enable this feature for your document? Here's the complete guide. 
How To View Google Docs Side By Side
Sizing Two Windows Next To Each Other
Open an existing document in Google Docs. This can be a PDF imported to Google Docs as well.
Copy the link to the document.
Open a new window and paste the copied link in the address bar. 
Now, you have the same document opened in two different windows. 
Resize each window to make them look side by side.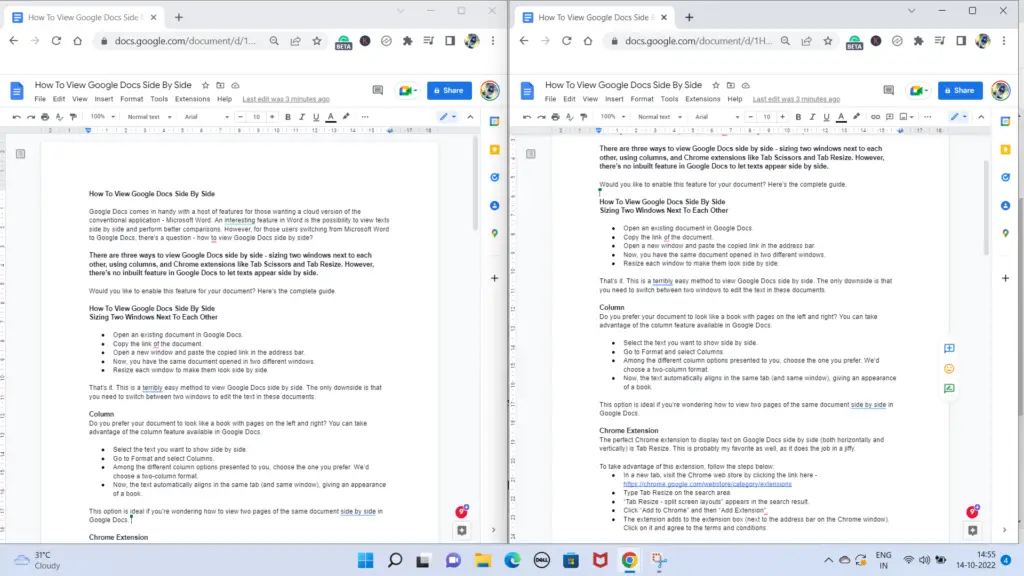 That's it. This is a terribly easy method to view Google Docs side by side. The only downside is that you need to switch between two windows to edit the text in these documents. 
Using Columns
Do you prefer your document to look like a book with pages on the left and right? You can take advantage of the column feature available in Google Docs. 
Select the text you want to show side by side. 
Go to Format and select Columns.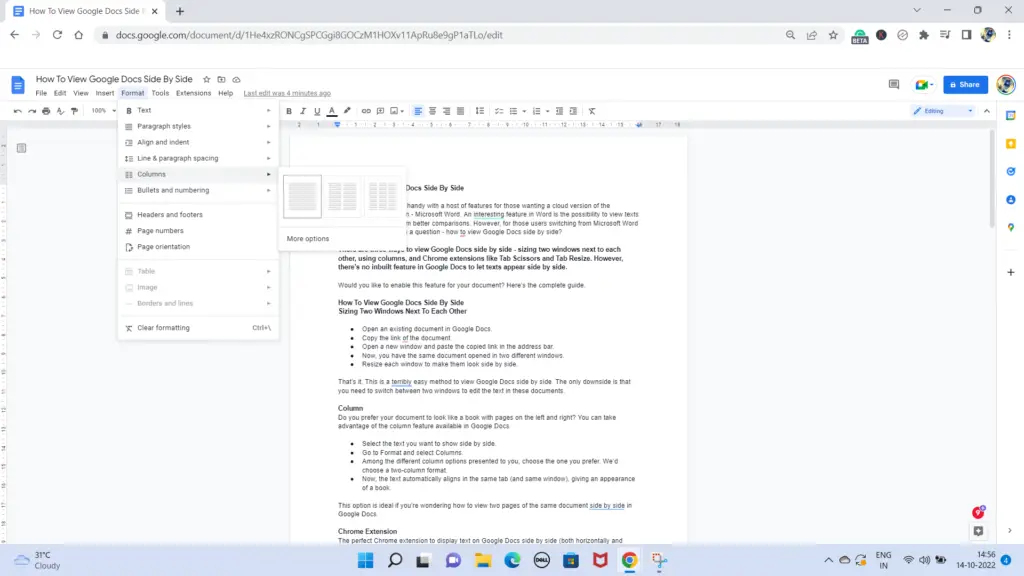 Among the different column options presented to you, choose the one you prefer. We'll choose a two-column format. 
Now, the text automatically aligns in the same tab (and same window), giving an appearance of a book.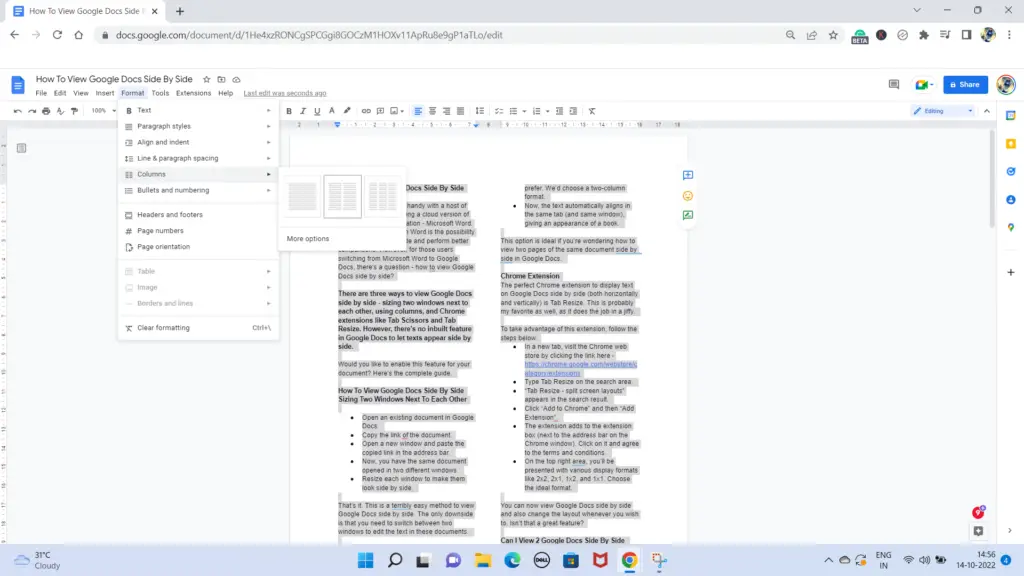 This option is ideal if you're wondering how to view two pages of the same document side by side in Google Docs. 
Note: This works well for tables in Google Docs as well.
Chrome Extension
The perfect Chrome extension to display text on Google Docs side by side (both horizontally and vertically) is Tab Resize. This is probably my favorite as well, as it does the job in a jiffy. 
To take advantage of this extension, follow the steps below:
Click "Add to Chrome" and then "Add Extension". 
The extension adds to the extension box (next to the address bar on the Chrome window). Click on it and agree to the terms and conditions.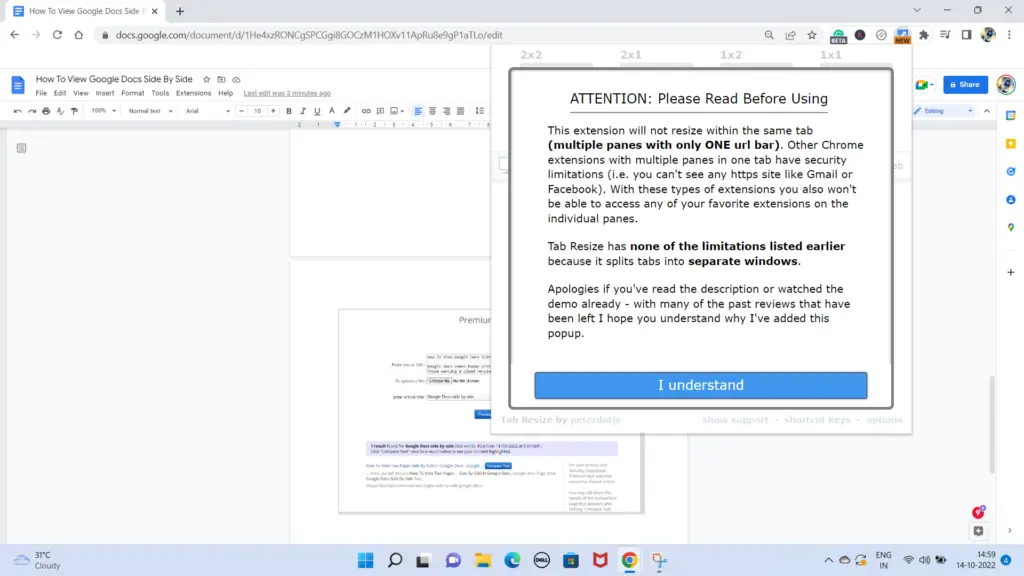 On the top right area, you'll be presented with various display formats like 2×2, 2×1, 1×2, and 1×1. Choose the ideal format.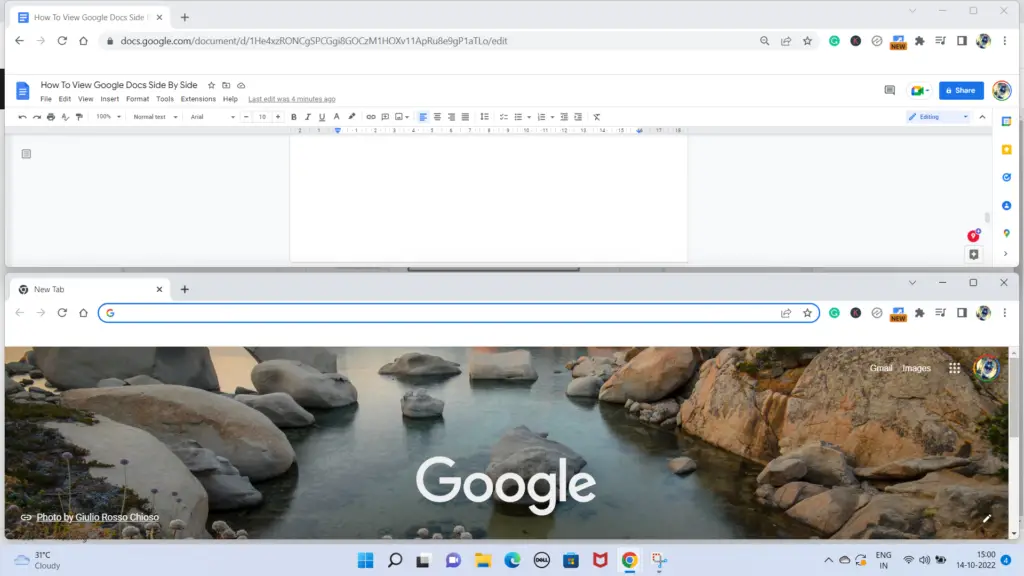 You can now view Google Docs side by side and also change the layout whenever you wish to. Isn't that a great feature?
Can I View 2 Google Docs Side By Side 
Viewing 2 Google Docs side by side isn't a direct feature of the application but can be accomplished by one of these options – opening the same document in two different Windows and adjusting their sizes, using Chrome extensions, and activating the Columns option. 
There are also keyboard shortcuts to present them better. 
Final Thoughts
Google Docs is a user-friendly application enabling you to make use of shortcuts and extensions to improve the layout and overall user experience. All that's needed is a bit of exploration, like what I did in this article. You'll eventually get ahold of the application.