How To Remove Columns In Google Docs in 3 Simple Steps
Have you ever had a document with too many columns and wondered how to remove them? Well, you're in luck! Removing columns on Google Docs is a straightforward process that can be completed in just a few steps.
Select the column on Google Docs. 
Right-click and click Delete Column.
This is the easiest way to delete a column if it's within the table. What if the text needs to be turned from a column to text? There's more to deleting or removing a column which we'd discuss in this article. 
How To Remove Columns In Google Docs
If you've a text aligned into multiple columns in Google Docs, you may want to change the alignment to give a better look. On the other hand, you may have columns within a table that should be removed when data in it are unnecessary. 
To address both instances, let's look at the steps below. 
Remove Columns In Text
Select the text on Google Docs. 
Click Format from the menu bar. 
Select Columns and choose the first option (that contains no columns). 

The text is now aligned in the form of a paragraph. 
Remove Columns From Table 
Select the column from the table that needs to be removed. 
Choose Format -> Table -> Delete Column.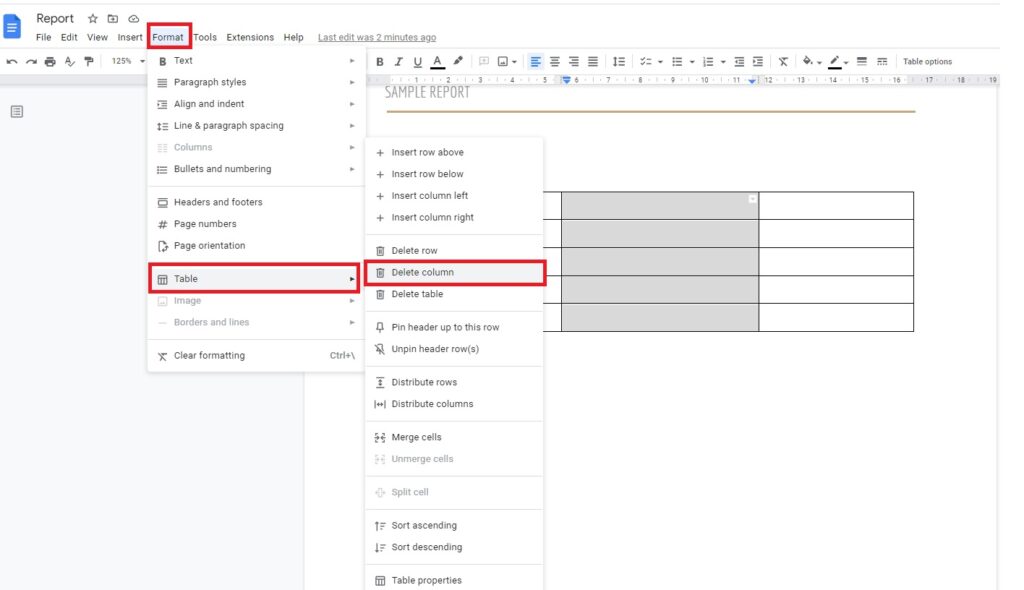 You can now see that the selected column is removed from the table. 
Operations With Columns On Google Docs
You're probably mistaken if you assume that columns in Google Docs are meant to be either added or deleted. 
There are umpteen things you can do with columns. Some of them are listed below. 
Inserting a new column to the right or left of the chosen column
Distributing columns 
Saving the column to Google Keep for later reference
Sorting the column in ascending or descending order 
Above all, you can perform these actions simply by selecting the column and right-clicking to choose one of the operations. 
When To Remove Columns In Google Docs
Columns in Google Docs are meant to format text better. However, it's essential to know when to remove them so you don't lose access to critical data. 
Some possible scenarios when you can remove columns are listed below. 
If the document contains too many sections/columns of redundant or irrelevant information
To resize/rearrange tables to make them easier to read.
To merge multiple columns into one if the data is related and fits better that way
For aesthetic reasons, such as giving presentations a more polished look with fewer lines and more space around the data
Final Thoughts 
Removing columns from documents using Google Docs is an easy task that helps organize information within your documents quickly and effortlessly! So go ahead and give it a try today whenever necessary!
Check Out Our YouTube Channel!
Can't Remember Your Passwords? You Need 1Password!