In working at my day job, I am regularly looking at the tools I use to get things done. Picking the right tool that most fits my workflow is a daunting process as there are so many different apps. Whether these apps are web, mobile, desktop or cross-platform, there are no shortage of options. One of the key tools a knowledge worker should have in their arsenal is a to-do manager. To-do managers help their users organize and track their tasks so that nothing falls through the cracks. They also help fight against procrastination as checking off tasks creates a great feeling of accomplishment.
So, if you should use a to-do app, what app should you choose? The answer to this question is dependent on how intricate you want to be in managing their to-dos and whether you are willing to spend money on a to-do manager. Picking a to-do manager requires an evaluation of how you work and what you are looking for in a to-do manager.
In my opinion, the best Apps for to-dos are listed in the table below:
| Category | App |
| --- | --- |
| Basic, Free iOS To-do App | Reminders |
| Freemium iOS To-do App and best at 3rd party integrations | Todoist |
| Best iOS Paid To-do App for most people | Things |
| iOS To-do App with the most functionality | OmniFocus |
Before we get started with the tutorial, if you are looking to learn more about apps like Notion, Todoist, Evernote, Google Docs, or just how to be more productive (like Keep Productive's awesome Notion course), you should really check out SkillShare. Skillshare is an online learning platform with courses on pretty much anything you want to learn. To learn more about Skillshare and its vast library of courses and get 30% off, click the link below:
SkillShare – Online Learning Platform
If you are looking to pick up an iPhone or iPad but don't want to spend a ton of money or looking to sell your current device for a fair price, you should check out Gazelle. Gazelle is a great place to buy certified (each device goes through a 30-point inspection process), pre-owned devices like iPads and iPhones as well as to easily get cash for your current devices, even if they are damaged.
For more information on how to buy or sell a device on Gazelle, click the link below:
Gazelle – A Smart Way to Buy and Sell Devices
Why Didn't I Just Pick One App?
It may seem like I am being safe by picking multiple to-do apps. That is a fair characterization at first glance but the whole idea of one app for all users and workflows is inherently flawed. Everybody work differently. The best app for you might not work for me and vice versa. Understanding yourself and how you work will help inform what to-do app works best for you.
Basic iOS Todo Apps
For most people, a basic to-do manager is more than sufficient. It is easy to get obsessed with all of the intricate settings and views and forget that the core function of the app is to simply track your tasks. If you are looking for a simple todo app on iOS, Reminders is probably the best one to choose.
Reminders
It makes sense to start with the app that comes with Apple devices: Reminders. Reminders is a simple app. You add a bunch of tasks (reminders) into the app and they are listed appropriately. However, because it is made by Apple, it has strong hooks into iOS. It works well with Siri and Siri Shortcuts. You can also add items from other apps into Reminders by using the share button in that app. You can organize your reminders into lists that can be shared with other iCloud users.
It is important to note that this post is being written before the release of iOS 13. This is an important distinction because Apple is revamping the Reminders app in iOS 13. Some of the new features coming to Reminders in iOS 13 include:
Better understanding of longer sentences
Support for attachments
New UI with a quick toolbar
Siri suggested reminders
Smart lists
Greater ability to customize list appearance
Integration to Messages
Tasks and Grouped Lists
What Sets Reminders Apart?
All of the key differentiators for Reminders can be boiled down to one word: Apple. Reminders is Apple's to-do app and, as such, gets a special seat at the table. What this means is that Reminders has access to elements of the iOS operating system that third-party to-do clients simply do not have. As a result, it is not surprising that Reminders is the most integrated to iOS of all the to-do managers.
Reminders Summary
I have a feeling that once iOS 13 releases that Reminders will be a strong candidate for both basic users and users who need a little more functionality. At any rate, getting started with Reminders is easy and, with the features coming in iOS 13, has a little something for everybody.
Intermediate and Advanced iOS Todo Apps
As you get more into tracking your tasks, you may want more features. Whether it's a little more granularity, project support, or tags, the desire to upgrade to a more robust app may make sense. This section will cover a couple of good alternatives for users with needs that are greater than basic reminders but less than some of the more complex apps on the market.
Todoist – A Highly Flexible, Web-Centric To-Do Manager
If you are looking for a cross-platform to-do manager that supports a ton of integrations into other services, Todoist is easily the best to-do manager for you. While Todoist is a cross-platform service with apps for all the major platforms, Todoist is a web app at its core.
Key Features of Todoist
Todoist has an impressive number of features. Some of the key ones that go beyond basic to-do management include:
Pre-Built and Custom Filters
Labels (function like tags)
Ability to add sub-tasks to a task
Project Templates with ability to export as CSV or weblinks
Backups
Comments and File Uploads
Todoist even has a gamification element to it with Karma. Karma allows you to gain points by completing tasks. Gamification can be a great tool to fight against procrastination.
What Sets Todoist Apart?
Todoist is unparalleled in terms of its integrations. Pick a major web service and it is highly likely that Todoist has an integration for it. Todoist also has support for IFTTT and Zapier automation platforms, making it a tinkerer's dream to use.
Todoist Pricing Model
Todoist is a subscription-based service that leverages a "freemium" model. There are three tiers of the model:
Free
Premium
Business for Teams
The free model allows up to 80 active projects with a max of 5 people per project. The one key missing piece of functionality in the free model are reminders. The premium model supports all the features with the exception of the following: shared team inbox, Admin and member roles and team billing. These features are only available in the Business plan. The premium plan is $3 per month billed annually with the Business for Teams plan is $5 per user per month billed annually or $6 per month billed monthly. More information on the pricing plans and associated features can be found at the link below:
link to Todoist pricing and feature list by subscription type
Todoist Summary
With a plethora of integrations and features, Todoist is an amazing to-do system. Features like theme support, calendar sync, granular filters and projects make Todoist highly functional with the myriad of integrations make it extremely flexible. While Todoist can be a little daunting for beginners, it is powerful and available on all platforms, making managing your tasks across platforms seamless.
Things – A beautiful iOS App Built for the Masses
Things has, quite simply, a gorgeous user interface with a clean, simple design. It is hands down the prettiest to-do manager out there by a significant margin. While I realize that a pretty user interface is not necessarily the most important feature of a to-do application, the importance of it being good to look at is actually important. If the user interface is ugly or unintuitive, your desire to use it goes down. Conversely, having a great UI that is both great to look at and intuitive makes you want to use the app. The fact that it is also an excellent to-do app functionally almost feels like icing on the cake.
Key Features of Things
Things supports all of the features you would expect in good to-do manager. Some of the key features include:
Dedicated iPad App
Repeating to-dos
Sharing to-dos
Ability to create headings within a project
Siri and Siri Shortcut support
x-callback-url support
Sync across devices with Things Cloud
What Set Things Apart?
Things is the perfect iOS app in terms of design both aesthetically and functionally. It doesn't have all of the integrations that Todoist has but does support x-callback-url. Things isn't nearly as robust feature-wise as OmniFocus but yet has all the key features most users will need. Things is what a polished app should feel like: simple and functional. No rough edges or clunky UI detracting from the experience. Enough functionality to grow with you but not too much where you get lost.
Things Pricing Model
Things is priced as a one-time purchase. The price for the iPhone and Watch version is $9.99 while the iPad version is $19.99. Things is priced as a premium app relative to the average app in the App Store. There is a 15 day free trial to kick the tires but then you will have to outlay some cash to continue to use it. It can get expensive quickly if you wish to use Things on all your Apple devices (iPhone, iPad and Mac) as the Mac client is $49.99 so to own all three would set you back close to $80. Todoist, by comparison, if you were to go with the premium plan would set you back $3 per month paid annually ($36/year) and Todoist is cross-platform.
Things Summary
Things is a great app. Beautiful, simple yet functional. Things is my personal favorite to-do app and I do have it on all my Apple platforms. It is a great app and I think it is worth a try for users who are in the Apple ecosystem. However, if you are on a budget or if you require cross-platform support, I would go with Todoist as it checks both those boxes.
OmniFocus – Highly Customizable, Feature-Rich To-Do Manager
OmniFocus is the to-do app that all other apps are measured against. It is a GTD influenced to-do manager that is extremely customizable. It is easily the most powerful to-do app in terms of managing projects and providing seemingly endless ways to view your projects. If you want the most powerful to-do manager, OmniFocus is the one for you.
Key Features of OmniFocus
Perspectives (these are customizable views of your projects/tasks)
Review
Tags
Siri Shortcut support
x-callback-url support
Sync via Omni Sync Server
Web app
What sets OmniFocus Apart?
To me, perspectives. The most powerful part of this app to me are perspectives. The ability to filter your projects essentially any way you want is extremely valuable when you have tons of projects and tasks. You really don't understand how crazy useful perspectives are until you use them. The best implementation of filtering of any to-do app by a ridiculous margin.
OmniFocus Pricing Model
OmniFocus offers both subscription and purchase options.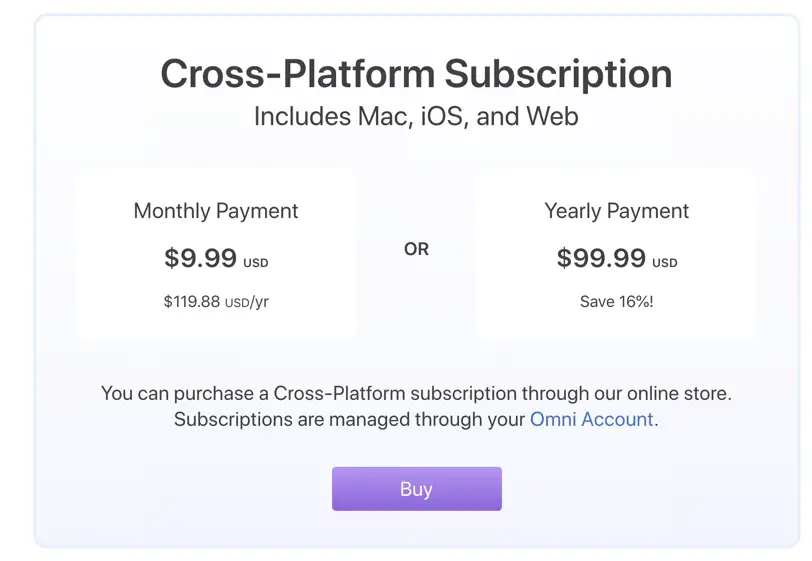 The subscription model is a $9.99 a month or $99.99 a year and includes OmniFocus for Mac, iOS and Web.
Conversely, you can purchase the iOS app two options:

Standard costs $49.99 and includes all the Pro features except for custom perspectives and customizable sidebar. The pro option costs $74.99. Two things are clear from the pricing:
Purchasing OmniFocus is very expensive
OmniGroup (the company that makes OmniFocus) really wants you to use the subscription option
Subscription models are generally better for developers than strict purchase as the revenue is recurring. It makes it easier to invest in new feature development as you know you have a consistent revenue stream to fund the development. But even with the subscription, it is still expensive compared to the competition. For the purchase option, Things for iOS costs $9.99 and $19.99 for iPhone and iPad respectively. OmniFocus costs $49.99 for standard and $74.99 for Pro so more than twice as much if you get the iPhone and iPad versions of Things vs OmniFocus. The subscription model helps but you still are paying $99.99/year, which is less than buying all the Things apps for Apple platforms.
OmniFocus Summary
OmniFocus is an amazing app. The amount of customization in filtering and reviewing your projects and tasks is awe-inspiring. The OmniGroup has done a phenomenal job with OmniFocus over the years. There are legions of OmniFocus users who swear by the power of this app. The only downside is that you are definitely paying for this power. I personally believe that if developers make great apps they should get paid what the market bears. The model seems to be working well for OmniGroup and I am glad for them as we need great developers making good money so they can continue to turn out great apps. If you are a power user who needs to be able to custom filter your projects and tasks, OmniFocus is the app for you.
Summary
All of the apps I talked about in this post are great at what they do. It is hard to go wrong with any of the options. As I referenced earlier, the one that is right for you will be based on how you work, what features are most important to you and cost. Most of these have free trial periods for kicking the tires and trying them out. I recommend you dabble with each of them until you find one that most fits how you work. Good luck.

Please Subscribe to our Newsletter
If you like the content on this site, please subscribe to our newsletter. We promise not to be spammy!
Subscribe Form
Check out our Resources page
Check out our resources page for the products and services we use everyday to get things done or make our lives a little easier at the link below:
Helpful Links
Reminders
Todoist
link to Todoist pricing and feature list by subscription type
Link to Todoist list of integrations
Things
OmniFocus
link to OmniFocus 3 for iOS page
link to comparison of features in OmniFocus by platform
Posts You May Be Interested In
How to Organize and Search Notes in Evernote
link to how to organize Evernote post
How to Embed a Google Sheet into a Notion page
How to Create a Project Tracker in Notion
link to Notion project tracker post