Does Evernote Support Markdown?
Evernote is a cross-platform note-taking application that allows it's users the ability to capture ideas from anywhere (web clipper, email, share sheet, etc.). I have been using Evernote for years and it is my go to application for storing my long-form notes (I use Apple Notes to quickly capture small, transient data). Evernote's ability to OCR images and documents, support stylus input for writing and drawing and the various other ways it support for getting data into it makes Evernote a very valuable tool for me.
I recently have started this blog and have been writing a lot in markdown. Right now I use Atom from GitHub as my writing app but I wanted to see if I could use Evernote. Writing my posts in Evernote would be more efficient as I would have a backup of all my posts in Evernote should my WordPress install flake out. Unfortunately, Evernote does not support Markdown.
Before we get started with the tutorial, if you are looking to learn more about apps like Notion, Todoist, Evernote, Google Docs, or just how to be more productive (like Keep Productive's awesome Notion course), you should really check out SkillShare. Skillshare is an online learning platform with courses on pretty much anything you want to learn. To learn more about Skillshare and its vast library of courses and get 30% off, click the link below:
SkillShare – Online Learning Platform
If you are new to Evernote or simply looking to improve your productivity in Evernote, you should check out my Beginner's Guide to Evernote at the link below:
Beginner's Guide to Evernote – The Productive Engineer
This comprehensive guide will teach you all you need to know to use Evernote productively.
Why doesn't Evernote support Markdown?
This is a very good question. In researching whether Evernote plans on supporting Markdown in the future, it is not clear whether Markdown support is in Evernote's plans. Evernote uses a proprietary superset of XHTML called ENML for representing the contents of a note.
Should Evernote support Markdown?
This is a trickier question. The natural inclination would be to say yes, Evernote should support Markdown. It is the default writing format of the web and it makes perfect sense conceptually that Evernote support it. However, it is not that simple. Evernote does not just support text in their notes. It can support a wide variety of items within their notes. Working on a note is an iterative process where you need to be able to edit notes many times while having the formatting and content of the note to be the same. Converting between Markdown and ENML and vice versa multiple times while keeping the formatting and data the same is not easy by any stretch of the imagination. This is my guess why we haven't seen Markdown support in the Evernote service today or any commitment to add it in the future.
Does the lack of native Markdown support in Evernote mean I can't write in Markdown and save it in Evernote?
No it doesn't mean that. There are third party tools that allow you to write in Markdown and save it in Evernote. The most popular app that does this is Marxico (link to Marxico web site). Marxico allow you to write in Markdown while assigning the note to a notebook and applying tags. The note that is saved in Evernote includes the Evernote note as well as the original Markdown. However to edit the markdown, you will need to go back into Marxico. Marxico can't detect and merge any changes to the note in Evernote so all changes would have to be done in Marxico. Marxico does not store your notes data so that is good from a privacy/security perspective.
Marxico offers a 10 day free trial if you are interested in kicking the tires and seeing how it works. Beyond the 10 day trial, you will need to subscribe to the Marxico Pro service, which cost $15.99/year.
I Really Need To Use Markdown, What Should I Do?
If you absolutely need to be able to write your notes in Markdown, there is likely two things you should do. The first is to let Evernote know that this feature is important to you. Go the the Evernote support forums (Link to Evernote support forums), search for Markdown support and add your voice to the list of people requesting this feature.
The second thing you should do is to start looking at alternative note-taking applications and services that do support Markdown. Here are some good note-taking applications that may be worth a look that support Markdown:
Bear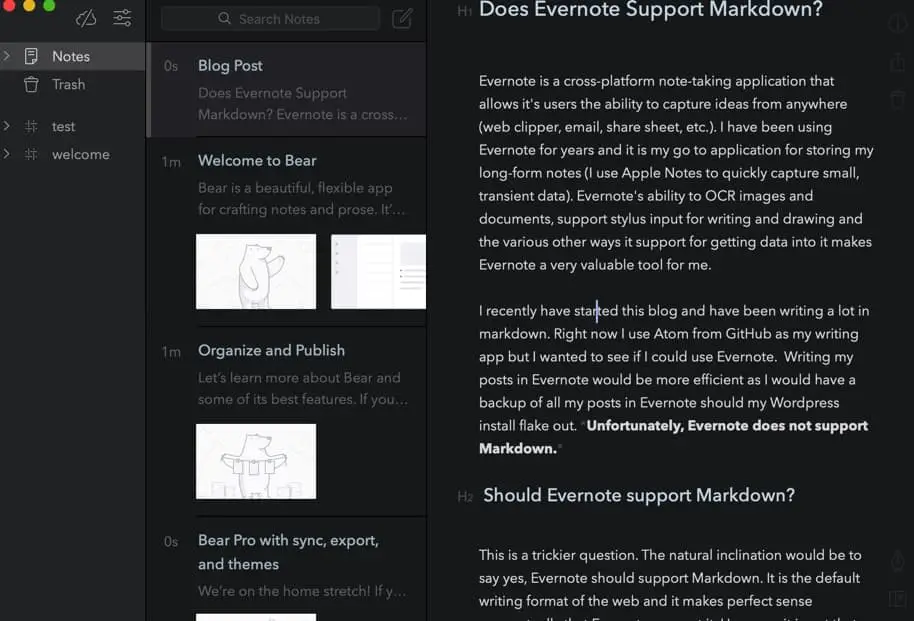 Bear is the first app I want to talk about. Bear is a beautiful, well-crafted app. Bear has a rich feature set including:
Previews
To-Dos
Theme support
Hashtags (i.e. tags)
Focus Mode
Web clipper
Export to PDF, HTML, MD, DOCX
Bear does a great job balancing a great feature set while keeping the user interface simple and clean. It is very easy to get started with Bear. Bear is available the Mac and for iOS.
Bear Pricing Model
Bear operates on a "freemium" model. The basic version of Bear is free but if you want some of the advanced functionality, you will need the Pro subscription, which is:
$1.49 monthly (comes with a one week free trial)
$14.99 annually (comes with a one month free trial)
If you are in the Apple ecosystem, Bear makes a ton of sense if you are looking for a beautiful, highly functional note-taking app that supports Markdown.
Notable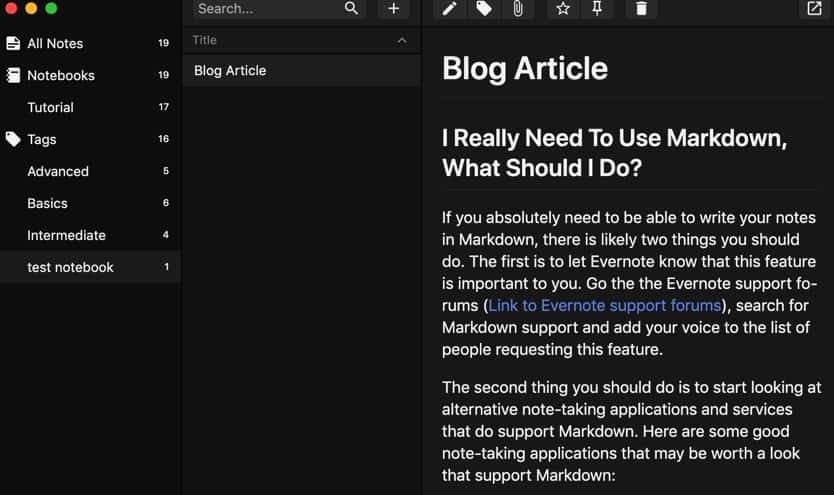 If you are looking for a simple, cross-platform (at least cross computer platform) note application that supports Markdown, Notable just may fit the bill. Notable is an open-source project that is available on Mac, Windows and Linux.
The user interface for the Notable client is clean and utilitarian. Markdown is the native file format for Notable. Notable supports the following features:
Quick Open
Split-Editor
Zen Mode
Ability to select multiple notes and perform actions on them
Tagging with ability to nest tags
Notion is open-source and is free. If you work on a PC (running Windows or Linux) or a Mac and need a simple Markdown editor, Notable is a great option.
Simplenote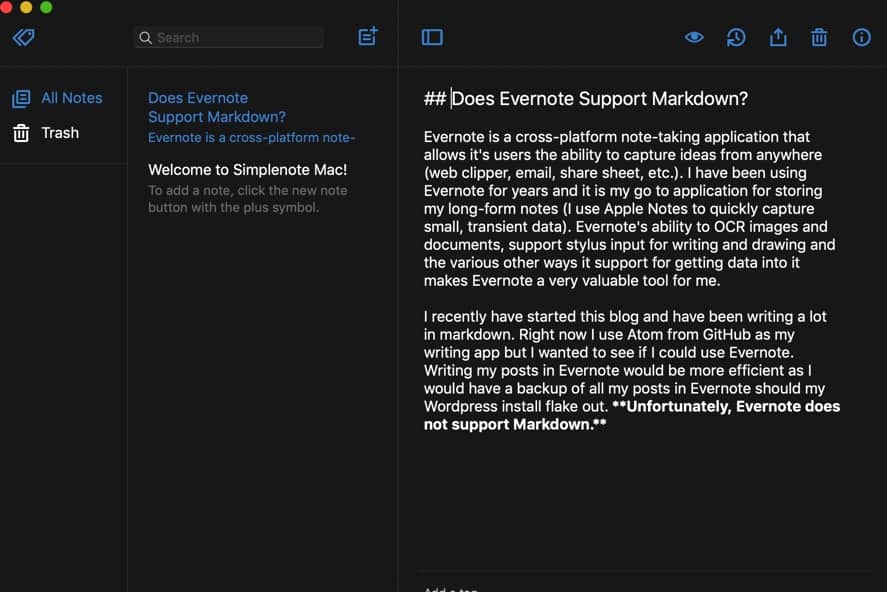 If you are looking for a truly cross-platform note-taker that supports Markdown, Simplenote has got you covered. Simplenote is available on the following platforms:
iOS
Android
Mac
Windows
Linux
Web
Simplenote supports the following features:
Sync across devices
Tagging
Sharing
Version reversion (being able to go back to an earlier version of a note)
No hard limit on the number of notes allowed
Notes are encrypted during sync (unencrypted at rest)
Import from Evernote
Simplenote is a solid option for note-taking and the best part is that it is free. If you are looking for a simple note-taking application that supports Markdown, is available across all your devices and is free, Simplenote is the one for you.
Boostnote
Boostnote is another open-source note-taking application that supports Markdown. While it is geared toward developers, Boostnote's support of Markdown allows it to be an option for anyone who wants to write Markdown. Boostnote is available on:
Boostnote is open-source and free. If you are a developer that uses markdown, Boostnote is a no-brainer for you to try. It has tons of features that are specific to rendering codeblocks and support other aspects of code documentation that are likely appealling to developers. If you are a write who wants to simply create markdown notes, it could still be effective but you may want to try something like Simplenote or Notable first as they are more geared toward traditional users.
The Doxie Go SE WiFi – A Wireless Scanner With Great Evernote Integration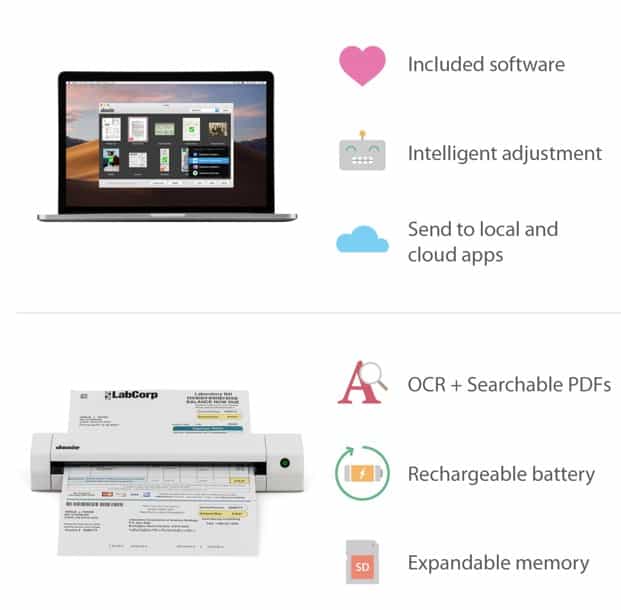 Do you have a lot of documents you want to put into Evernote but do want to have to snap a picture of them one at a time with your smartphone? Let the Doxie Go SE Wifi do it for you! The Doxie Go SE Wifi will scan, OCR and file your documents into Evernote for you. This will allow you to search the contents of your documents quickly and easily. Don't forget to use tags to add metadata to your notes to make retrieval and sorting easier. For more information on the Doxie Go SE Wifi, click on the Amazon link below:
Amazon link to Doxie Go SE Wifi
Summary
It would be awesome if Evernote could/would find an elegant way to enable Markdown in their service. I don't envy the amount of work that the Evernote development team would have to do in order to create this functionality due to the complexity of rationalizing Markdown to ENML and all of the nuances we as users are not aware of. It is unclear if Evernote will ever build Markdown into their service. What is clear, however, is that there are other capable services that do support Markdown available today. My recommendation for those who are Evernote users that need Markdown support is to kick the tires on one of the options in this article and see if it works for you.

Please Subscribe to our Newsletter
If you like the content on this site, please subscribe to our newsletter. We promise not to be spammy!
Subscribe Form
Check out our Resources page
Check out our resources page for the products and services we use everyday to get things done or make our lives a little easier at the link below:
Helpful Links
Marxico Markdown Editor
Bear
Bear Features Page
Link to a List of Bear's Features
Bear Pricing Page
Bear FAQ
Notable
Notable page on GitHub
Link to Notable Page on GitHub
Simplenote
Simplenote Home Page
Simplenote Help Page
Boostnote
Boostnote Home Page
Other Articles You Might Be Interested In
What iOS To-Do App Should I Use?
link to What iOS To-Do App Should I use article
How to Create a Mind Map on a Mac