Working on Google Sheets is fun and exciting with the presence of formulas and functions. But, a key constraint for beginners using Google Sheets is that the application automatically rounds off numbers. It can vary, but never as accurate as you expect it to be. If that sounds like your issue, too, we've got you covered. 
The steps to stop Google Sheets from rounding are as follows:
Choose the cell where the Google Sheet has automatically rounded the value. 
Double-click and enter the formula in the input bar: =TRUNC(Value,[Places])
To extend it to multiple cells in the same column, drag the tiny square on the bottom right of the cell when the cell is selected. 
In this article, let's look at ways to stop Google Sheets from rounding values automatically. 
How To Stop Google Sheets From Rounding
There are two methods to stop Google Sheets from rounding values present in cells. 
Increasing decimals
Truncating function
Formatting cells on a sheet is feasible and also easy.
Increasing Decimals
Select one or more cells to apply this function. 
Tap on the "Increase decimal place" tool present on the toolbar. 
You can tap the tool multiple times to increase decimal places.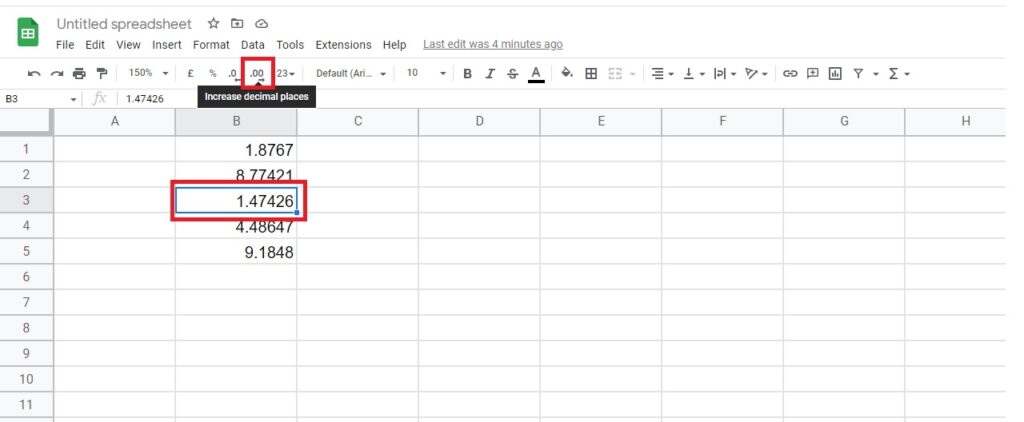 This approach allows you to add any number of values after decimals; the application doesn't round the value.
Truncating Function
The truncating function is the most effective way to stop Google Sheets from rounding values on cells. 
Select the cell containing the value to be truncated. 
Double-click and then type the formula: =TRUNC(Value,[Places])
Replace the Value in the formula with the exact number (including decimals) and type the number of decimal places to be displayed.

Let's say you have the number 1.58976. When you type the formula as =TRUNC(1.58976,2), the value automatically shows as 1.58. You can drag the pointer to other cells in the same column. 
My Recommended Office Gear
Logitech MX Master 3 Advanced Wireless Mouse, Ultrafast Scrolling, Ergonomic, 4000 DPI, Customization, USB-C, Bluetooth, USB, Apple Mac, Microsoft PC Windows, Linux, iPad - Graphite
Keychron K2 Version 2 Wireless Gaming Mechanical Keyboard, Bluetooth/USB Wired Compact 84 Keys RGB LED Backlit N-Key Rollover Aluminum Frame for Mac Windows, Gateron G Pro Brown Switch
Elgato Stream Deck XL – Advanced Studio Controller, 32 macro keys, trigger actions in apps and software like OBS, Twitch, ​YouTube and more, works with Mac and PC
CalDigit TS4 Thunderbolt 4 Dock - 18 Ports, 98W Charging, 3x Thunderbolt 4 40Gb/s, 5 x USB-A, 3 x USB-C (10Gb/s), 2.5GbE, Single 8K or Dual 6K 60Hz Displays, Mac, PC, Chrome Compatible with 0.8m Cable
Apple AirPods Max Wireless Over-Ear Headphones. Active Noise Cancelling, Transparency Mode, Spatial Audio, Digital Crown for Volume Control. Bluetooth Headphones for iPhone - Space Gray
BenQ ScreenBar Plus e-Reading LED Computer Monitor Light Lamp with Desktop Dial, Auto-Dimming and Hue Adjustment, No Screen Glare, Space Saving, USB Powered, Matte Silver
Why Is My Spreadsheet Rounding Up?

Google Sheets automatically rounds up some values for formatting reasons or when there are several numbers after the decimal point. The internal ROUNDUP function makes this operation feasible. 
If you've mistakenly stopped Google from rounding values, you can do one of the steps below. 
Remove the truncate formula typed on the input bar. 
Tap on Reduce decimals tool often based on the outcome you prefer. 
Use the ROUNDUP function on the required cell. This lets Google Sheets round the value to the nearest whole number. 
Final Thoughts
An excellent aspect of Google Sheets is that it's possible to undo operations if you've done them by mistake. Whether you want to stop Google Sheets from rounding or reactivate the option, you can do both in a few clicks. 
Check Out Our YouTube Channel!
Can't Remember Your Passwords? You Need 1Password!