Starting a blog can be daunting if you have never done it before. For those of you that have always wanted to start a blog and didn't know how to start, the information on this page is for you! Once you decide that you want to start a blog, simply do each item on this page in order and you will be up and running in no time!
Some of the links in this post are 'affiliate links.' This means if you click on the link and purchase the item, I may receive an affiliate commission.
Step One: Get a Domain
Every site needs a domain. Your domain will simply be:
The name of your site with a ".something" like .com or .net
Once you have decided what you are going to blog about, you need to pick a name that is not already being used by someone else. While you can typically get a free domain name when you signup with a web host (more on web hosts in a minute), I recommend you get your domain from a separate domain registrar for a couple of reasons:
You may want to change web hosts in the future as your site grows and it is much harder to move your domain when it is bundled with your web host.

If your blog gets big and you are making money from it, having an external domain that points to your web-host can make your blog more resilient. If you make regular backups of your blog (highly recommend) and your web host suffers an outage, you can simply:


Upload your blog backup to a new web host

Log into your domain registrar and direct the traffic to your domain to the new host
Now that you want to get a domain, what company should you use? My recommendation is Namecheap. Why Namecheap? Simply put, Namecheap provides all of the features and functions you would expect out of a domain registrar at a cheap price.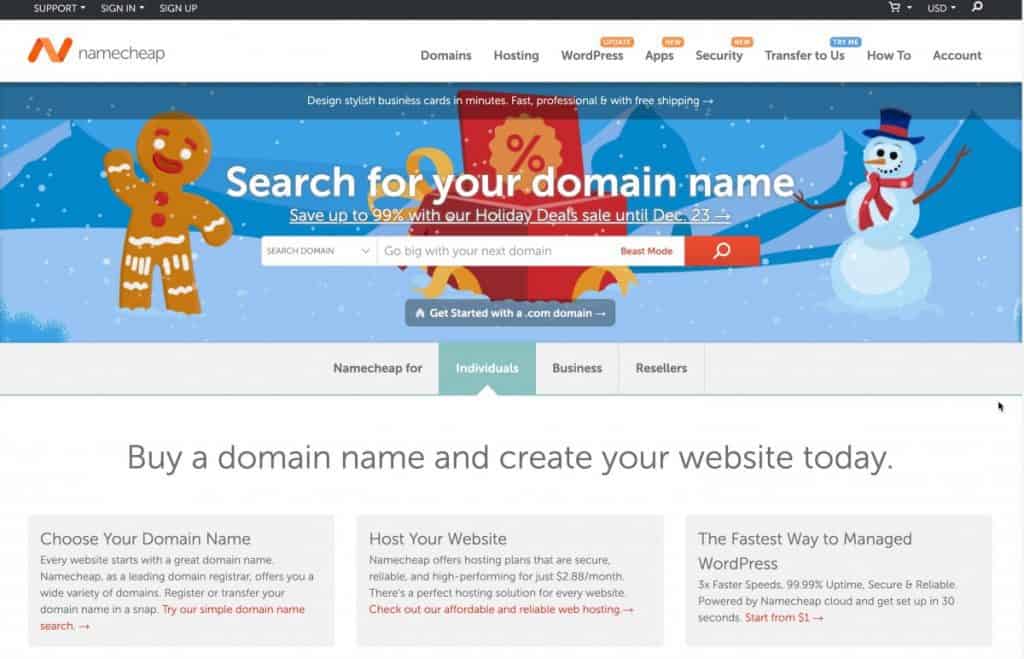 If you are looking to find a cool domain name for your blog, you can use the Namecheap Domain Name Search Tool linked below:
Namecheap Domain Name Search Tool
Step Two: Find a Good Web Host
Once you have your domain name, you will need to pick a web hosting company to host your blog or webpage. The key items you want to check for in selecting a web host are the following:
Good Support where you can talk/chat with a live resource that can actually help you when you have an issue with your site

A solid CPanel to administer your site

Good WordPress install wizard to simplify setting up your blog (WordPress is the application platform that you will create and manage your blog in)
For me, the best web host for the money is Siteground. This blog is run on Siteground and I have had zero downtime (I started this blog in June 2019). It is very cheap to get started on Siteground but where they really shine in their support. If you run into any issue with your blog, you can access their support via chat and get someone who can help you right away. I can't stress how important this is. When you are doing this stuff for the first time, no matter how well you follow the directions, you will bump into challenges on how to do something.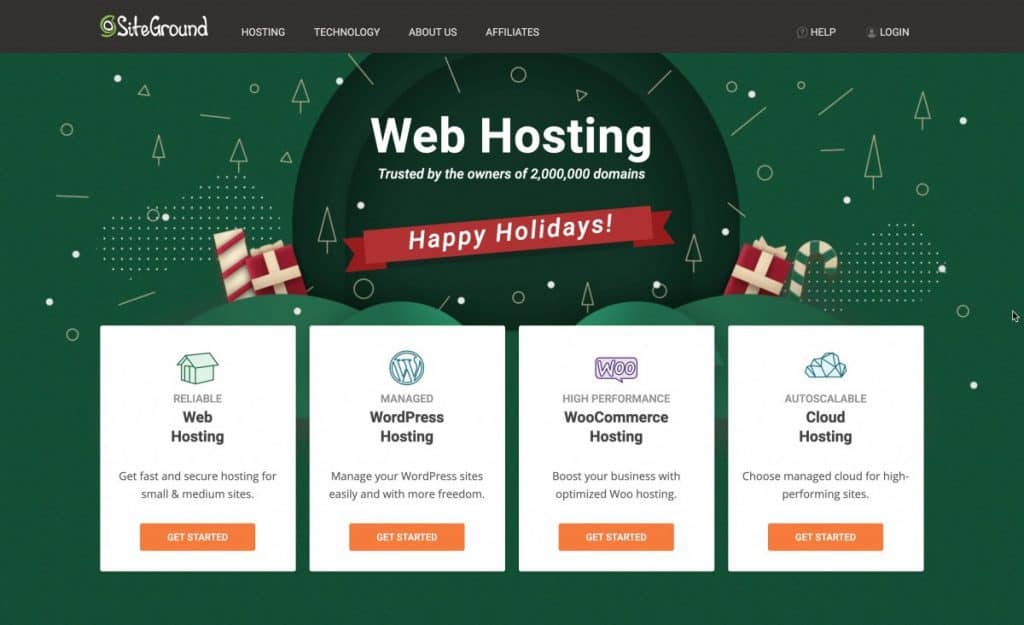 An example was when I wanted to add ads to my site and change my DNS settings. I had some issues doing it properly and was frustrated. The Siteground engineer not only helped me but actually corrected my mistake for me! I know this sounds minor but when you are stressed out trying to do something and no matter what you do, you can't make it work, it's amazing to have this happen.
If you are interested in learning more about Siteground, click the link below:
If you are starting a blog, choose the WordPress Hosting option. Siteground makes it really easy to get set up in WordPress.
Step Three – Pick a Theme
You have your domain and your web host with WordPress installed. The next step is to select a WordPress theme. The theme is the visual layout and elements of your blog. Things like color theme, structure and layout are typically handled by your theme.
There are a ton of free WordPress themes out there that you can try to get started. My personal favorite free theme is OceanWP. It is a great theme to get started with that is actively maintained and has good functionality.
If you are looking for something more customizable, check out Divi. Divi is the swiss-army knife of WordPress page builders that allows you to do pretty much anything you want. Check out Divi at the link below:
Divi – The Ultimate WordPress Page Builder
Step Four – Create a Logo
If you want your blog or webpage to look professional, you really need a logo. If you have great design ability and know your way around Illustrator, you can do this yourself. However, if you are like the rest of us, you will want to leave this to the professionals.
Fortunately, it can be very inexpensive to get a great logo. The place I would recommend for you to go to is Fiverr. Fiverr is an online marketplace for a variety of digital services including:
Logo Design and Creation
Writing Services
WordPress Support
SEO and Digital Marketing
Video and Animation
Music and Audio Services
Website and Application Development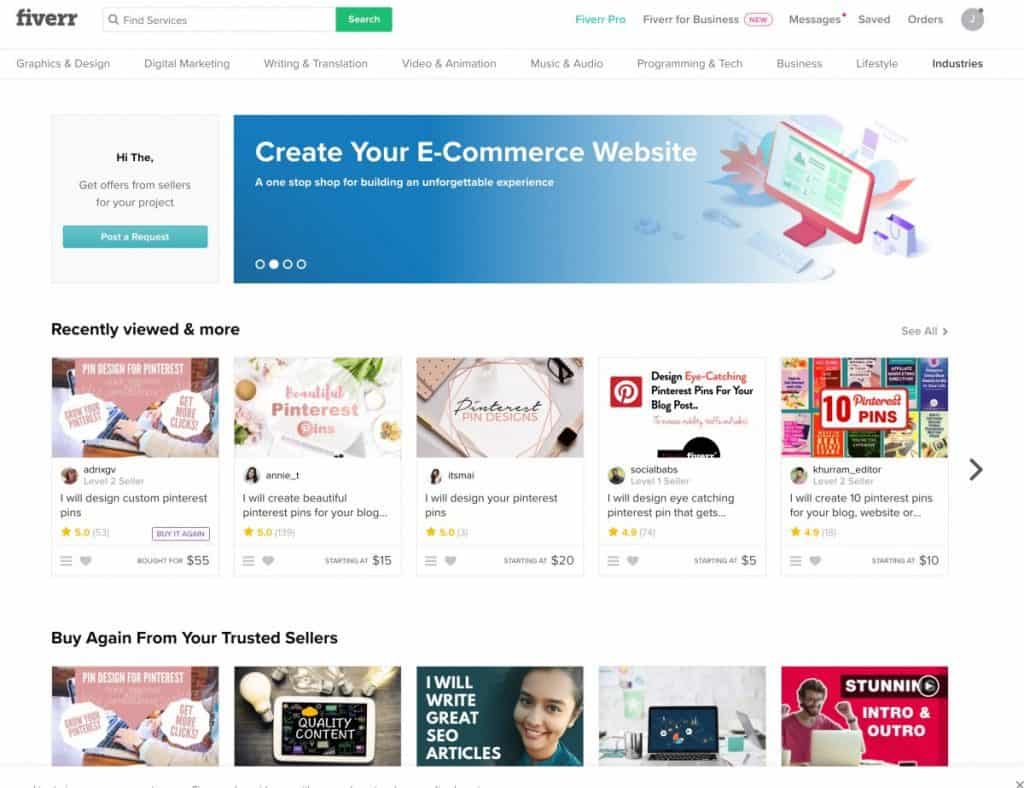 The list above is just a small microcosm of the services you can find on Fiverr. I have personally used Fiverr for:
Logo Design
Pinterest Pin Creation
YouTube Intro and Outro Animation Creation with Audio
Blog Post Creation
You have already seen my logo, obviously and if you want to see the YouTube intro and outro, check it out in the video below:
Fiverr is great and can really help you to get the help you need to create an awesome blog, website or YouTube channel. I don't recommend anything that I don't use myself regularly. I use Fiverr all the time for both my blog and YouTube channel and it hasn't let me down yet.
Enclosed below is a table containing the people I have used on Fiverr and the work they did for me. They all delivered exceptional work and I was happy with what I received.
| | |
| --- | --- |
| Fiverr Handle | Work Performed |
| Natasha_designz | Logo Design and Creation |
| Arcsolutions | YouTube Intro and Outro |
| Lipsad | Blog Post Creation |
| Faswaldo | Blog Post Creation |
| Las_divina | Blog Post Creation |
| Adrixgv | Pinterest Pins Creation |
If you are looking for help in any of the areas above, you should check out Fiverr at the link below:
Step Five: Set up a YouTube Channel for Your Blog
Once you start your blog, you will want to also start a YouTube channel for your blog. A YouTube channel allows you to connect with your audience. It can be a revenue generator as well in terms of ads or sponsored videos. It can also drive traffic to your blog. If you ever want to create an information product to sell on your website, having a YouTube channel is a must to both drive traffic to your site and to increase your conversion rate.
To create a YouTube channel for yourself or your blog, simply follow the directions in the Google article below:
How to Set Up a YouTube Channel – Google
Once you have your channel setup, you will want to track your statistics and see what keywords you show up for or that you might want to make a video about. Tubebuddy is a great utility that installs into the Google Chrome browser and does this very well.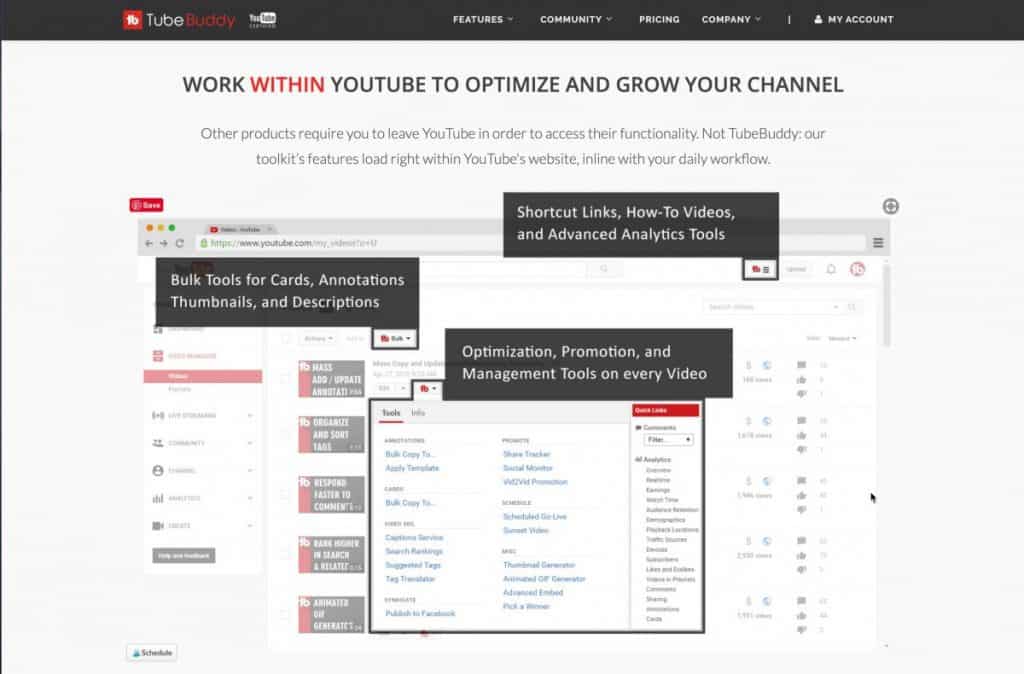 For more information on TubeBuddy, click the link below:
TubeBuddy – Tool for Managing Your YouTube Channel
Bonus Step: Project 24
If you follow the steps above, you will have both a blog and a YouTube channel setup and ready to go. You can start writing blog posts and making YouTube videos.
But what next? You might be asking yourself at some point questions like:
Am I doing it right?
How do I write blog posts that rank #1 on Google?
How do I make the best content possible?
How can I make significant money with my blog and/or YouTube channel?
How about affiliate marketing?
What ad network(s) are good?
There are a million people out there, so-called SEO Experts who will tell you do this 1 little thing to get hundreds of thousands of page views or how they know the secret to ranking #1 on Google by doing some spammy backlinking or trick. When I started my blog, I didn't know how to get started, how to write good blog posts, etc. I watched tons of YouTube videos from these various "experts" and it wasn't a help. Either the information they provided was super-vague, unhelpful or, in some cases, ethically murky. It seemed like every video I watched was some dude shouting buzz-words and outrageous statements that I knew weren't true like how quick and easy it would be to make a ton of money with little to no effort, which is definitely not true. It is hard work to run a blog or YouTube channel successfully. Plus, it was weird that all these guys had Lamborghinis in their videos for some reason. I am assuming they were rented or borrowed based on the bad information they were giving in their videos.
Fortunately for me, I found Project 24 from Income School. Project 24 is a 24 month, step-by-step program that guides you through the process from picking a niche or subject for your blog, through all the setup, monetization, and content creation. Project 24 was created by Jim and Ricky from Income School. They are great guys who tell it like it is. They don't make outrageous promises of quick money with little to no work. Instead, they provide honest, thoughtful and effective advice and content structured to help you succeed in creating great content in a way that will rank on Google.
Here is a video webinar Jim and Ricky did on YouTube where they talk about Project 24 in detail:
As I stated earlier, I only recommend things that I actually pay for and use regularly. I have been subscribed to Project 24 since June of 2019.
I have included a screenshot of my Project 24 subscription from the Income School website:
I paid the full price for my subscription and will definitely renew it next year as it has really had a huge impact on my blog's performance. What kind of impact? I am writing this on December 18th 2019. The performance growth for the last couple of months by percentage is listed below:
| | |
| --- | --- |
| Time Period | Percentage Growth |
| September vs October | 21.66% |
| October vs November | 38.46% |
If you are wondering, December is on pace to have 33.28% growth over November. I wish I can say it was due to my genius but the truth is that the growth is due to two things:
My hard work every month writing good blog content that is helpful to people
All of the stuff I learned from Project 24 on how to run my blog
Enclosed below is my Google Search Console data for my blog:

Google Search Console shows how many times you show up for a Google search and how many times users click on your article. As you can see in the screenshot above, since starting my blog, I have seen consistent growth that continues to grow as I create more content using the tools and techniques learned in Project 24.
I am definitely not showing you my blog statistics to brag. I have certainly made my share of mistakes with my blog and tried things that didn't work. Rather, I wanted to be transparent with my results because I want to show the impact of following the Project 24 plan with real data. A lot of people push programs they don't even use just to make money on referrals. That is wrong to me. Project 24 is the key thing I have paid for that has given me the tools and knowledge needed to grow my blog successfully.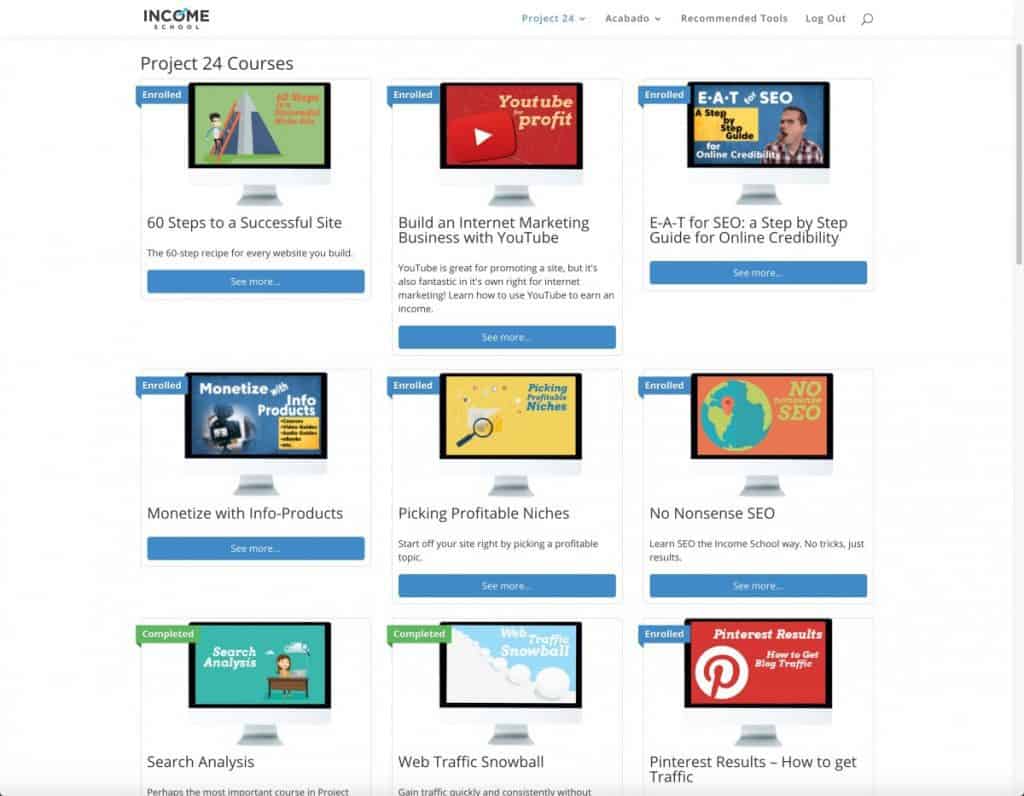 There are 17 different courses on topics ranging from SEO to how to find topics to write about in your niche to how to actually write content that will rank well on Google to how to monetize your site. Everything you need to learn is covered. There is even a course that literally maps out the 60 steps you need to take to build a successful site.
My personal favorite was the Search Analysis course. This course had the biggest impact on my blogging as it taught me how to look for topics that people search for but aren't answered well by other websites and blogs.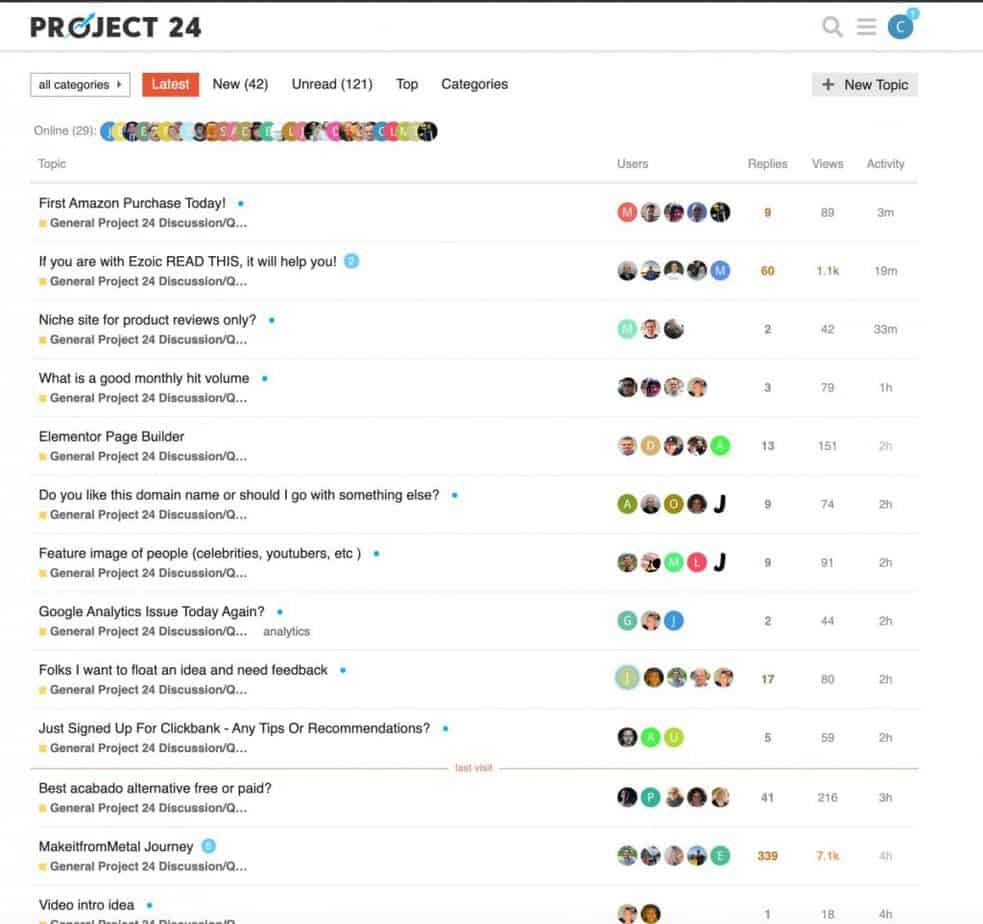 The biggest daily benefit I get from being a member of Project 24, however, is the member forum. If you have any issues, questions or just want feedback on something, the Project 24 forum is for you. I am on the forum every day picking up new tips or if I have a question. It alone is the price of admission for me.
If you are interested in learning more about Project 24 and how it might help you with your blog or website, click the link below:
Project 24 by Income School

I hope this article helps you get your blog off the ground. I know that it can be tough to find good information on how to get started. I hope this content was helpful to you. Good luck!