Have you ever accidentally shared a Google Doc with a typo or embarrassing error that you wish you could erase from existence? Or perhaps you've collaborated with a group and want to tidy up the edit history before presenting the final version to your boss. Whatever the reason, here's how to delete the edit History on Google Docs step by step:
Open the Google document as shown below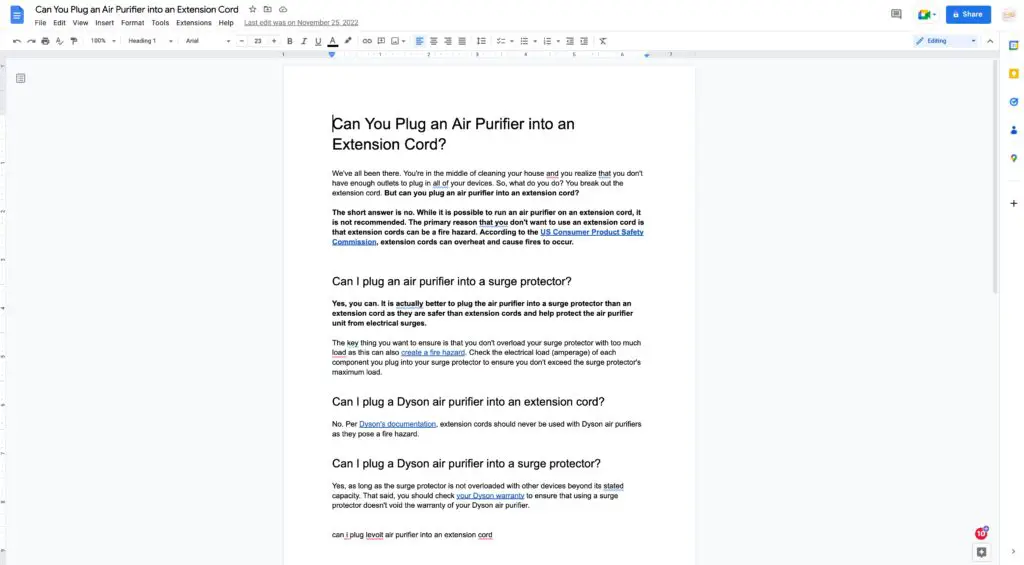 Click on File -> Version History -> See revision history as shown in the screenshot below. This will open a window displaying the revision history of the document.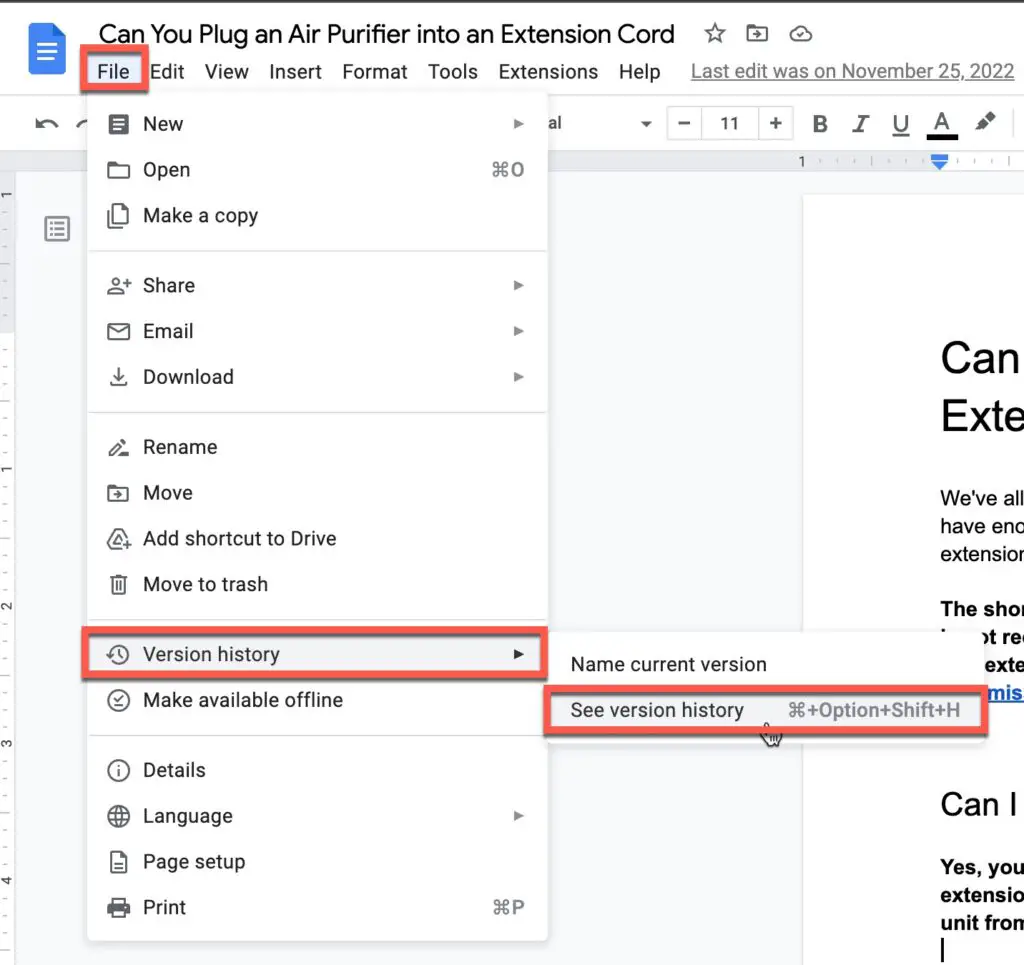 You should now see the revision history of your Google Doc, as shown below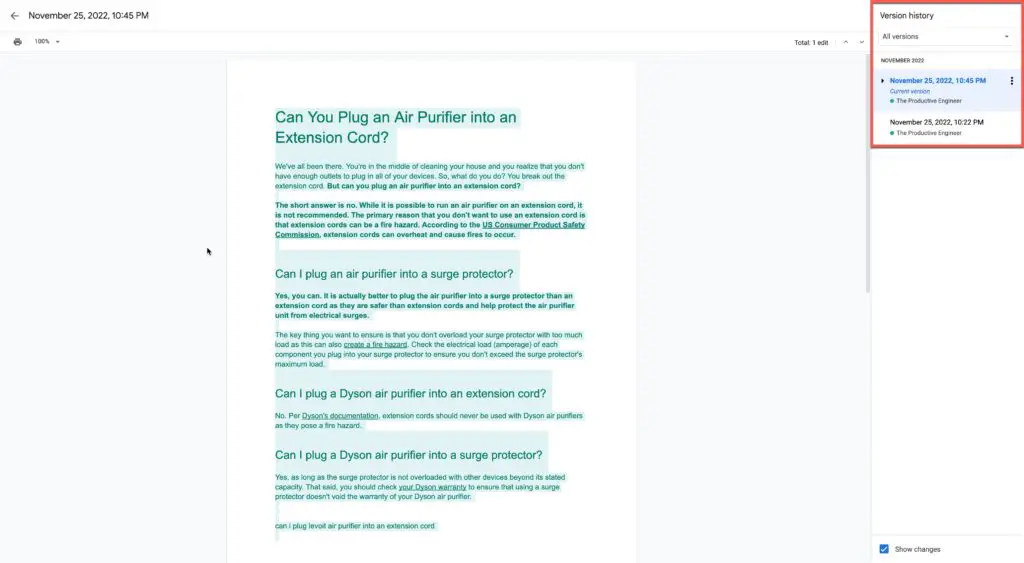 Click on the version you want to keep, click the ellipsis, and select "Make a copy" as shown in the screenshot below.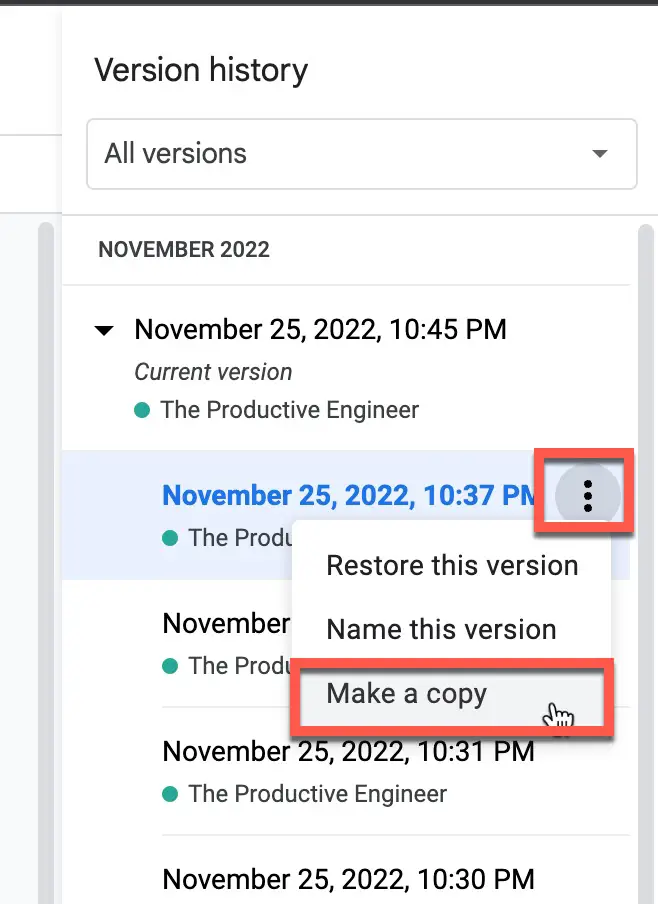 A pop-up window will appear; give your new version history-less document and name and click the "Make a copy" button as shown below.
Your new document will open up in a new tab. Go to File -> Version History -> See version history as shown in the screenshot below.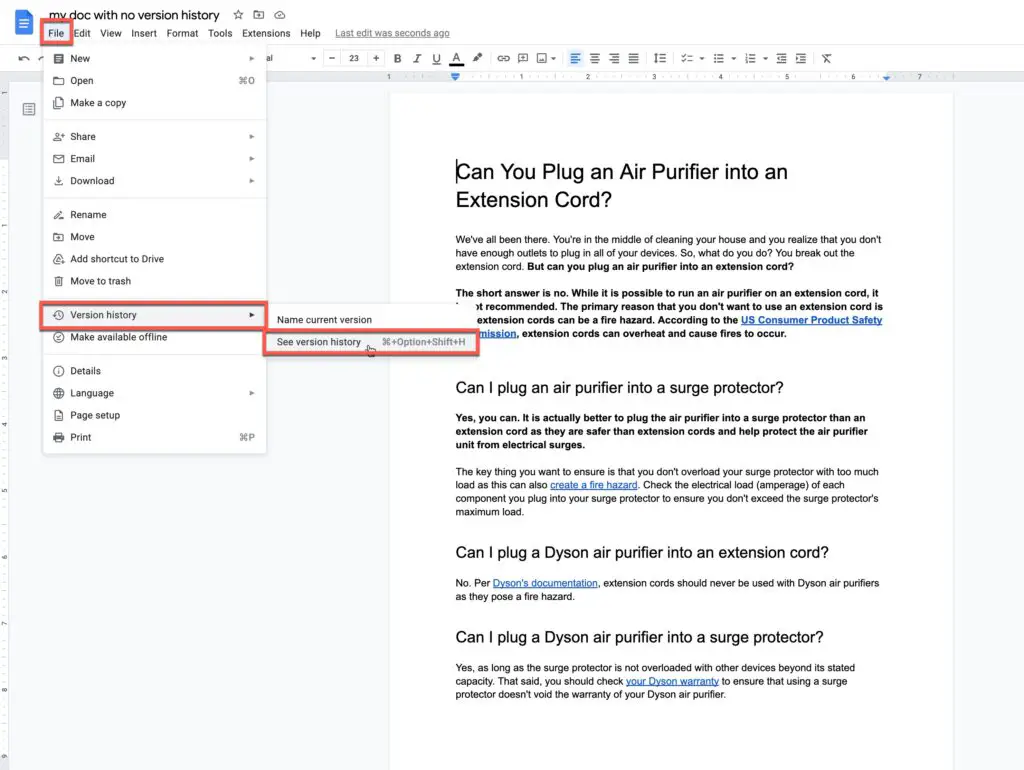 You should now only see the current version of the document in the version history
When Should You Delete Your Edit History?
There are several reasons why you might want to delete the revision history of a Google Doc. For example:
You might want to delete the revision history when the document is complete and you're ready to share it with others. This can help to keep the document clean and uncluttered.
If the document contains sensitive or confidential information, you might want to delete the revision history to protect this information from being accessed by others.
Additionally, if the revision history of a document is very large, it can make it difficult to review or compare different versions of the document. In this case, you might want to delete the revision history to simplify the document and make it easier to work with.
While it may be best to delete your edit history in these situations, it is important to understand how to effectively Google docs revision history for the times you decide not to hit delete.
Our Recommended Office Tech
Logitech MX Master 3 Advanced Wireless Mouse, Ultrafast Scrolling, Ergonomic, 4000 DPI, Customization, USB-C, Bluetooth, USB, Apple Mac, Microsoft PC Windows, Linux, iPad - Graphite
Keychron K2 Version 2 Wireless Gaming Mechanical Keyboard, Bluetooth/USB Wired Compact 84 Keys RGB LED Backlit N-Key Rollover Aluminum Frame for Mac Windows, Gateron G Pro Brown Switch
Elgato Stream Deck XL – Advanced Studio Controller, 32 macro keys, trigger actions in apps and software like OBS, Twitch, ​YouTube and more, works with Mac and PC
CalDigit TS4 Thunderbolt 4 Dock - 18 Ports, 98W Charging, 3x Thunderbolt 4 40Gb/s, 5 x USB-A, 3 x USB-C (10Gb/s), 2.5GbE, Single 8K or Dual 6K 60Hz Displays, Mac, PC, Chrome Compatible with 0.8m Cable
Apple AirPods Max Wireless Over-Ear Headphones. Active Noise Cancelling, Transparency Mode, Spatial Audio, Digital Crown for Volume Control. Bluetooth Headphones for iPhone - Space Gray
BenQ ScreenBar Plus e-Reading LED Computer Monitor Light Lamp with Desktop Dial, Auto-Dimming and Hue Adjustment, No Screen Glare, Space Saving, USB Powered, Matte Silver
How To Keep Track of Changes on a Google Doc
Tracking changes in your document can be a helpful way to keep track of edits and collaborate with others. However, it's essential to use this feature responsibly to avoid confusion and maintain the integrity of your document.
When making changes to a document, it's best to use the "Suggesting" mode rather than the "Editing" mode. This way, your changes will appear as suggestions that the document's owner can accept or reject rather than being automatically applied.
Make Good Revisions and Comments
Be clear and concise in your comments and provide context for your suggested changes if necessary. If someone has left a comment or suggestion in your document, respond promptly to keep the collaboration process moving smoothly.
It's essential to regularly review the changes made to your document, especially if you're working with multiple people. This will help you stay up-to-date on the document's progress and catch any mistakes or misunderstandings.
If you need to review changes made over an extended period, you can use the "Compare" feature in Google Docs to see a side-by-side comparison of different document versions. This can be especially helpful when working on a document with many contributors.
Conclusion
In conclusion, deleting the edit history of a Google Doc is a simple process that can be accomplished by following a few easy steps. There are several situations where it might be appropriate to delete the revision history of a Google Doc.
These include when the document is complete, when the document contains sensitive information, and when the revision history is too large. However, it's essential to carefully consider whether deleting the revision history is the right decision for your situation, as this action is permanent and cannot be undone.
By understanding when, why, and how to delete the revision history, you can effectively manage your Google Docs and ensure that they are organized and up-to-date.
Sources
https://support.google.com/drive/answer/2409045?hl=en&co=GENIE.Platform%3DDesktop
https://www.techwalla.com/articles/how-to-delete-the-revision-history-in-google-docs
Check Out Our YouTube Channel!
Can't Remember Your Passwords? You Need 1Password!